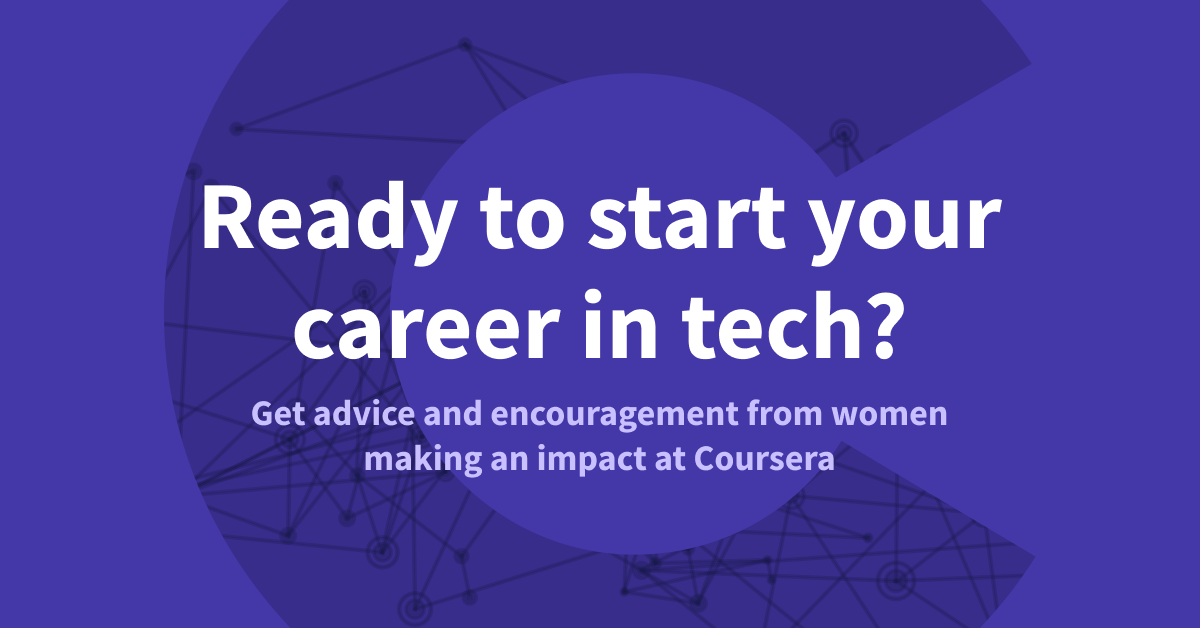 Written by members of our Womxn in Tech Employee Resource Group: Yujia Cao, Rachel Liao, Olwen Puralena, Carolane Bonhaume, Như Lâm, and Emily T. 
Coursera's Womxn in Tech (WiT) Employee Resource Group (ERG) aims to create an environment where women in product, data science, design, engineering, or any roles requiring technical skills, are equally represented, can thrive, and are celebrated for their unique contributions. 
According to the Women in the Workplace report in 2019, women see lower representation at every level and are less likely to be part of management and senior leadership in the tech industry. Half of WiT leave by the age of 35 due to various reasons, including culture, discrimination, or career development issues. At WiT ERG, we want to empower women in tech both within and without Coursera by investing in the career development of WiT, building a supportive work environment, and attracting and hiring WiT talent that represents the diversity of our current and future workforce.
In celebration of Women's History Month, six of us across design, engineering, business development, data science, and product management came together to share our advice and tips for women who are looking to break into the tech industry. We hope this blog post will give you insights and courage to pursue or advance your career in tech!
Olwen Puralena [Product Researcher]: Always consider yourself to be a work-in-progress. This means that people will give you the feedback you need to hear and that you will be receptive to that feedback. Having a growth mindset frees you from seeing challenges as personal attacks. Instead, you see them as stepping stones to becoming a better version of yourself.
Carolane Bonhaume [EMEA Sales Development Representative]: Resilience, adaptability, and persistence are the most valuable skills you need to develop in order to be successful in this field. Associate yourself with someone successful in that field. A mentor-mentee relationship can help you launch or advance your career.
Emily T. [Staff Technical Program Manager]: Be bold! I know the field can be intimidating, but don't be afraid to just go for it and ask for what you want and need; whether it's a role, promotion, project, or raise. Be prepared with data and facts to justify the ask. Never sell yourself short.
Yujia Cao [Software Engineer]: Be resourceful. Use the available resources around you to help you achieve your goals: your peers, managers, online articles, webinars, and more. Find people you admire and see how they did it. 
Rachel Liao [Data Scientist]: Stay true to yourself. Working in tech can be exciting, challenging, and so rewarding, but it can also be tiring and demotivating. Figure out what values matter the most to you and find a company and team that aligns with your values. Do you want to work in a fast-paced environment or would you rather have a healthy work-life balance? Does it matter if an organization has a flat structure or do you prefer defined levels and rubrics? Do you care to work at a mission-driven company or is it okay if you don't relate to the product at all? If you're not sure, then reach out to people in the field and ask! 
Như Lâm [Software Engineer]: Whatever company you work for, make sure you seek out the other women in tech there. Once you do, build relationships, and support one another. 
There is a good chance you'll be working on a team where you are the only woman. Because of that, you may constantly doubt yourself because there is no one else that behaves or speaks the way you do. 
However, if you're a part of a community of people who are similar to you, this can help to normalize your experiences. You can build relationships with people who can remind you, either directly or indirectly, that "no, you're not the only one." This can help you feel much more at ease and better equipped to handle your inner doubts. 
Without that inner doubt, you'll be able to put your best foot forward everyday at work and reach your highest potential. So, go forth and find your people!
Olwen: I had worked in clinical research for a few years. This involved interviewing people as part of research on new medical devices, tests, and pharmaceuticals. I loved having a job where I felt I could help people, work on difficult problems, and be perpetually curious. Tech had this, too, plus the timelines to go from identifying a problem to having a solution were much shorter. This opportunity to effect change was really appealing to me! Once I saw how enthusiastic and driven people in tech were, I was hooked.
Carolane: I had a list of values and priorities when I was career searching: I liked interacting with people, I needed a decent income, and I wanted a challenge that would test my skills. Sales seemed like the right path for me that checked off all the boxes. Women are rare in sales, even rarer in tech—and when you combine them both together, it's quite astounding to see the gender gap! I am happy I joined Coursera because at my previous job, I was the only woman on a team with 32 men. I think Coursera is making a huge effort for diversity and inclusion and it was one of the other main reasons why I wanted to join in the mission.
Emily: I love technology and how it can bridge some gaps in our daily lives. The ability and speed to connect with people across the world, distanced learning, ordering meals via mobile—these are just some of my favorites. All three have become pretty vital this past year—especially due to COVID lockdowns—and none of these would have been possible without technology.
Yujia: I was influenced by the Sci-Fi movies I watched in high school which made me think that tech is cool! There are a lot of discussions about future technology and how it has changed people's lives, and I just want to be part of the force to make the change and to make dreams into reality. Also, my choice to enter tech was a bit of a rebellious act. I was recommended to choose finance or accounting as my major because many of my female peers had already opted for these fields. I was told they would "suit me better." But I don't believe there's such a thing as "suits" when it comes to gender. So I just went with computer science and wanted to see how far I could go from there.
Olwen: I did a lot of research online! I watched videos of researchers talking about what they did and read every article on User Experience (UX) I could find. I also reached out to friends in tech to hear more about what working in tech was like. I searched for people with the jobs I wanted on LinkedIn and used their profiles plus job descriptions to figure out which skills I needed. Eventually, I found several excellent courses on Coursera and spent almost a year growing my skills. This helped me land my first job in tech.
Carolane: I previously worked in finance, but I found that the quality of my performance was not reflected in the pay and recognition I received. In tech sales, I've found the contrary to be the case. I think I'm actually doing better than most of my male counterparts. However, some of this may be attributable to a feeling that I think many women have—that we have to do more to earn our place. I think I am quite fierce and competitive. I also feel angry when women don't have equal access to the best jobs in society—that we face so many blockers. I joined tech not only because it's fascinating but also to be a part of creating a fairer system.  
Yujia: I did a few internships and projects that helped me discover different options for a tech career. I have tried different areas of engineering in my internships, including mobile and machine learning. I even did UI/UX design as side projects but it turned out I didn't like it. At one time, I got interested in product management, but after talking to some PMs about what they do, I felt that I liked writing code better so I decided not to start a PM career. In general, I really enjoy how fast this industry is growing and how much impact I can make during my daily work. I've been able to launch features that are used by millions of users and that level of impact just excites me every day. 
Rachel: Seek out other women in your field, in and outside of your company. It helps a lot to have a strong support system and community that you can go to if you have any questions or need advice on work-related situations. You'll likely also meet other women who are excelling at what they do, which can serve as inspiration for yourself to succeed in tech. You can find these communities through local or virtual meetups, conferences, Slack groups, Twitter, or LinkedIn. 
In terms of entering the tech field itself, please don't feel like you need to have a traditional tech background in order to enter tech. I've met people in tech that have come from backgrounds like consulting, teaching, professional gambling, and trucking, who have pivoted and successfully applied their transferable skills to tech. 
The job application process for tech can be confusing if you aren't familiar with it. Make sure to research how tech interviews work—in general, as well as at each company—and familiarize yourself with the different compensation pieces (base, equity, annual bonus, signing bonus, other benefits). Women and people of color earn less than half the equity men do (https://tablestakes.com/study/, by Carta), so make sure you know your worth so you can successfully negotiate. 
Olwen: Tech interviews are really different from other roles I've interviewed for—from the initial call with a recruiter to the on-site interviews with an interview panel. You can have all the knowledge and transferable skills but if they don't stand out at each stage, you'll struggle to get your foot in the door, even with a referral. Start by learning the lingo for your new role. Reading relevant job descriptions can help.
Figure out how to explain the jobs you've had so the transferable skills are clear. Recruiters don't work in the role you want. This means they may not spot your transferable skills in the one minute they give to review your resume. You may need to rephrase words on your resume so they're familiar to recruiters in tech. Also, ensure your resume has the same keywords as the job description, and make sure to list specific skills that are relevant. You can list them in the skills section on your resume and LinkedIn description. 
Lastly, remember that it's really common for people to have more than one career. The best companies look for that diversity. Show them your enthusiasm, prove how eager you are by taking steps to develop your skills, and just keep knocking on doors until you find the right one.
Carolane: Trust yourself and don't believe in people that tell you that you can't do it. Confidence is everything. Find a person in your company you can trust to support and mentor you. My last advice would be to be open to critique and take a step back when someone gives you feedback—most of the time they are just trying to help.
Emily: Find a good mentor who has navigated the field, always be true to yourself, and don't let anyone knock you down!
Regarding mentorship—in my experience, finding a mentor who is accomplished, enthusiastic and with whom you have a good rapport has been invaluable in helping me along the way of my career, and life. Be honest with them about your needs, goals, challenges, and set ground rules around important issues like confidentiality and cadence of conversations. Each mentor-mentee relationship is unique and you want to allow it to evolve and adapt!
Yujia: NOW it is the best time for you to lean in and make an impact. It's never too late to pivot careers, learn news skills, and explore a new field. Entering the tech field can be scary, but we have many women in tech that are bright and ambitious and that have made great impact, and this shows us that we can do it, too!
---
About the authors:
Yujia Cao is a software engineer at Coursera's payment platform team and co-lead of Coursera's Womxn in Tech ERG. She is a key player in enabling safe, smooth, and easy payment on Coursera and makes quality educational content easily accessible for learners around the world. Besides work, she likes arts and cats.
Rachel Liao is a data scientist and the co-lead of Coursera's Womxn in Tech ERG. She drives Coursera's content strategy through data, and has been a key player in developing Coursera's international growth plan, identifying content catalog and skill gaps and scaling content topic automation. Before Coursera, she worked on search and ranking for Thumbtack's three-sided marketplace. Reach out to her via LinkedIn to chat more!
Như Lâm is a software engineer and the co-chair of Coursera's Womxn in Tech ERG. She likes writing fiction, consuming art made by people from marginalized communities, mango, and hip-hop/r&b. Some of her favorite books are Pachinko by Min Jin Lee and On Earth We're Briefly Gorgeous by Ocean Vuong. 
Olwen Puralena is a Senior Product Researcher leading research for Coursera's consumer teams. She leverages her expertise to help teams identify the most important problems to tackle and ensure that product solutions align with learner needs. Key to this is creating compelling stories to build understanding and empathy with stakeholders and connecting insights to actionable next steps for the product team. Her research has focused on products across tech including Android OS and the Pixel phone at Google and Monetization at Facebook.
Carolane Bonhaume is a European Sales Representative for Coursera for Business. She helps organizations change and uplevel the skill set of their workforce so that they can be prepared to face a new future together. Carolane grew up in France, completed her master's degree in finance while studying at universities in Paris, Hamburg, Honolulu, and Jacksonville. After graduation, she moved to London and started her career in sales, following her passion to build bridges between people. 
Emily T. is a staff technical program manager and on the leadership team of Coursera's Womxn in Tech ERG. She helps lead cross-functional projects such as accessibility and initiatives such as engineering operational excellence. Outside of work, she loves non-fiction reads, geeking out on space/astronomy, and going on adventures with her Siberian Husky T-Rex. Happy to chat and answer questions – just reach out via Linkedin!
6