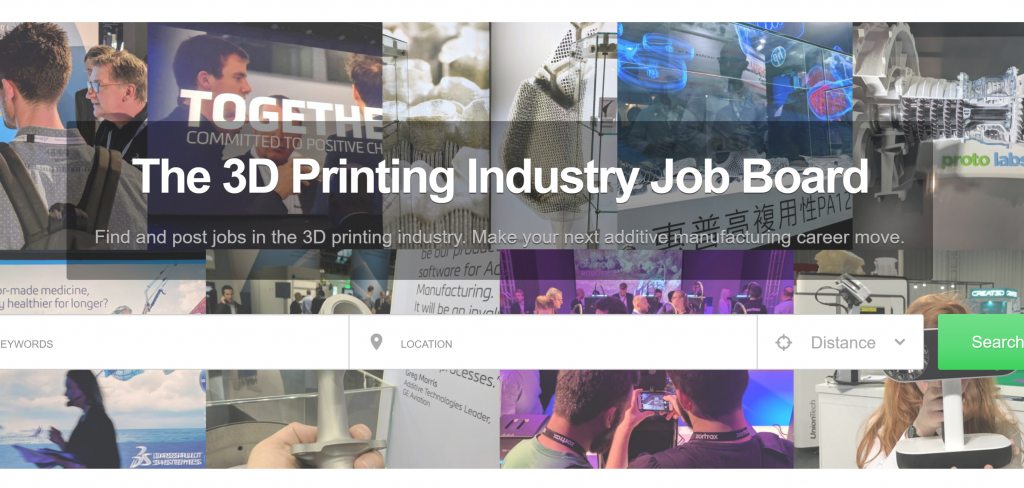 Welcome to the latest edition of our 3D printing jobs and career moves update for the additive manufacturing sector. 
If you are looking for a new position in the industry, we keep our 3D Printing job board updated with the latest positions. You can easily apply to any of the posted jobs after creating a free profile. If you are just about to enter the sector, we offer a guide on how to get a job in the 3D printing industry.
The 3D Printing Industry jobs board is also free to use for employers to find 3D printing experts for their businesses. 
Read on for updates on the latest job opportunities at AON3D, Relativity Space, DyeMansion and Vishwastratis, as well as new hires at Uniformity Labs, EOS North America, PrinterPrezz, Additive Industries and more. 
Event Manager (Online & Offline) at DyeMansion
3D printing post-processing specialist DyeMansion is currently hiring for an Event Manager to work at its Bavarian complex in Planegg, Germany. The successful applicant will be responsible for organizing the content of the company's online and in-person trade shows, while tailoring both the topic and format to suit different target audiences. 
Other duties include following-up client interest and conducting extensive industry networking, as a means of ensuring that content remains contemporary, and relevant to current events. The ideal candidate will have related B2B project management training and experience, as well as knowledge of hosting virtual events, dual German and English language skills and a keen interest in 3D printing. 
Applicants interested in the role of Event Manager (Online & Offline) at DyeMansion can view the full job description here. 
Sales Engineer, Marketing at Vishwastratis LLP
Rapid prototyping center Vishwastratis is searching for a Sales Engineer to work within its Marketing team at its facility in the Indian state of Gujarat. Applicants will need to have a strong knowledge of 3D printing processes such as SLS, SLA, FDM, CJP and MJP, as well as the related injection molding, casting and 3D scanning technologies.  
Ideally, Vishwastratis is looking for someone with a minimum of two years' experience in the field, that's willing to travel to different sites if and when required. In return, candidates can expect to receive travel compensation, in addition to further remuneration for meals and overnight accommodation where applicable. 
Those interested in applying for the role of Sales Engineer at Vishwastratis LLP can view the full job description here. 
Director of Hardware at AON3D 
3D printer manufacturer AON3D is seeking to recruit a Director of Hardware to work at its office based in Montreal, Canada. Day-to-day, the role involves leading the R&D of the firm's systems, generating specs for each new machine and managing a team of engineers, while ensuring their compliance with AON's broader technical execution strategy. 
Given the seniority of the position, the company is searching for an applicant with at least seven years' design experience, and a further three in leadership. Additionally, while a related degree is considered essential for the role, candidates with an understanding of CNC machining, robotics or electrical certification will be favored. 
Candidates interested in the position of Director of Hardware at AON3D can find the full job description here. 
AM Engineer at Relativity Space 
3D printed rocket manufacturer Relativity Space is currently hiring for three different roles, with each set to be based at its Californian headquarters. In its most junior vacancy, the firm is recruiting an AM Engineer that will be responsible for operating its LPBF 3D printers and their related equipment, while continuously working to drive print success rates and part consistency. 
The successful applicant will have at least two years' experience working in powder-based 3D printing or similar fields, in addition to a strong grasp of CAM design and programming. Elsewhere, candidates with a working knowledge of MES software, numeral analysis and material science will be at an advantage, but due to the nature of the role, all interviewees must have U.S. Persons status. 
Those interested in applying for the role of AM Engineer at Relativity Space can view the full job description here.
Senior AM Engineer at Relativity Space
With its second opening, Relativity Space is looking to recruit a Senior AM Engineer, who will be tasked with leading the firm's 3D printing operations. Owning the process from file-prep to post-processing, the successful applicant will effectively become the first point of contact for the company's hardware, working proactively to ramp-up production and meet pre-agreed throughput and quality targets. 
Engineers with 3-5 years' experience in powder-based 3D printing, aerospace, medical or CAD programming are encouraged to apply, especially those with a passion for producing consistent-quality parts. Relativity Space also considers having a related degree to be an advantage, while having a working knowledge of laser, optical or rocket propulsion systems would be seen as a bonus too.
As with Relativity Space's other roles, applicants need to have U.S. Person status to be considered, and those eligible for the role of Senior AM Engineer can view the full job description here.
AM Technician at Relativity Space 
In this week's final opportunity at Relativity Space, the company is seeking to hire an AM Technician to work at its California HQ. Daily duties include operating the company's 3D printers while developing innovative new tools, processes and training materials, that improve the technology's efficiency and part throughput. 
Applicants are required to have a minimum of three years' experience working in aerospace, preferably as a powder bed technician, with at least one year of that time spent doing R&D. More generally, candidates also need to have strong communication skills and the ability to train others to be successful in-role, while having an understanding of flight development programs would be beneficial. 
Like Relativity Space's other vacancies, applicants need to have U.S. Persons status to be considered, and those eligible for the role of AM Technician can view the full job description here.
EOS North America appoints Senior VP
PBF manufacturer EOS North America has announced that it has hired industry veteran Kent Firestone as its Senior VP of Operations. Within his new role, Firestone is set to hold a broad remit, leading the company's operational direction with regards to its manufacturing, field service, logistics, quality and materials activities. 
Firestone possesses over 30 years of industry experience, having recently served in numerous engineering, operations, and management roles. Notably, Firestone spent five years as CEO of Stratasys Direct, and previously held leadership positions of increasing responsibility at Solid Concepts, the DTM Corporation and 3D Systems. 
"Kent possesses a rare mix of knowledge about AM, and expertise working with organizations, to understand and realize the benefits of implementing AM into their operations," said Glynn Fletcher, President of EOS North America. "Kent's experience and leadership will play an important role in helping EOS to get more organizations ingrained in AM moving forward."
PrinterPrezz hires board advisor
Medical 3D printing bureau PrinterPrezz has appointed serial 3D printing leader and investor Geoffrey Doyle as an advisor to its board. Currently, Doyle is VP of Business Development at Uniformity Labs, and he now intends to conduct both roles together, advising the two firms on how they can best expand into new markets.
Doyle brings a wealth of experience to the role, and as Director of Business Development at Jabil, he was previously responsible for the strategy of the firm's healthcare division. Before joining Jabil, Doyle also served as President of FIT AG's US operation, in addition to US President of its software subsidiary netfabb, which was acquired by Autodesk in 2015.
"Throughout my career, I have helped grow value by focusing on various applications of additive manufacturing technologies, advising both start-ups and multinational businesses," said Doyle. "At PrinterPrezz, there is tremendous opportunity to focus those advanced technologies on medical device applications, and to combine those efforts with programs for new technology overlays, such as high-throughput manufacturing and coatings."
Uniformity Labs hires ex-Nucor CEO 
Software and material producer Uniformity Labs has appointed John Ferriola, the former Chairman of steel manufacturer Nucor Corporation, to its board of directors. Ferriola's addition further bolsters the company's senior leadership team, after it moved to hire automotive industry veteran Alan Batey in January 2020.
During a 28-year spell at the Nucor Corporation, Ferriola held several senior positions, and served his last seven years as CEO before retiring in 2019. In his new role, Ferriola will now bring his manufacturing sector experience to Uniformity Labs, with the aim of helping to scale its business into prosperous new verticals. 
"It has been exciting to watch the AM industry advance as one of the most transformative innovations in modern times," said Ferriola. "Uniformity Labs' technology and advanced printing process is taking the industry to the next level. I look forward to working with Adam and the team, and my fellow board members, to take advantage of this significant opportunity."
Additive Industries revamps leadership team
Dutch 3D printing firm Additive Industries has announced the twin appointments of Ian C. Howe and Carlien Siebelt as its new CEO and CFO respectively. Howe, who is currently Head of Business Line at Oerlikon Surface Solutions, has a strong track record of leading other tech firms such as GKN Group UK to market growth, and will work to bring similar results to his new employers.
Siebelt, meanwhile, joins Additive Industries from Energyst CAT Rental Power, where she held senior leadership positions including CFO and Group Controller. Both hires have been made to drive the firm's broader growth strategy, through which it aims to penetrate the aerospace, energy, high-tech equipment and automotive verticals.
"We are proud to welcome Carlien and Ian in the Additive Industries team," said Jonas Wintermans, Co-founder and current CEO of Additive Industries. "Ian and Carlien's extensive experience in various aspects of our business, makes them perfectly suited to support our growth ambitions, together with our CTO Mark Vaes who has been with the company from the start."
To stay up to date with the latest 3D printing news, don't forget to subscribe to the 3D Printing Industry newsletter or follow us on Twitter or liking our page on Facebook.
Are you looking for a job in the additive manufacturing industry? Visit 3D Printing Jobs for a selection of roles in the industry.
Featured image shows the 3D Printing Industry Jobs Board.