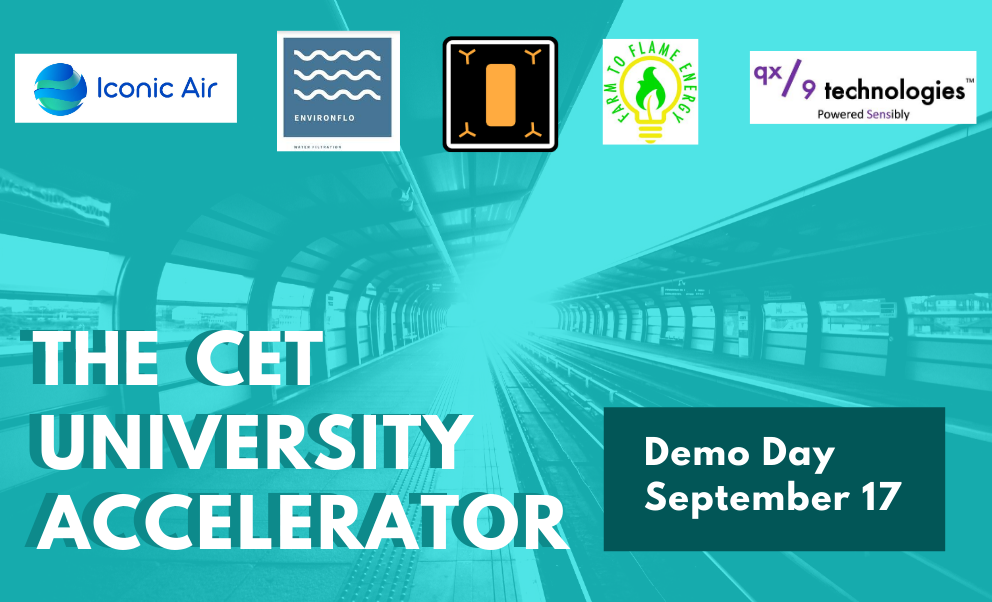 Cheer on our CET University Accelerator student teams representing Carnegie Mellon University, Case Western Reserve University, Northwestern University, and West Virginia University at a free virtual event on Thursday, September 17th from 3:00-4:30 pm CT.
The companies in the accelerator span the cleantech space, from self-powered industrial IoT sensors to emissions monitoring and analytics, to distributed generation and oil-water separation technology.
Watch them pitch their businesses – and learn about early stage cleantech innovation and entrepreneurship in the Midwest region. At the event, a panel of expert judges will evaluate the companies and award more than $25,000 in prize money!
The participating student teams include:
EnvironFlo (Case Western Reserve University) – provides an effective, cost-friendly and green solution for oil spill clean up using a superhydrophobic coating on a mesh screen to separate oil from water with over 99% efficiency.
Farm to Flame Energy (Carnegie Mellon University) – provides a universal solution for converting biomass into electricity for developing world and off-grid applications.
Iconic Air (West Virginia University) – is a platform that automates emissions reports and visualizations for oil and gas companies to analyze real-time and historical emissions data across their assets.
QX/9 Technologies (Northwestern University, Kellogg School of Management) – develops a self-powered motion sensor that augments the power capabilities of electronic tracking devices in trucks.
STARS Sensors, LLC (Case Western Reserve University) – develops a self-powered sensor device and data analytics/ visualization dashboard for power generation plants and other industrial applications.