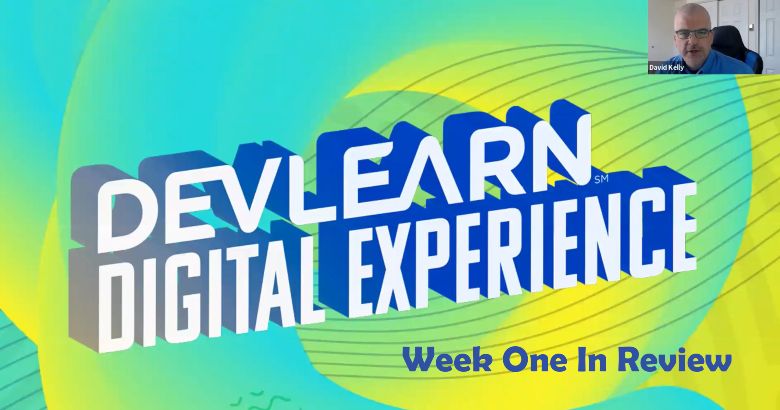 Guild Executive Director David Kelly opened Week #1 of the DevLearn Digital Experience (DDX) by acknowledging that these are unprecedented times. "This is not the experience we thought we were going to be having. But the world has changed and circumstances are what they are. I'm thrilled that we are able to gather here online," he told the 2,500+ attendees eagerly anticipating two weeks of digital learning and sharing.
The pivot from a live, face-to-face conference in Las Vegas to a comprehensive digital experience required flexible thinking and adaptation to new ways of doing things. There were some minor hiccups with the new platform technology, but participants were patient and the transition was actually remarkably smooth.
Week 1 featured a host of educational programming and an assortment of fun After Hours activities. Participants connected with friends old and new, and there was a lot of engagement in the digital activity feed.
For many, DevLearn is synonymous with Las Vegas. Some, who booked flights months ago, were reminded of that fact. On opening day Jonathan Hill noted, "My Google Assistant is going crazy this morning telling me that I'm late for my flight to Vegas."
Some, like Roger Whitacre, missed the hustle bustle of Las Vegas or lamented about not being able to meet in person in 2020. "I had such an amazing experience last year at my first DevLearn conference and have been eagerly awaiting my second one since the last day of DL2019! I kept in contact with friends I met in Las Vegas throughout the year. So it was quite a disappointment that this one is not in person, but I'm still excited about connecting and learning virtually!" he wrote.
Many reminisced, posting pictures from DevLearn 2019. Here was what Sandeep Kulkarni from Raptivity shared.
Although a digital Expo offered opportunities to engage with vendors and service providers, some attendees were disappointed about not scoring swag.
Many did what they could to recreate aspects last years' experience. For example, Jordann Lucero broke out her souvenir mug.
Others looked at the bright side, remarking that they didn't miss waiting on a long line at Starbucks in the morning to get a bagel. And Tim Spinler joked, "I thought about playing slot machines on my phone and eating a very suspect orange out of a cardboard box to recreate my usual DevLearn lunch experience." For the most part, however, people accepted the reality of experiencing the 2020 conference from the comfort of their home rather than the halls of The Mirage.
The good news was that getting prepared for DDX was a snap. Most attendees simply marched from their bedrooms to their home office (or kitchen table or comfy couch) and turned on their laptop or cellphone. Jay Stevens was an inspiration, putting it up on the big screen in his home theatre. Unless they were presenting, there was no need for participants to style their hair, and they could attend barefoot or in a crazy pair of DDX-branded leggings. When it was time for a bio break, there was no scramble to locate the nearest restroom.
Yet for some, there were inherent complications. Many DDX attendees are currently juggling working from home and helping their children with online schooling. Lorie Fleming summed up navigating the new normal of attending a conference while at home:
"Looking forward to getting started after my first work meeting today, in between kids' online school at home! Lots going on…but I'm ready," she wrote, adding three coffee cup emojis to her post.
Simon Blair (a prolific and funny poster) wrote: "Virtual or live, there are always challenges. At DevLearn live, the challenge is holding my breath long enough to get through the smoky casino. At DDX, it's now my son running the chainsaw, which is driving the dogs nuts."
Some, like Hector Martinez, demonstrated their DDX multi-tasking skills.
Children weren't the only interruptions. Furry friends were in abundance, serving as co-pilots in the DDX experience. People loved sharing pictures of their cute pets' responses to DDX:
One upside of transforming the DevLearn conference to a completely digital experience was the fact that practitioners from around the world were able to participate. As Amit Yakhmi noted, "This offers the experience to connect and learn from people across geographies." DDX 2020 welcomed attendees from as far away as Egypt, India, Switzerland, Spain, South America, and Western Australia. It was exciting that the Guild community was able to broaden its reach and welcome new people to the fold.
"All that COVID thing turned out to be my finest hour because I've been dreaming about attending DevLearn for a while but planning a trip from Saint Petersburg, Russia to Las Vegas is not a piece of cake," wrote Dmitriy Ukolkin.
Although those from far, far away always have the option to listen to the recorded sessions, some, like Aussie Carol North, intentionally logged on at odd hours in order to participate live.
"Anyone else out there who got up at 2:00 am because we're not letting time zone FOMO mess with our virtual experience of DDX 2020?" she asked.
DDX drew many first-timers. Joan Keevil, who is based in the UK, posted, "This is my first time at DevLearn, though I've often thought about attending in the past, and I'm blown away by the number of people engaged in the community. I thought I knew a lot people in learning tech but … WOW!"
Others were impressed by the sheer quantity of offerings and options. "What a great first day! I wish there were 3 of me!" wrote Christine Flack-Blazier.
With the new format, attendees had plenty of questions. Seasoned veterans jumped in to provide help. "As I browse the feed looking for questions that need answers, I'm very appreciative of members of the community providing answers for each other. It's a welcome reminder of how giving this community is, and how we live 'Together We Are Better' each and every day," remarked David Kelly.
A special shout out goes to Almira Roldan, who offered detailed tips on how attendees could make the most of their DDX experience.
Finally, attendees were very appreciative of all the presenters, vendors, and Guild staff who worked behind the scenes to assure that the experience was as seamless as possible. "DDX is really proving to be amazing! Thank you to all who are making this happen!" wrote Angela Anderson.
"While I miss being in Las Vegas and seeing everyone in person, The Learning Guild has done a tremendous job making this virtual experience amazing!" added Susan Scammon.
We hope you feel the same!