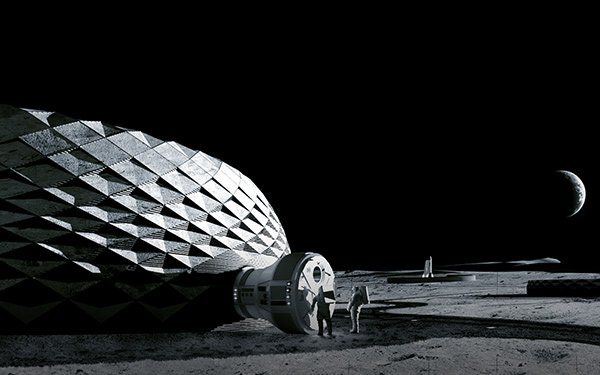 US-based architectural 3D printer company ICON has received a Small Business Innovation Research (SBIR) contract including funding from NASA, which will help them develop new technologies for Project Olympus.
Olympus is aimed at developing robotic construction technologies to build structures on the Moon.
To assist with the task of conceptualizing and developing the robotically constructed habitats, ICON has enlisted the help of space architecture firm SEArch+ (Space Exploration Architecture) and also Danish architectural firm Bjarke Ingels Group (BIG).
ICON has previous experience in 3D printing homes thanks to the development of their Vulcan 3D printer system. The Vulcan is capable of printing the wall system of a 400 sq foot home with approximately 24 hours machine time. The Vulcan is a gantry type printer with a build height of 8.5 feet and a width of 28 feet and apparently an "infinite" length due to a mobile gantry. ICON has recently been involved in printing an entire community of homes in Mexico.
"Building humanity's first home on another world will be the most ambitious construction project in human history and will push science, engineering, technology, and architecture to literal new heights," said Jason Ballard, co-founder at ICON.
Bjarke Ingels Group has had some space architectural design experience under their belt which they hope to contribute to Project Olympus. Previously, BIG had been involved with the Mars Science City in Dubai. The Mars Science City project will involve the construction of geodesic domes, to simulate the habitats that may one day exist on Mars proper. When completed, it will be the largest Mars planetary analogue ever built.
"With ICON we are pioneering new frontiers – both materially, technologically and environmentally," said BIG founder Bjarke Ingels.
"To explain the power of architecture, 'formgiving' is the Danish word for design, which literally means to give form to that which has not yet been given form.
This becomes fundamentally clear when we venture beyond Earth and begin to imagine how we are going to build and live on entirely new worlds."
ICON plans to design structures that could be built with local lunar materials, such as lunar regolith. They have been using simulated regolith for their testing, which has been obtained from their partners at NASA Marshall Space Flight Centre.
"We have explored various building forms ideal for containing atmospheric pressure and optimised for protection from cosmic and solar radiation," said Martin Voelkle, from BIG.
"The habitat will be designed with the inherent redundancy required for extraterrestrial buildings, while also using groundbreaking robotic construction that uses only in-situ resources with zero waste left behind."
ICON's Vulcan construction printers are not yet available to purchase (neither are the 3D printed homes), but the company site says that they will be available in future as they scale up development and refine the systems. No date on when they plan to send it to the Moon, or if the lunar version will look anything like the Vulcan, but we will let you know as soon as we hear it.