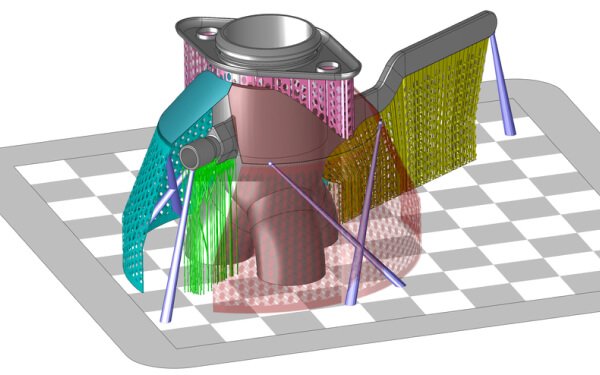 Post-processing of metal AM parts can account for a significant portion of the total cost of making the part, with figures ranging from 26% (according to Wohler's Report 2019) to over 70% according to other reports and personal experience).
Much of that post-processing involves manually removing support materials and cleaning up the remnants of the supports after they have been removed.
There is, of course, a very simple way to slash those support-removal costs, and that is to not use support materials at all, or at least minimise usage of supports.
3D Systems is hosting a webinar on Tuesday 13th July, and they are going to show us all how to design metal parts with the aim of reducing or eliminating supports altogether by use of their NoSupports process.
The 3D Systems 3dxpert software contains a number of features which are geared towards reducing support material usage, and using this software tool to achieve exactly that will be the focus of the webinar. Naturally, it will be in the context of 3D Systems' own DMP metal printer systems.
The webinar, which you can register for here, will look at the following topics:
– The historical challenge of minimum support angles
– 3DXpert tools for advanced segmentation and parameter assignment
– Multi-exposure strategies
– Thermal blades strategies
For those curious about some of these terms, 3D Systems explains:
"Multi-exposure can drastically reduce the self-supporting angle while maintaining a high-quality surface finish, and thermal blades provide a structure to transfer heat and control the weld process for the lowest-angle features without welding to the part."
We are definitely curious, and will be watching with keen interest.
Below's that webinar registration link again, and a reminder that it will take place on Tuesday 13th July 2:00 PM EDT / 11:00 AM PDT.
For those who miss the webinar live due to time zone differences, you will be able to watch the video on demand afterwards.