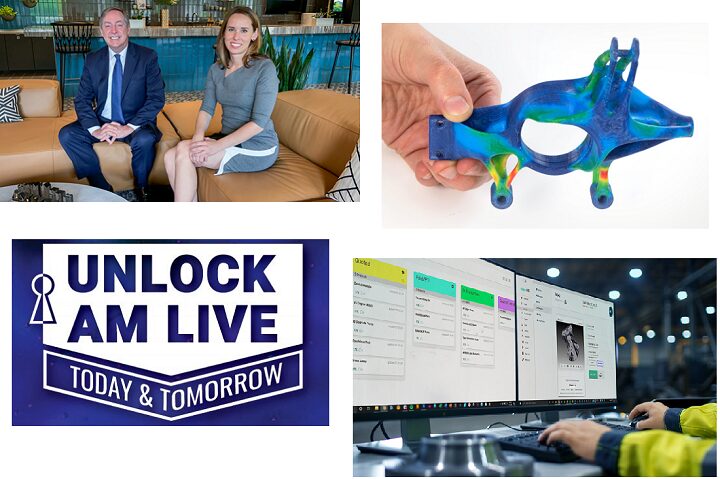 For this week's roundup, we're telling you about a couple of events that run multiple days, and a webinar each from MakerOS and Rize.
IMTS 2020 Splits into IMTS Network & IMTS Spark
For the first time since World War II, the International Manufacturing Technology Show (IMTS), one of the world's largest trade shows, was cancelled, due to the ongoing COVID-19 pandemic. While the in-person event will return to McCormick Place in Chicago next September, this year IMTS will be hosting two digital programs, IMTS Network and IMTS Spark. The first will be broadcasting live this week from Monday, September 14th through Friday the 18th, and will be providing original programming, referred to as "energizing" and "inspiring" on the website, that will engage and inform the manufacturing community. For example, every morning at 9:15 EDT, you'll be able to watch The Industry Download, followed by a Profiles in Manufacturing story, and other broadcast options include the Tech It Out! Gameshow, The Three Economists, Zoom Across the Nation, and more.
"Watch remarkable stories and interviews with people like you, who make our industry function; tangible ways manufacturing improves communities; and the powerful processes and products that ensure economic growth. Identify the shows you'll want to stream live, and share with coworkers and friends."
It doesn't look like you need to register to access the original content from IMTS Network this week, so that's handy. But registration is open now for IMTS Spark, which will begin Monday, September 21st.
PostProcess Technologies Presents "Unlock AM Live"
On Tuesday, September 15th and Wednesday the 16th, PostProcess Technologies is holding an online event called "UNLOCK AM Live: Today & Tomorrow." Guest speakers and presenters hail from such companies as Siemens, 3DGence, Jabil, Protolabs, Ford, and more, and the two-day event will feature panels and webinars, in addition to demonstrations, on a wide variety of topics, including major post-print pitfalls, rethinking resin removal, faster FDM finishing, composite 3D printing, workflow validation, and more.
"UNLOCK AM Live: Today & Tomorrow is your key to the latest thought leadership from some of the most notable names in additive manufacturing. Between guest speakers from world-renowned tech companies, live demonstrations of PostProcess's automated post-printing solutions, and webinars hosted by additive experts, you'll leave this virtual event with practical knowledge for utilizing and improving your 3D printing today, and prepared to embrace the industry's future."
You can register for events for the Today Track (the 15th) here, and events for the Tomorrow Track (the 16th) here.
MakerOS Hosting Free Online Webinar
Also on the 16th, MakerOS, a web-based collaboration platform for 3D printing and digital fabrication companies, is sponsoring a free webinar, titled "How to Make the Most Profit from 3D Printing," about the ins and outs of running a successful digital fabrication shop. Mike Moceri, the founder and CEO of MakerOS, will teach attendees the best way to run a profitable 3D printing business, and everyone who signs up will receive access to a helpful spreadsheet they can use to make calculations and projections for their business.
"Have you ever taken on a 3D printing job for a client, the job went well, the client paid you, you thought you made a significant profit, but upon review, you barely broke even? What went wrong? This webinar provides guidance on how to never let that happen again. Attendees will gain a holistic understanding of all costs and expenses that go into running a 3D printing business so that you can accurately set your prices and maximize profits. The insights will help you identify various nuances that you may not realize have negative effects on your margins."
The webinar will be held from 2-3 pm EDT, and you can register here.
RIZE Learning Series Webinars
The last webinar on Wednesday, September 16th will be held by RIZE at 2 pm EDT, titled "Learning Series: Build Intelligent Color Parts with Next-Gen 3D Printing Platforms & Smarter Workflows." Attendees will learn how the company's digitally augmented, or intelligent, parts, can add traceability and connect to the digital model by 3D printing labels and QR codes directly onto parts, and how its 3D printers are the first in the world to be UL 2904 certified with safe, recyclable materials. Other topics will include how to use RIZE 3D printers to increase understanding of generative design understanding, and also how to integrate the multimaterial systems and software into your existing workflow.
"Join us for this webinar to explore how next-generation 3D printing solutions can provide new innovation capabilities and applications that only RIZE can deliver."
You can register for the webinar here, and a confirmation will be emailed to you with information on how to join.
Will you attend any of these events and webinars, or have news to share about future ones? Let us know!