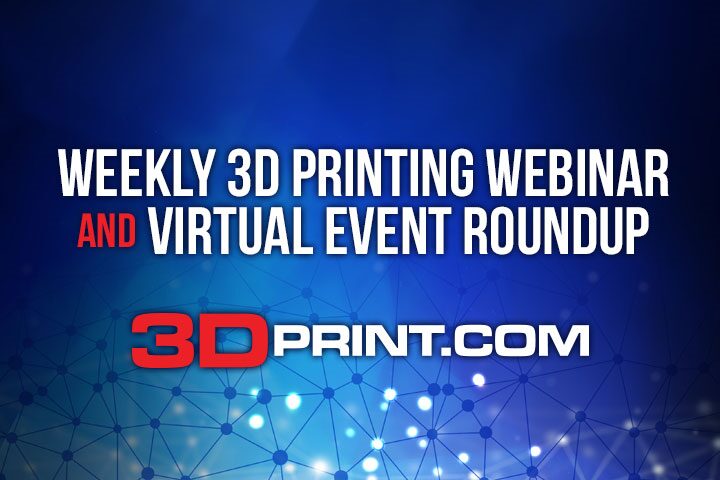 We're slowing down a little this week, as Formnext Connect is over and Thanksgiving takes place in the US on Thursday. But we've still got some interesting webinars and virtual events to share with you, so read on for the details!
Product Launch for Hybrid Meltio Engine 
On Monday, November 23rd, at 11 am EDT, MELTIO is holding an Official Product Launch for its new Meltio Engine, its new hybrid manufacturing method that combines traditional fabrication machines with metal additive manufacturing. The company says that the Meltio Engine has many advantages, including new possibilities for applications, part size, and production costs in multiple industries.
"Join us in this digital event with exclusive video footage, interviews and key technical and commercial data about the new Engine."
You can register for the public launch event here.
Materialise Think-In Series Continues
Last week, Materialise held its Think-In Launch Event, and several company executives joined together to announce some new software and hardware solutions to help customers innovate and create real business value with its additive manufacturing, including Materialise Process Tuner software, new Magics 25 features, an e-commerce Materialise Storefront, and more.
The company's ongoing Think-In Series is continuing this week, with a webinar on New 3D Printing Materials of 2020 taking place on Tuesday, November 24th. You can register for this event here.
SPS Connect Program on Automation
SPS Connect, taking place virtually from Tuesday through Thursday, November 24-26, has just published its preliminary program on event organizer Mesago Messe Frankfurt's website. The virtual event isn't focused on 3D printing in particular, but on topics in the automation industry, such as robotics and artificial intelligence, and all of these often go hand in hand. The event is offering an intelligent platform for attendees to share knowledge and ideas, and continue making advancements in the related technologies. Each day of SPS, which stands for Smart Production Solutions, will feature presentations on smart digital automation and two additional areas of focus that will be presented during discussion panels, keynotes, and expert talks by well-known business and science speakers, as well as exhibitor contributions and networking opportunities. Subjects will include functional safety, motion, production IT, cybersecurity, AI, sensor technology, digital twins, Industry 4.0, and more. Prominent SPS exhibitor Siemens has joined as the official SPS event partner.
"The SPS plays a key role for Siemens as a platform for in-depth technical discussions and opportunities to engage with those in attendance. This has enabled us to build long-standing customer relationships and ever-stronger partnerships," said Marcus Bliesze, Marketing Director, Factory Automation, Siemens Digital Industries. "We're looking forward to supporting the virtual SPS Connect and using our involvement to stay in touch with our customers in order to continue working with them on driving the industry's digital transformation. With that goal in mind, we're going to bring more intelligence to product design and manufacturing by combining automation and digitalization solutions with future technologies like AI, edge and cloud computing, and additive manufacturing. At our own virtual event – 'Digital Enterprise SPS Dialog', which is scheduled for 26 November 2020 – we plan to delve into these topics in one-on-one conversations and present further highlights in a virtual 3D showroom."
You can register for SPS Connect here.
EOS Six Sigma Capability in Metal AM Webinar
This last webinar, "No Risk, Simply Production," is available on-demand from EOS, and focuses on Six Sigma capability in metal additive manufacturing, specifically with its own DMLS M 290 system. Attendees will learn how the EOS M 290, titanium material, and Six Sigma repeatability combine to offer a comprehensive package that will help prepare you for serial production in the medical industry and speed up the Operational Qualification (OQ) process for serial production of titanium implants.
"In the world of serial production for the medical industry, qualification is more than a factor – it's fundamental. Prototyping and testing is one thing, but if you're going to deliver high-value, high-quality parts in large volumes, consistent reproducibility cannot be left up to chance and your applications must be qualified.

"Adopting a new technology like additive manufacturing (AM) can be a risky proposition for organizations invested in serial production. To help minimize risk, it's up to the AM industry to support the qualification process with hard data and testing that can speed implementation and help with production planning, risk management, step-by-step work instructions, and overall analyses of products."
You can view the webinar for free, on-demand, here.
Do you have news to share about any future webinars or virtual events? Please let us know!