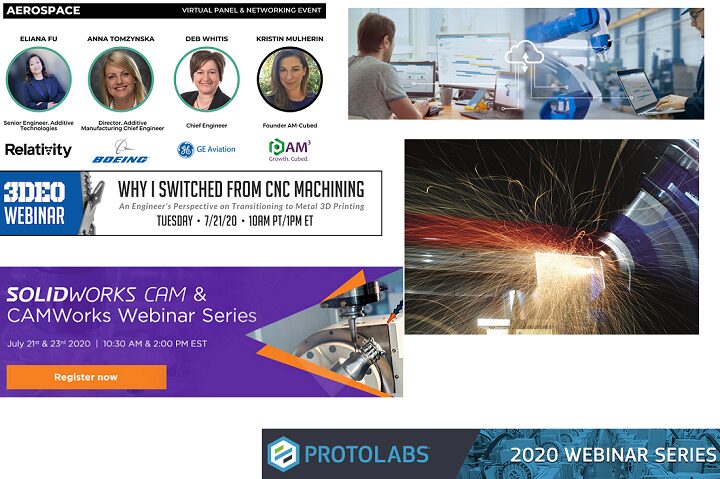 A variety of topics will be covered in this week's webinar and virtual event roundup, including additive manufacturing in aerospace, CAMWorks, product management, post-processing, and more. Read on to learn more about, and register for, these online opportunities.
AM in Aerospace Virtual Panel
On Tuesday, July 21st, Women in 3D Printing (Wi3DP) will host the third event, "Additive Manufacturing for Aerospace", in its virtual panel series. Sponsored by AlphaSTAR and Link3D, the panel will focus on how AM is used in the aerospace industry. Moderated by AM-Cubed founder Kristin Mulherin, the speakers are Anna Tomzynska, Director and Additive Manufacturing Chief Engineer for Boeing; Deb Whitis, GE Aviation Chief Engineer; and Eliana Fu, Senior Engineer, Additive Technologies, at Relativity Space.
Pre-registration will begin at 11 am EST, with a welcome speech at 11:25. The hour-long panel will begin at 11:30, with plenty of time for live Q&A, and there will be a virtual networking reception at 12:30. Register for the virtual panel here.
3DEO Webinar – Why I Switched From CNC Machining
Also on July 21st, metal 3D printing company 3DEO is hosting a live webinar, entitled "Why I Switched From CNC Machining: An Engineer's Perspective on Transitioning to Metal 3D Printing." The webinar, which starts at 1 pm EST, will feature 3DEO Applications Engineer Julien Cohen, who will explain the major differences between metal 3D printing and CNC machining. The following topics will be covered:
Compare CNC machining and 3DEO's proprietary metal 3D printing process

Understand the value metal 3D printing offers engineers in design and flexibility

Learn about the pros and cons of each process and when metal 3D printing makes sense

Discover three real-world case studies of 3DEO winning versus CNC machining

See 3DEO's process for going from first articles to production
You can register for the webinar on 3DEO's website.
Free CAMWorks Webinar Series
To make sure professionals in the CAM industry have easy access to educational and training materials during the COVID-19 crisis, a free CAMWorks webinar series has been launched. Each session will give attendees the opportunity to increase their CAM skills, learning about more advanced features that can help maintain business operations. "SOLIDWORKS CAM and CAMWorks: Getting Started" is on Tuesday, July 21st, at 10:30 am EST, and will be a training session on using the integrated CNC programming system SOLIDWORKS CAM Standard. It will also provide an introduction to the Technology Database (TechDB), which can automate the CNC programming process. "SOLIDWORKS CAM for Designers: A Path to Better Designs" will also take place on July 21st, at 2 pm EST, and will focus on how to use SOLIDWORKS CAM to reduce cost, improve design, and make it easier to manufacture parts.
You'll need to attend the "Getting Started" webinar before attending "SOLIDWORKS CAM and CAMWorks: Getting Started with the TechDB" on Thursday, July 23rd at 10:30 am EST. This is a more in-depth training session for using the TechDB included in SOLIDWORKS CAM and CAMWorks. The final webinar in the series is "The Future of Manufacturing in the COVID Era," also held on July 23rd, at 2 pm EST. This session will help attendees learn how to automate part programming to stay productive and competitive during and after the pandemic.
Protolabs Webinar: HP's Multi Jet Fusion
On Wednesday, July 22nd, at 2 pm EST, Protolabs will be hosting a webinar with HP, called "Tips and Tricks to Leverage Multi Jet Fusion in your Product Development Cycle." One of the company's Applications Engineers, Joe Cretella, and Brent Ewald, HP's Solution Architect, will discuss design tips that result in good MJF parts, how to implement the technology, and where MJF fits within additive and subtractive manufacturing.
"This webinar will help attendees understand how the HP Multi Jet Fusion technology 3D printing process can be leveraged in various stages of the product development lifecycle. The experts at HP and Protolabs have teamed up to give you key insights into Multi Jet Fusion materials, processing capabilities, and part quality. Whether the attendee is new to additive manufacturing or evaluating Multi Jet Fusion for their production project, this presentation will help identify when the technology provides the most value and what to consider when manufacturing Multi Jet Fusion parts."
Register for the webinar here.
Dassault Systèmes on Project Management Solutions
At 10 am EST on Thursday, July 23rd, Dassault Systèmes will hold a live webinar,"Discover How to Deliver Projects on Time and Under Budget, a Real-time Online Experience," all about collaborating with integrated project management solutions connected to 3D engineering data in order to drive project success. Dassault speakers Maximilian Behre, the Online Industry Business Consultant Director, and 3DS Industry Process Consultants Siddharth Sharma and Alessandro Tolio, will discuss project management challenges, shortening the design cycle through the 3DEXPERIENCE platform, provide a demonstration of Project Management on the cloud, and answer questions.
"Whether you are managing big programs that involve hundreds of people or are leading a smaller project, an easy to use integrated project management solution will help you to seamlessly collaborate across all disciplines with any stakeholder. Connect the dots between Marketing, Engineering to Manufacturing and customer services."
Register here.
KEX Knowledge Exchange on Post-Processing
Finally, former Fraunhofer IPT spinoff KEX Knowledge Exchange AG is holding its second webinar on its KEX.net web platform, "Online Seminar Post-Processing for Additive Manufacturing," on Thursday, July 23rd. Lea Eilert, the project and technology manager for the ACAM Aachen Center for Additive Manufacturing, will teach attendees about typical heat treatment for AM materials, the necessity of post-processing for 3D printed components, and various post-machining and surface finishing methods.
Register for the webinar here. In addition, Eilert will also present the third KEX webinar on August 6th, entitled "Market, Costs & Innovation."
Will you attend any of these events and webinars, or have news to share about future ones? Let us know!