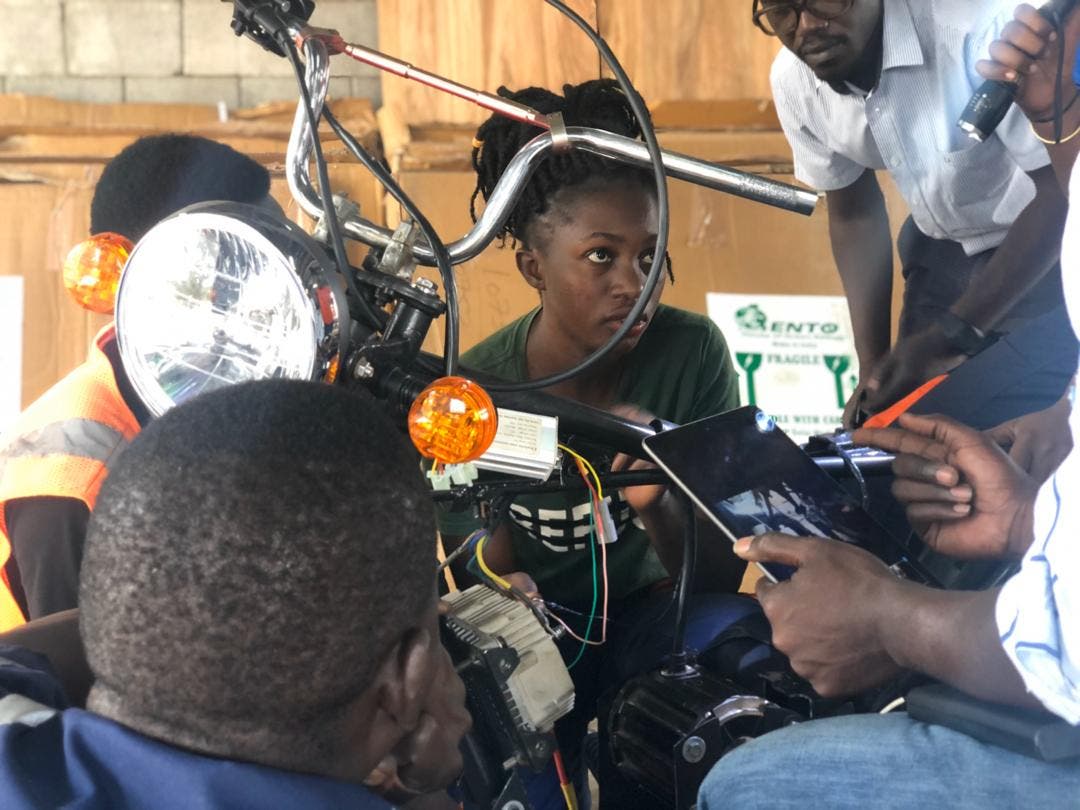 Batteries


Published on July 19th, 2020 |
by Remeredzai Joseph Kuhudzai
July 19th, 2020 by Remeredzai Joseph Kuhudzai 
---
The transition to electromobility has been shown to boost the circular economy. We recently looked at Linccell Technology Kenya that wants to be the "inclusive" eMobility company building robust electric wheelchairs, bicycles, and scooters that are suitable for local conditions.
The company's mobility products are built from recycled and upcycled materials. Up to 90% of the materials used are sourced locally, with only the electric motors imported from China. They assemble their battery packs using the standard 18650 cells recovered from old laptops, which allows them to lower the costs of their products significantly to levels that are more affordable for their target market.
Kampala-based Bodawerk is looking to transform lives in Africa, starting in Uganda with its electric products powered by upcycled old laptop batteries. Bodawerk ran pilot programs for its electric tractor and electric farm implements in Lira, Uganda in 2019. 
Checkout this Bodawerk Youtube video to see some of its electric implements in action. The company has just received a grant from the DOEN foundation for this program and plans are underway to scale up this initiative. A lot of farmers across the continent are still using ox-drawn and human-powered farming implements, and these electric plows are going to improve productivity and efficiencies for subsistence farmers.
"We work with local computer dealers to collect dead laptop batteries, recycle them in-house with our innovative recycling process and feed the Li-Ion battery cells found inside after testing them individually straight into power banks, 2nd life battery packs, torches and other applications. We have recycled more than 40,000 cells so far and built more than 350 power banks," says Jakob Hornbach, CEO and CFO of Bodawerk.
The power bank project is really cool as it presents a great opportunity for import substitution for a very popular product. Power banks have become almost ubiquitous as people move around with them in their backpacks to charge their cell phones, cameras, and other accessories. The locally produced power banks could eventually displace a decent portion of imported power banks that have flooded a lot of shops and informal markets on the continent. Bodawerk's initiative is also creating much needed job opportunities with the firm now employing 30 people on a full time basis.
Another exciting product is Bodawerk's conversion kit for motorcycles that is targeting the east African motorcycle taxi industry. The total addressable market for this is huge, with over 3 million motorcycles on the roads in the east African region.  The motorcycle market has seen significant growth over the past decade.
In Kenya for example, registrations started to grow significantly in Kenya in 2007. 16,293 motorcycles were registered in 2007 and 140,215 motorcycles were registered in 2011. Registrations started to show strong growth again from 2017 with 186,434 motorcycles registered in that year. A record 210,103 motorcycles were registered in 2019.
Converting a good portion of this fleet to electric could be one of the best ways of tackling CO2 emissions. A standardized conversion kit for some of the popular motorcycles, such as the Bajaj Boxer, would be a gamechanger, as this lowers the barriers to entry for the target market segment.
Bodawerk's conversion kit is currently available at $550 but it is working hard to bring that down to around $200 dollars in the short to medium term. The company believes it can easily meet this target price from unlocking efficiencies associated with economies of scale. These prices are excluding the battery pack, which it will lease out at $2.20 per day. This battery fee will see riders enjoying significant savings as they currently spend around $5 per day on fossil fuel motorbike operating costs. With electric motorcycles, their daily profit jumps to around $5.8 based on average daily earnings of around $8. 
For now, Bodawerk is not offering any battery swapping services. The riders take care of charging the packs themselves. The minimum rental contract is one week. The company hopes to offer battery swapping stations in the short to medium term as it scales. A summary of the specs is listed below:
Battery = 48V DC 6kWp 

2.2kWh nominal capacity (later >3kWh)

Range is currently 70km with one rider but with the new software updates it will be around 80-90km with one rider and >50km with  a passenger

The motor is currently rated at 2000W, but Bodawerk will move to a 3000W motor in the near future
 Images courtesy of Bodawerk 

Latest CleanTechnica.TV Episode
---
Latest Cleantech Talk Episode
---