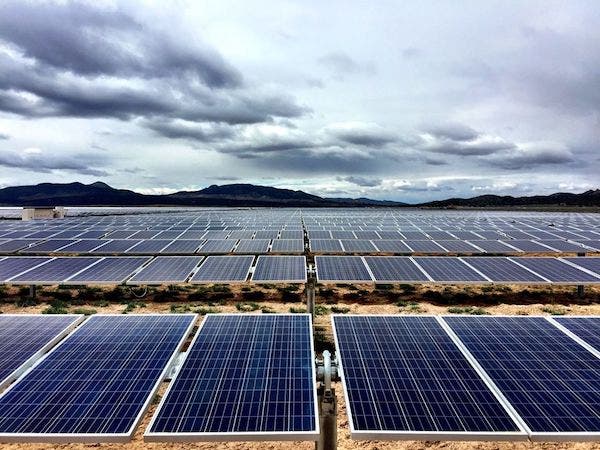 Clean Power


Published on August 9th, 2020 |
by Tina Casey
August 9th, 2020 by Tina Casey 
---
Coal power plants in the US have been retiring at an average clip of 10 gigawatts per year as the clean energy transition takes hold. That may sound impressive, but it's not nearly quick enough, considering that climate change is already buffeting the Earth. The pace has to pick up quickly in order to avoid more catastrophe. That's where a new thing called solar-for-coal swaps comes in. The "swap" part is a bit complicated, but if the idea catches hold it could speed up coal power plant retirements and skim more than 20 gigawatts right off the top.
The Clean Energy Transition: Coal Power Plants Ripe For Picking
In a new white paper, the clean energy group Energy Innovation has identified some low hanging coal fruit, in the form of 179 gigawatts that can't compete on cost with solar any more. These coal units are still operating for various reasons even though solar saves money, but Energy Innovation has picked out a group of 22.5 gigawatts that could be rolled over in short order.
If all goes according to plan, shifting those 22.5 gigawatts to clean energy would provide other coal-dependent utilities with a roadmap for retiring their coal units sooner rather than later.
Energy Innovation focused on those particular 22.5 gigawatts because they come under the umbrella of publicly owned power companies and rural electric cooperatives. As not-for-profit entities they are more sensitive to public demand for clean energy. They answer primarily to their communities, not to shareholders.
For those of you new to the rural electric cooperative topic, these are hundreds of community-owned utilities created during the Great Depression with the mission of bringing electricity and economic activity to large swaths of rural America, which was largely unlit at the time.
RECs are not subject to the same kind of regulation as investor owned energy companies. That can be a good thing and a bad thing. Because of their strong community benefit mission, RECs have more flexibility to innovate on clean technology. That's quite a clean tech super power now that costs for renewable energy have come down.
In fact, the National Rural Electric Cooperative Association has modified its mission statement to note that RECs are aiming to "electrify vehicles and homes and water heaters and provide a path toward a cleaner, more sustainable future." So yes, innovating on clean tech is a big thing with this group.
On the down side, long term contracts for coal power plants, coal mines, and other legacy job-creating energy infrastructure can encumber some RECs with outdated technology for decades to come.
Solar-For-Coal Swaps
That's where the solar-for-coal swap concept comes in. If RECs could retire coal plants and replace them with locally sourced energy and new jobs, that would help offset the economic impact of the lost fossil energy jobs.
Ideally, the new green jobs framework would foster improvements in the local economy rather than just enabling it to tread water. The whole idea of the swap is to reduce electricity costs for the entire community. That would benefit local businesses while giving consumers more folding money to throw around.
The transaction itself involves a number of moving parts, but basically solar-for-coal brings in a third party that arranges for private capital to swoop in and relieve the utility from the up-front costs of disentangling itself from its fossil fuel contracts. The third party would also do the heavy lifting for lining up replacement power sources.
If that sounds like a free lunch, it's not. Solar-for-coal is similar to the now-familiar power purchase agreement, which enables electricity users to purchase clean energy assets with no up-front costs. The consumer benefits from lower electricity bills while paying off the assets bit by bit.
Another comparison would be the emerging trend of financing energy efficiency improvements through third parties, under contracts called energy efficiency-as-a-service. As with PPA's, the consumer enjoys lower bills and the energy efficiency developer carves out a cut for itself.
Coal Swapped Out, Clean Energy Swapped In
As described by Energy Innovation, the solar-for-coal formula is already being deployed by the Colorado power wholesaler Guzman Energy. The transaction involves a coal-heavy Colorado wholesale power provider called Tri-State Generation and Transmission Association.
Guzman crossed the CleanTechnica radar about 14 months ago, when the Denver Daily Sentinel reported that Guzman proposed a $500 million swap targeting almost half of Tri-State's existing coal capacity, located in Colorado and New Mexico.
Tri-State had already tapped some of its coal portfolio for early retirement. The Guzman proposal would speed that process up by targeting coal capacity that was not already on the early retirement list.
On May 29 of 2019, CleanTechnica observed that "An obscure energy company based in Denver has just figured out how to provide rural electricity ratepayers with what they desire: renewable energy at low prices that beat the stuffing out of ancient coal power plants," further noting that "the maneuver could lay the groundwork for retiring both coal and gas power plants at a more rapid clip."
We weren't too far off the mark. This past spring, Guzman agreed to shoulder a $62.5 million exit fee that will enable a local REC called Delta-Montrose Electric Association (DMEA) to ditch its coal-supported contract with Tri-State 20 years ahead of schedule.
The Guzman deal will enable DMEA to lock in current rates while quadrupling the amount of electricity it can produce locally on its own from just 5% to 20%. The deal also commits Guzman to supplying a minimum of 40% clean energy to DMEA.
The Guzman deal was finalized last month, and DMEA is not letting any grass grow under its feet. The utility has a modest 20-kilowatt community solar program under its belt, and it is already exploring a 10 megawatt solar venture with Guzman.
More Clean Energy For The People
CleanTechnica asked Energy Innovation for some further insights about solar-for-coal swaps, and their Director of Electricity Policy, Mike O'Boyle, got back to us by email.
CleanTechnica: Why are RECs more flexible than typical investor-owned utilities?
O'Boyle: RECs in this context are both customers and co-owners of the generation fleet. [They] can use these financing mechanisms to get a better deal where the incumbent generator is unresponsive to their demands for cleaner, cheaper power.
This trend is similar to the pressure we've seen large customers in, e.g. Nevada, exercising against the incumbent utility – they can take their significant buying power and creditworthiness elsewhere if the incumbent is not able to match their needs and the private market can provide a better deal.
CleanTechnica: Could the same model be applied to wind power?
O'Boyle: There is really no reason why this can't be applied to wind, storage, or hybrids. The locality of solar means that this situation may be more readily available for solar, but other technologies or portfolios of technology could very well be financed in a similar structure.
CleanTechnica: In terms of public pressure for more renewables, how influential are commercial rate payers?
O'Boyle: This depends on the size of course. Middle to small size commercial rate payers don't have the power that large customers like Google, Apple, and Amazon may have to contract with third-party providers and credibly threaten to find their power elsewhere."
CleanTechnica was also wondering if malfeasance — as illustrated by the Ohio coal/nuclear bribery scandal — could prevent solar-for-coal swaps from coming into widespread use.
O'Boyle thinks not. He drew a sharp contrast between the Guzman deal — "a private market transaction at arms-length to replace monopoly incumbent generation" — and the Ohio scandal.
"The bribery scandal represents incumbent monopoly utilities racketeering to protect their uneconomic assets. Regulatory independence and oversight in either case is key," O'Boyle said.
So, Who Wants To Pay More For Coal (& Nuclear)?
For the record, the Ohio bribery scandal involved a new energy bill, House Bill 6, that somehow got signed into law last year despite widespread opposition. The bill provided for $1 billion in taxpayer funds in support of two nuclear power plants and two coal plants, and it gutted the state's standards for renewables and energy efficiency.
If anything, publicity over the bribery scandal should serve to spark public resentment at paying higher electricity rates to keep either fossil or nuclear power plants afloat, when they could be paying less for wind and solar.
Last time we checked, the cost of renewable energy has nowhere to go but down. And House Bill 6 is on its way to repeal.
Follow me on Twitter.
Photo: US Department of Energy, Office of Energy Efficiency and Renewable Energy.
Photo: Courtesy of Guzman Energy 
Appreciate CleanTechnica's originality? Consider becoming a CleanTechnica member, supporter, or ambassador — or a patron on Patreon.
Sign up for our free daily newsletter or weekly newsletter to never miss a story.
Have a tip for CleanTechnica? Send us an email: [email protected]
Latest CleanTechnica.TV Episode
---
Latest CleanTech Talk Episode
---