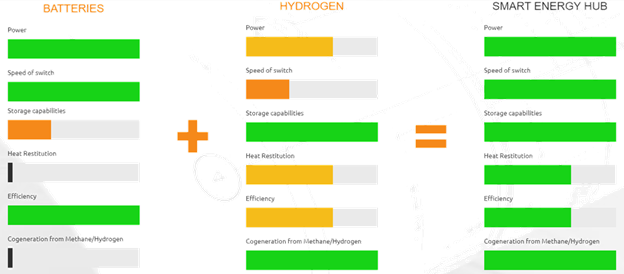 How does the system function?
When a building produces too much energy, lithium-ion batteries can be filled up and  used to form hydrogen. Hydrogen can be stored for a long period of time. When there is not enough energy produced, batteries react immediately to provide electricity to the building and hydrogen is consumed to power electricity and heat.  If the hydrogen stocks are depleted, regular natural gas from grids can be used to continue providing both heat and electricity in a fuel cell cogeneration process. This methodology makes it is possible to anticipate energy needs by refilling your hydrogen supply when electricity from the network is cheap or buying gas instead of electricity when the emission factor of electricity from the grid is high.
Compared to competitors who offer battery-centric systems for local storage, how does Sylfen account for the loss of energy when the energy is transferred from electricity to hydrogen and then back to electricity?
We are targeting buildings which already have local energy production capability with a self-consumption capacity between 40 – 60%. When you consider the available energy storage options to store excess energy, you realize that hydrogen is very competitive.
Indeed, the standalone round-trip efficiency of hydrogen is between 25 – 35%, poor in comparison to lithium ion batteries that can have maybe 80 to 90% efficiency. In reality, lithium batteries cannot economically store 100% of the excess local energy produced every day.
This is especially true for large buildings which can only self-consume 50%  of their electricity annually. If you want to value this excess electricity with standard lithium ion batteries, you will require a huge volume just to be able to store two to three days of excess energy.  Adding large batteries to these buildings will cost a lot and you will only increase the consumption by maybe 5%- 10%. This is not economically viable. With hydrogen storage, it is possible to store very large amounts of energy locally, raising self-production to 80%  or even 90%, while having an economical case for the building's owners.
The last key point is about hydrogen efficiency. Roundtrip efficiency demonstrates about 70% of losses. A bit of these losses is consumed by auxiliaries, but mostly it is heat. By targeting buildings, our goal is to value this heat and used it to cover part of building's needs. If you can take this heat into consideration, the overall efficiency of the hydrogen energy storage fluctuates from 35% up to 90%. So, if your building is close to a heat network, or has a constant heat requirement, your efficiency can easily reach up to 90%. In practice, for office or collective housing buildings, the average energy demand fluctuates between 50%- 70%. So, the value generated is much higher than with batteries alone, provided we can store strategic amounts of energy for seasonal shifts.
Why did Sylfen choose to build a system which uses batteries and hydrogen storage?
Both storage options are, in fact, complementary. Lithium ion batteries are extremely reactive and can address the needs for power response. Hydrogen is very good to store very large amounts of energy for long periods of time.  Together, they can offer the best services required for energy storage device.
What kind of building segments are you targeting?
We are initially targeting buildings ranging from 2,000 – 10,000 sq/mt with local energy production capacity dedicated for self-consumption. This is the range for tertiary buildings. We can address most types of buildings, such as swimming pools, city hall, schools and so on. So long as there is the need to render these large buildings autonomous in their energy use, there is most likely a business case.
Cleantech Group: How do you foresee the business model working?
Francois: We sell a full-service solution from the conception of the building up to the operations and maintenance of the energy storage system. This way, there is continuity from the early discussions toward the operation of the energy storage system over time, in order to maximize value to the client, making sure he or she gets the return on investment they deserve.
If a customer were to invest in your system, would they be losing out on some potential revenue stacking opportunities, which are already established with the use of conventional battery technologies?  
Grid services can be very interesting in our view, but we do not believe relying on revenues from grid services can replace the price of purchasing from the grid, or at least not in the short term. We are actively engaged in a European project called GIFT to explore the economic value of flexibility assets as non-wire alternatives for a distribution network operator. At the end of that project we foresee a long-term opportunity to enable our system to participate in grid services.
What are the company's plans over the next 12-18 months?
Having just moved into our own manufacturing space, we have started construction of five modules that will be put into service this year. We are entering into the pre-commercial phase, and in a few months, we aim to have out first pilot installations complete. This will ultimately allow us to improve our value proposition and be ready for full commercialization towards the end of 2021. For buildings, this means we are already taking orders, as it takes one  to two years of studies and construction before grand openings. We have already signed two customers this year, and we are hopeful to get two or three more. Outside of France, we are looking to target Italy and Spain, both great geographies for our value proposition.
Why did you apply to be one of Solar Impulse's 1000 Solutions and what do you hope to gain?
We believe in the same goal that Bertrand Piccard and the Solar Impulse Foundation are trying to achieve, more specifically, we feel we can address the energy transition by offering some solutions that are economically viable. Given the organization's global audience, we initially hope the label will provide us with better visibility, giving us exposure to worldwide partners. By the way, this was not an easy award to get! The assessment from the jury was rigorous and they went into the details, so this is a highly- valued award.
Now you are one of the 1000 Solutions, is there anything you have already gained?
The award has already provided us with some fresh company introductions, proving its value for visibility. At the moment, we understand the benefits it could bring us, but we're not yet fully using its potential. But I think in a month or two we will be leveraging this network more seriously.
Cleantech Group is working in partnership with the Solar Impulse Foundation to find 1,000 profitable cleantech innovations and to collaborate with governments to bring these solutions to market quickly. The  1000 Efficient Solutions label is free and gives you access to a wider market, exposure to investors and feedback that is essential to progress.