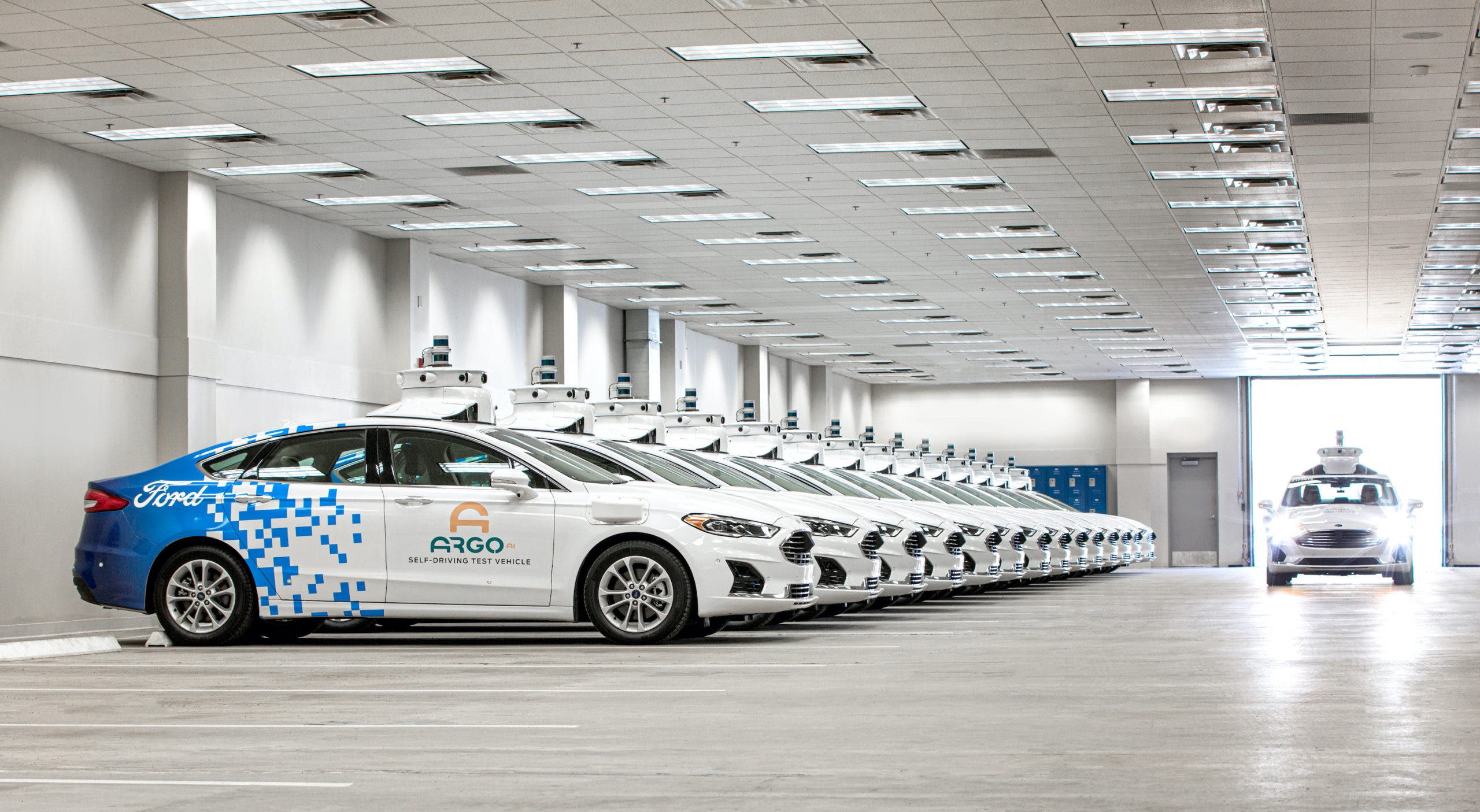 July 5th, 2020 by Zachary Shahan 
---
The self-driving car race seems like it's been going on forever, but also at times seems like it has no ending — since it's so hard to get truly self-driving cars (from point to point) on the market. A lot of hope is being put on Tesla because it is collecting enormous amount of data (oodles more than anyone else) and feeding it into neural nets managed by potentially the best autonomous driving professionals on the planet. But there is no guarantee they are going along the best route, and there are many other players in the field.
Perhaps the two most notable players in this field other than Tesla, from my perspective, are Zoox (because it was just bought by Amazon, which has potential to develop its tech at an enormous scale) and Argo.AI (company site here). Why Argo.AI? Well, not being an AI expert and not having much insight into the details of the various startups anyway, it's not from some analysis of Argo.AI's competitive advantage. It mostly (but not entirely) comes down to its potential to quickly collect data at a massive scale. (Though, potential is a key word there.)
From what I hear time and time again, scale of data collection is critical. Any self-driving tech without this (in the real world, not simulations) is hopeless. Any self-driving tech with a large advantage in scale is several leagues above most of the competition. The problem so far is that no one has seemed to have a path to massive-scale data collection. GM seems to have good tech (Cruise), but there's no indication GM is building mass-market vehicles around that tech in order to get it out on the road at an enormous scale. It's still testing in small quantities at a small scale in vehicles not built around autonomy (as far as I can see) and GM hasn't announced any revolutionary change in how it designs cars in order to maximize the potential of this tech.
I wasn't paying a lot of attention to Argo.AI, even though we've covered it several times, but it has a few things going for it that stimulated this article.
First of all, I'll emphasize once more the key point above: if implemented in both Volkswagen and Ford vehicles, as they're indicating is the plan, the tech can rack up a ton of miles and learn from them to quickly get better.
What's critical along those lines is that the automakers actually and seriously integrate the tech into their vehicles, or more appropriately, build vehicles around the tech. In a great interview we published yesterday with Peter Mertens, former board member of Audi, Volkswagen Group, Volvo, & Jaguar Land Rover and former R&D head of Audi, he highlighted this point as well. We don't have clear indication that Volkswagen and Ford are approaching their potential with Argo.AI in this way, but there are some indications they might be.
Both automakers have acknowledged a need to revolutionize how they approach software in cars, or cars built around software, and are trying to change with coming models — the Volkswagen ID lineup and the Ford Mustang Mach-E, for example.
These automakers seem to have the most compelling, most genuine electric vehicle efforts coming to market of major legacy automakers (there are some other companies you could potentially loop in here, but this piece is not about them — and I'm not convinced of the commitment anyway). If they are genuinely ready to jump into this brave new EV world, I think they could be doing the same with AVs, and Audi's/VW Group's new Artemis division (along with the comments noted above from Peter Mertens) may allude to that.
It's been more than 3 years since Ford invested $1 billion into Argo.AI, and rather than sweeping it under the rug and hiding a failure, it seems to be continuously building on that initial investment while Argo.AI also expands its outlook. As part of the new Ford–Volkswagen partnership launched in 2019, Volkswagen committed to put $2.6 billion into Argo.AI. Now, in their latest announcement, they are highlighting their planned (though vague) scale of commercial deployment: "Argo AI's SDS is the first with commercial deployment plans for both Europe and the U.S.The global reach of Ford and Volkswagen will give Argo AI's platform the largest geographic deployment potential of any autonomous driving technology to date.Reach and scale are important factors in developing an SDS that is robust and cost efficient."
On the second bullet point above, I think this quote from Argo.AI's website also has particularly strong implications (emphasis added):
"We are partnering with leading automakers to integrate our technology into their vehicles — so that those vehicles can enable new ride sharing and delivery services that do not require the aid of a human driver.
"Our team's extensive experience in robotics and artificial intelligence complements our partners' expertise in manufacturing high-quality vehicles at scale.
"With a focus on tight integration and attention to detail, safety isn't an afterthought, it's designed into our product from Day One.
"That's what sets us apart."
I'm not sure if the Volkswagen ID.3 and ID.4 or the Ford Mustang Mach-E were built around maximizing the development of Argo.AI in order to quickly "learn"/improve or not. Not seeing explicit mention of that, I'm not optimistic, but I do see it as a possibility. Even if it was too late for that, though, I expect these companies to integrate the AI tech to some extent and to increasingly build vehicles around it. To do otherwise would be a shocking display of shortsightedness or a sign of vastly underdeveloped and overvalued tech from Argo.AI — neither of which are options I'm willing to assume.
Volkswagen Group and Ford both have massive annual vehicle sales, but the problem is that these are legacy vehicles based on 20th century tech that aren't built around AI and can't offer Argo.AI much help. However, Volkswagen is making the quickest sprint toward full electrification of any large automaker in the world and the many new models coming to market can be learning vessels for autonomous software and can bring down hardware costs tremendously, and Ford is electrifying its two most iconic model names — the Mustang (Mach-E) and F-150 (which Ford is reportedly creating a fully electric version of).
I could very well be wrong — and I wouldn't pretend otherwise — but outside of China (where there is surely much under development and scaling up) the big potential movers and shakers I see in the self-driving vehicle world are Tesla, Zoox + Amazon, and Argo.AI + Ford and Volkswagen Group.
We have more on these topics to come. In the meantime, let me know what you think about these companies and these matters! 

Latest CleanTechnica.TV Episode
---
Latest Cleantech Talk Episode
---