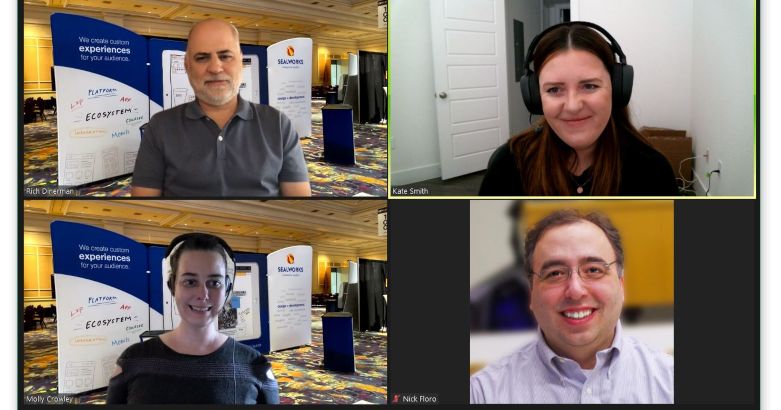 Are you at DDX this week? Did you visit the Virtual Expo last Wednesday? Hundreds of your colleagues at DDX were there, and they agree that it was time well-spent and a more useful experience than any other Expo at any other conference they have ever attended. Here is some information that will help you get more from the Virtual Expo this week.
What's different this year?
All of us know "how to do an Expo" for an in-person event, but a Virtual Expo requires some new learning, thinking, and planning. The key to getting the most from a Virtual Expo is the new features.
Organization and structure
First, there's less sensory overload, and that's a good thing. You can still find your friends and colleagues in the Virtual Expo, you can still chat with them and with the exhibitors, but there's no crowd to fight, even though there are a lot of people on the site.
The Expo is open again for five hours on Wednesday, October 28, and it's organized so that exhibitor presentations are available in specific 30-minute blocks, each followed by 30 minutes when you can meet with individual exhibitors. There are only four presentations going on at any one time, and you can see in advance what will be discussed, including any new product, service, or offering features, and any special offers that are available. You get enough information in the DDX app ahead of time to organize your visits with the vendors you most need to speak with.
Some exhibitors are using a conversational approach (you can ask specific questions in chat) and some are using a more traditional presentation delivery.
Exhibitor availability: the MeetNow button
If you want to go into a little bit deeper conversation with an exhibitor, many of the vendors have a blue "MeetNow" button on their profile page. This button appears from when the Expo opens Wednesday and remains available until the Expo closes, on the profiles of exhibitors who opted for it. Select the MeetNow button and the app will place you into a breakout room with a representative from the exhibitor company.
Recorded exhibitor presentations
Many exhibitors on October 21 and on October 28 will have recorded their presentations, including the Chats and comments that people left during the presentation. This is a lot handier than having to take physical notes in a crowded Expo hall.
In addition, there are Tech Demos from seven exhibitors, and you will be able to watch these On-Demand at any time before, during, and after the Expo sessions.
Help navigating the Expo
Mark Britz, senior manager of programming at The Learning Guild, has recorded an On-Demand Introduction to the Digital Expo. This will remain available in the online app for your reference.
Here's why you still need to visit the Expo on October 28!
Play the Expo Virtual Passport Game
There is still time to log your visit. That's important! Ten (10!) visits total between October 21 and October 28 to individual exhibitors gets you in a drawing for a full registration to DevLearn 2021. Logging your visit only takes a few seconds.
Go strategic to tactical (and historical) in the Expo
On October 21, there were 16 presentations by 15 exhibitors. These were recorded and are still available in the Virtual Expo. Some of the exhibitors have chosen to keep their MeetNow buttons active through the October 28 Expo, so don't miss this chance to get your questions answered.
And yet there's more on October 28!
There are 12 presentations by 12 more exhibitors, in three, 30-minute presentation sessions this coming Wednesday, October 28. Once again, there will be 30 minutes between sessions when you can meet individually with exhibitors, and an hour and a half after the last session for individual meetings with these vendors. Just use the MeetNow button.
Assima
Unboxed Training and Technology
Float
JPW Consulting
Snagit and Camtasia
Rapidmooc
Gamelearn
eLearning Brothers
Xyleme
TorranceLearning
D2L
TechSmith
We're looking forward to seeing all our DDX 2020 guests in the Virtual Expo this Wednesday!