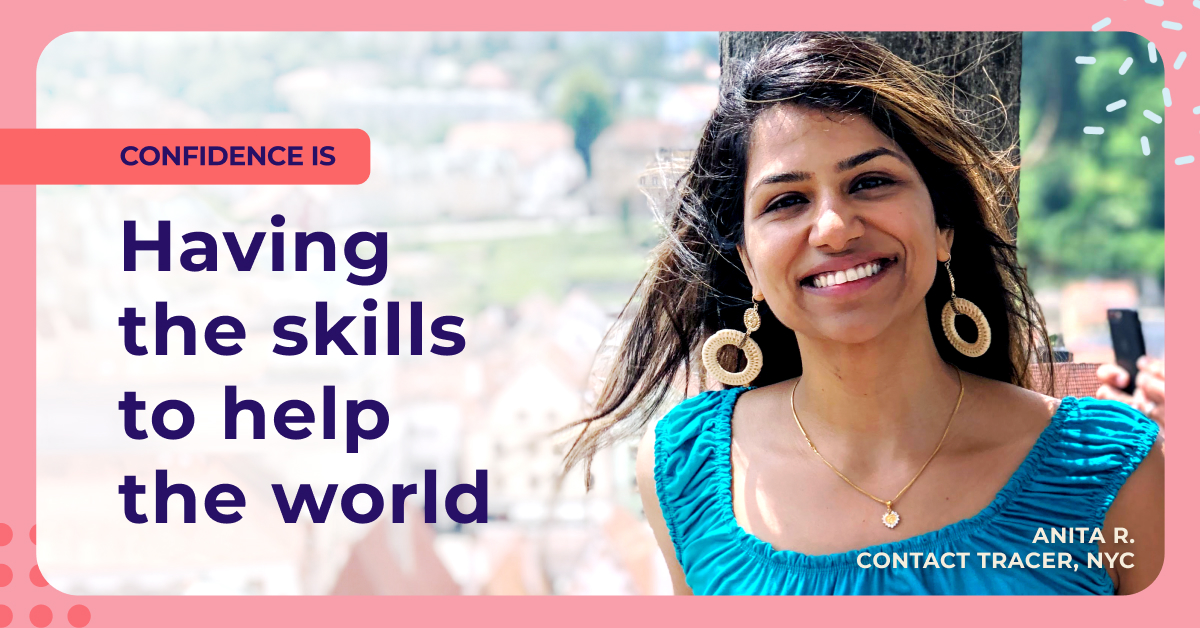 We want to introduce you to Anita. She recently completed the COVID-19 Contact Tracing course from Johns Hopkins University and began working as a contact tracer to help combat the virus. Below, she shares her experience in the course and tells us about her background and future plans.
Hello Anita! Thank you so much for taking the time to speak with us, and sharing your story with the Coursera community. Before we get into contact tracing specifically, maybe you could tell us a bit about your background first? What are your interests, and what drives you as a learner?
I am very concerned about anthropogenic climate change and the effect it is having on every species and population on this planet. In a previous role, I was a US diplomat on science and technology, advocating for science cooperation to address the world's biggest environmental challenges. I have also been a United Nations consultant, introducing climate cooperation solutions and implementing programs that help the world's most vulnerable people adapt to climate change.
I have an academic background in Environmental Science (a BS from UCLA) and Climate and Society (an MA from Columbia University).
Thank you for sharing that! It's clear you have a really strong commitment to creating positive change in the world. How does Coursera fit into the picture for you?
I appreciate Coursera for its influence in my personal life but also to society as a whole. I have been able to expand my skills and knowledge in many areas, including project management, programming, behavioral health, and now contact tracing.
We're especially eager to hear about your experience with the COVID-19 Contact Tracing course from Johns Hopkins University. Can you share some of your thoughts with our readers?
The JHU Contact Tracing course was one of the best courses I have taken on Coursera. I am really impressed with JHU for putting it together so quickly, the Bloomberg Foundation for making it completely free to everyone, and to Coursera for being such an easy-to-use platform.
That's really wonderful to hear! We've been so moved and excited by the response. In just the first week alone, more than 150,000 learners enrolled in the course. How did you feel about the training, and the process of actually starting to work as a contract tracer in New York?
I left the training feeling like I understand the science of COVID-19, and that I can explain clearly how it is transmitted, when people are infectious, and why contact tracing can be is an effective intervention. There is so much speculation out there on these topics—since it is a novel virus and we are still learning about it—but having some hard facts coming out of JHU made me feel more at ease.
Were you surprised by anything?
There's a lot more to contact tracing than I realized! It's about tracking symptoms and virus spread, empathizing and building rapport with people who may be hearing difficult news from you, and identifying needs and providing resources for people to safely isolate or quarantine for an extended period of time.
So it's not just about learning the science, there's a real human element to it as well—did you find it challenging to master the material?
It was the right level of challenge. The number of videos and examples of how to handle different situations left me feeling like I know what this job is about and how to get started.
It's clear you're a committed lifelong learner. Can we ask what's next for you, and whether Coursera might play a role?
Since I have a background in the climate and the environment, I recently started the Yale Climate and Health Specialization on Coursera. I like that there are interdisciplinary specializations like this that allow me to interconnect my knowledge of climate with my current experience in public health.
I am also studying for the PMP exam, which was made possible because I got all the contact hours needed to register for the exam through the Project Management Specialization from UC Irvine on Coursera. That saved me hundreds of dollars that it would have cost to get training through other places.
We're so grateful that you found Coursera, and that you're finding the learning opportunities you need to achieve your life and career goals. What are your thoughts on this approach to online learning?
Coursera is providing high-quality education to people around the world who do not have the means to pay for expensive courses and programs. As someone who has worked in sustainable development, I realize the importance of access to education as a means of elevating oneself out of poverty. 
Thank you, Anita! On behalf of all of us at Coursera, we congratulate you on your achievements, and we can't wait to learn where your learning takes you next!
7