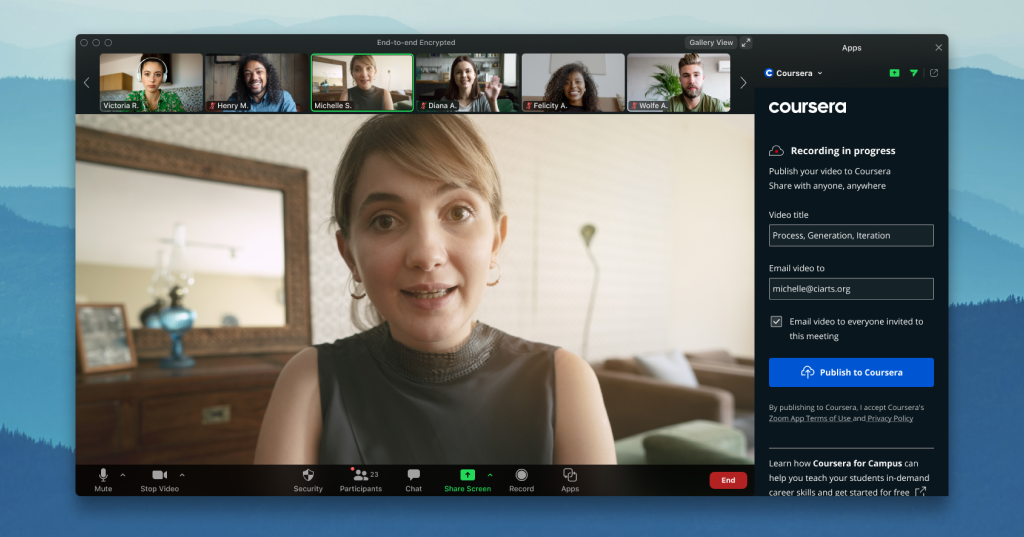 By Shravan Goli, Chief Product Officer, Coursera 
Today, the Live2Coursera app for Zoom is available for free download in the Zoom App Marketplace. With more educators teaching online, this app enables them to upload lectures* to Coursera with a single click directly from Zoom. Students can then view recorded lectures on Coursera via desktop or mobile and choose the best download option for their bandwidth, including high-resolution video, low-data video, or audio-only. 
The app builds on the stand-alone Live2Coursera experience, which we launched last August to help instructors quickly move online by integrating Zoom lectures into their private courses and content libraries on Coursera. The app expands the core Live2Coursera product by adding more download and viewing options for students—a particularly useful feature as we work to help address the digital divide in higher education.
Roughly 2.2 billion young people—which is two-thirds of the world's population aged 25 and under—lack internet access at home. Looking closer, 16-19% of U.S. college students this past year reported that technology barriers, such as inadequate computer hardware or internet connection, prevented them from participating in online classes. Those considered low-income or living in rural areas are disproportionately affected. Flexible download options and mobile device compatibility are just two ways to address the digital divide impacting millions of students around the world every day.
Instructors can get started with the Live2Coursera app by downloading it for free in the Zoom App Marketplace. Once downloaded, they can open Live2Coursera with a single click directly in Zoom. To increase accessibility and flexibility, instructors and students can engage with Live2Coursera anonymously and are not required to create their own personal Coursera account. Learn more about using Live2Coursera. 
The Live2Coursera app helps instructors remotely teach with confidence. With it, they know students will be able to access course lectures across varying levels of internet connectivity, data bandwidth, and device set-ups. Download the Live2Coursera app for Zoom today to make your Zoom lectures more accessible to all students. 
* Currently, Live2Coursera app recording capabilities are only available for Zoom customers with cloud recording access.
3