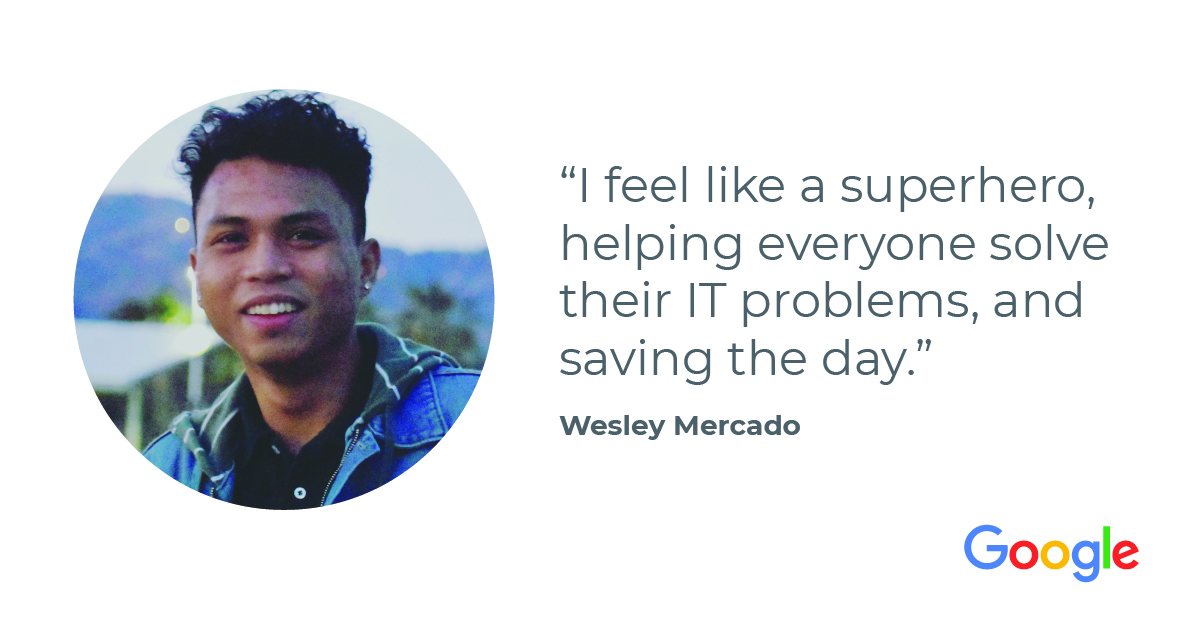 My name is Wesley Mercado, and I live in Los Angeles, California. Before completing the Google IT Support Professional Certificate on the Coursera platform, I had no prior experience in IT Support. Now, I work as an IT Support Technician at a healthcare call center in Beverly Hills. I did not grow up as a computer enthusiast, and my knowledge about computers was very limited. Technology and computers were introduced to me by my step-dad about nine years ago when I came to the United States. I understood that computers consisted of multiple moving parts, but I did not know exactly what the different parts were designed to do. Before taking the  Google certificate, I was studying in college and working part-time as a cook. A friend of mine introduced me to YearUp, a program to help young adults start a new career. YearUp, a Google.org grantee, recommended the Google IT Support Professional Certificate on Coursera, in order to expand my IT skill set.
The Google IT Support Professional Certificate definitely opened doors for me. Apart from my six month internship through YearUp, I did not have any previous professional experience in help desk support. This certificate verifies that I have studied various aspects of computers, software and hardware, that I know how to provide technical support, and that I can be a great asset to any company. All of this strengthened my resume. The most important skills that I gained from this program came from the courses, The Bits and Bytes of Computer Networking and IT Security: Defense Against the Digital Dark Arts. They gave me a clearer understanding of how computers communicate. My company employs remote agents, so understanding how to secure networks outside our reach is a must.
My favorite part of this role is just being in IT. I have on-call shifts, and sometimes employees call me directly with their technical issues or reach out to me first before the rest of the team. Some people may find that a little too much, but I see it as an opportunity to brighten up someone's day by helping them out with their technical difficulties. This is especially rewarding in a call center environment, where the atmosphere can sometimes be tense and stressful.
This is not to say that it was easy. I live about 50 miles away from West Los Angeles Community College, which is where YearUp Los Angeles is currently located. Every morning, I would wake up early and then drive 50 miles to attend YearUp, and then drive back home afterwards. 
I came to a realization that, with the Google IT Support certificate, in five months or less, I could be a working professional at just 21 years of age. This is something that my friends are still far off from achieving—full-time employment with good benefits. Most of my peers got into universities after graduating from high school, whereas I went to community college. For once, I was able to take the lead and show both my friends and younger siblings that it's possible to create something amazing, somewhere unexpected.
Whatever you learn through this certificate will stay with you for the rest of time. This can be your first trophy, like it is for me. I used to think I was going to be a filmmaker, but sometimes paths change, and here I am enjoying every moment providing technical support. Think of this program as the first chapter of a new book. We all know that the farther you read, the better it gets.
5