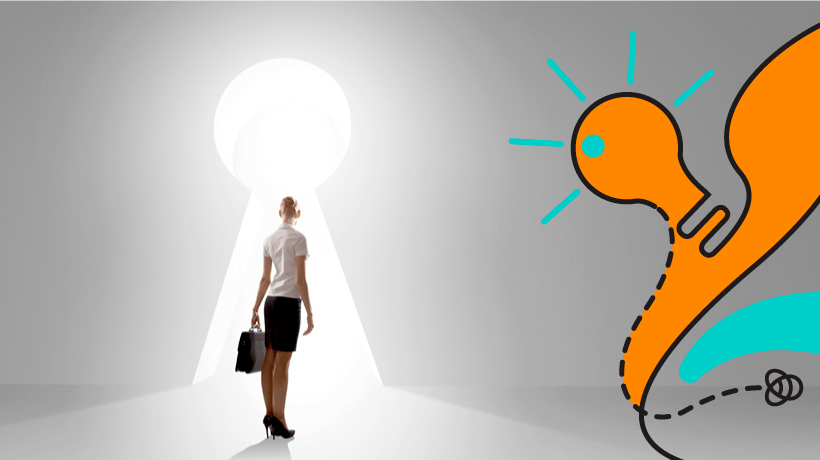 Breaking Down L&D Barriers: Shining The Spotlight On Accessibility In eLearning
Inaccessible resources, tech limitations, and other obstacles often stand between people with disabilities and meaningful eLearning experiences. However, anyone wishing to pursue their passionate purpose and cultivate vital skills should have the right to do so unencumbered by one-size-fits-all training solutions.
Let's look at how prioritizing accessibility in eLearning can transform your L&D programs and share how EI Design has made this one of their primary missions.
Why Does Accessibility Matter In Online Training?
Accessibility in eLearning isn't just about being audit-ready or meeting industry standards. Learners with disabilities who try to participate in non-accessible training courses are often frustrated or demotivated, and understandably so. They need more information to improve their performance or productivity, but tech/design hurdles stand in the way. Those with disabilities may even unintentionally be excluded from experiences, which robs them of the same benefits that their colleagues receive. As a result, they come away from their online training session feeling resentful or alienated from their peers.
To cultivate talents that are necessary to be competitive in today's workforce, individuals with disabilities attend training programs that are made available to all adult learners. However, many learners with disabilities encounter barriers to participation that interfere with their personal development. For example, they are unable to develop employability skills or find, maintain, and advance in their careers due to inaccessible training programs. This is in addition to the challenges they may face on a daily basis, such as lower expectations from employers and misconceptions from society as a whole.
L&D's Crucial Role In Helping To Create An Inclusive Workplace
More organizations are realizing the need for holistic D&I, particularly within the L&D sphere. Employees must feel like they're part of an inclusive culture that acknowledges and respects different perspectives, preferences, and backgrounds. According, the 2021 Workplace Report, 64% of L&D professionals worldwide say that their executives have prioritized D&I programs in 2021. On a global scale, 28% of L&D and D&I professionals collaborate on D&I programs.
It's essential for leaders, HR, and L&D professionals to provide ample development and advancement opportunities for all. They must also give employees the opportunity to share their unique perspectives by offering tailored resources that address emerging challenges. At the organizational level, everyone should have the chance to pursue their own paths and engage in lifelong learning, irrespective of their learning needs or participatory limitations.
The Accessibility Obstacles Organizations Face
Encouraging workplace diversity and making everyone feel included look good on paper, but it's no small feat. The trouble is that, despite all of the guides, tip sheets, and compliance manuals, diversity is defined differently in every organization. Perspectives, company values, and other crucial factors will determine what « diversity and inclusion » mean for your company. Here are a few accessibility hurdles that organizations commonly face:
Clear guidelines are in place but nothing moves beyond theoretical application;
Unique points of view are the core of innovation, but they can also slow down the decision-making process. Everyone wants to achieve true accessibility. However, they may have conflicting ideas regarding how to do go about it; and,
Accessibility in eLearning is generally viewed as being « too costly » or « time-consuming » to implement.
What Is The REAL Business Value Of Inclusion?
Building a culture of inclusivity allows you to enhance your R&D with new ideas and perspectives, leading to better offerings for a broader customer base.
The rewards far outweigh the financial risks, given that you can create training solutions that suit everyone's needs and expectations.
Inclusion boosts levels of productivity and creativity, as you can gather a talent pool with diverse skillsets and niche expertise.
An inclusive workforce helps companies attract and retain top talent, which reduces new hire recruitment and training costs.
Get To Know EI Design
There are numerous differentiating factors that we could mention, but one of the standouts about EI Design is that they don't settle for « run of the mill » eLearning experiences. They think outside the box to help organizations create meaningful and memorable resources for all, giving every learner the power to bridge gaps and receive ongoing support.
Expertise In Accessibility-Enabled Course Development
EI Design is constantly finding ways to make learning more inclusive and engaging for everyone. For them, accessibility isn't merely about ticking the boxes. They strive to go beyond simply incorporating the technical standards to focus on the true value of inclusion. In fact, accessibility and inclusivity in training solutions make for one of the pillars of EI Design's Vision 2022. The guiding principles that fuel their practice of eLearning inclusivity and accessibility are:
People should not be excluded from participating in meaningful learning experiences based on a disability;
Those with disabilities should be able to learn and do their tasks in a similar amount of time and effort as someone without a disability; and,
People with disabilities should find, use, understand, and navigate content without difficulty.
This practice of learning inclusivity and accessibility is built on the maxim that learning is a process of discovery. It's a multisensory experience wherein learners should be able to absorb and process information through cognition. With technology, learning materials can be custom-tailored to the needs of individual students, with the ability for these learners to access the materials anywhere and at any time.
As most eLearning systems are not designed to meet special needs, EI Design is always looking for new ways to design learning systems that are disability-aware and meet individual assistive technology needs. Their innovative designs are based on the POUR Principles of Accessibility and abide by the Accessibility Standards followed globally.
Learn More About EI Design's Accessibility Enabled Training Solutions
EI Design's Pillars Of Accessibility In eLearning
EI Design isn't just aware of the requirements and regulations about eLearning accessibility. They also have an action plan for its implementation based on these pillars:
Robust solution design
Dedicated team
Well-defined project workflow
Well-defined pedagogical, design, and technological considerations
Holistic testing
Expertise with tools and techniques
Conclusion
Discover the EI Design difference today. Check out their best practices and essential accessible eLearning design considerations so that you can provide equal opportunities to your online learners, regardless of their geographical locale or special training requirements.
References: