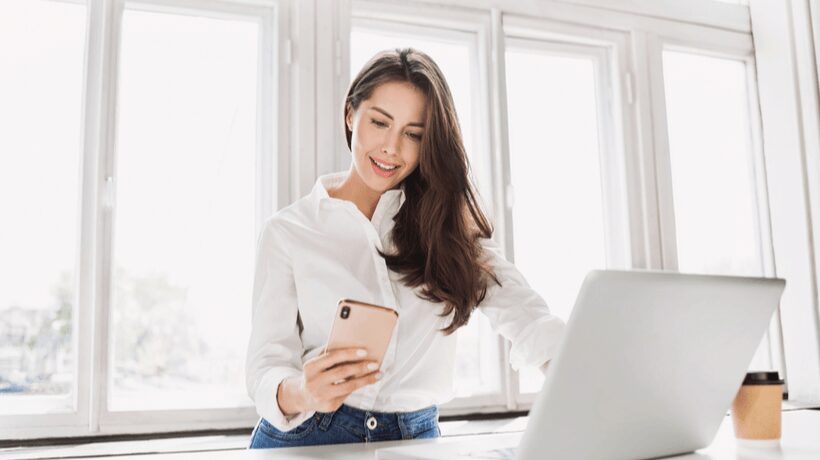 The Many Perks Of Custom Mobile Apps For L&D
Is mobile learning the best approach for your organization? Which drawbacks should you consider? How do you launch custom mobile learning apps to bridge gaps on the spot? Inno-Versity's eBook answers all your pressing mLearning questions. With the initial needs analysis out of the way, the fictional company AshCom is moving on to sales team performance. The next installment in the series, which covers all things mLearning, is now available for download. So, we invite you to follow along as the team overcomes business challenges after the merger using custom mobile apps and a solid L&D strategy.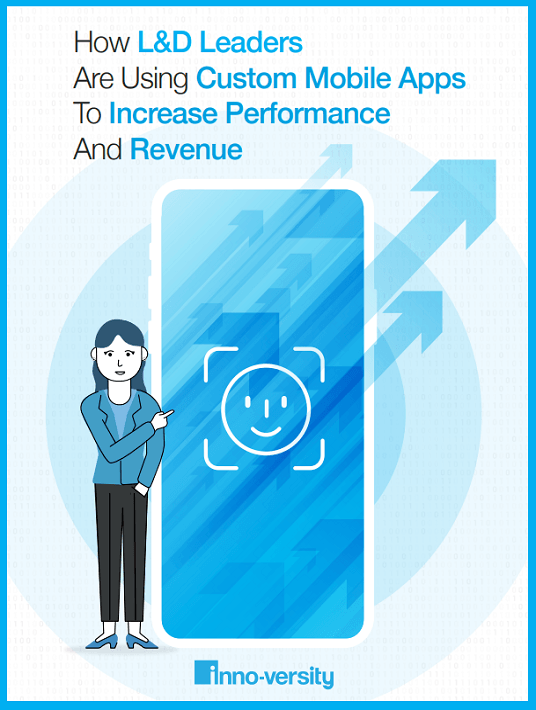 eBook Release
How L&D Leaders Are Using Custom Mobile Apps To Increase Performance And Revenue
Leverage mobile apps to boost employee performance and shore up organizational gaps!
4 Reasons To Implement Custom Mobile Learning Apps
1. Remove Accessibility Barriers
Employees should have access to online training content anytime, anywhere. They may have other obstacles to contend with, such as busy work schedules, but launching custom mobile learning ensures that logging into the training platform isn't one of them. They're able to get the L&D resources they need, regardless of their location or learning preferences. As a result, staffers are more likely  to train and fill knowledge gaps autonomously because there are fewer tech roadblocks.
2. Cast The L&D Net Wider
It's not just in-house staffers who benefit from custom mobile apps. External sales reps, customer service teams, and other extended enterprise partners can use mobile learning resources to develop skills and enhance performance. For example, they can log in to the system for quick product knowledge refreshers if they're prepping for a client meeting. Thus, you're able to open your L&D program to sales channels and external reps who can't make it to your formal ILT sessions.
3. Increase Engagement
In many respects, mobile learning empowers employees. They aren't restricted to their PCs or laptops and they can often choose resources that resonate with them. This is particularly true if you create a microlearning library that suits everyone's needs. After all, micro and mobile learning are a match made in L&D heaven. Staffers get a VIP pass to the repository, where they can find up-to-date information based on their roles and tasks. Thus, they're fully engaged with the subject matter and let external distractions fade into the background.
4. Provide JIT Support
One of the most notable reasons to use custom mobile apps is to provide round-the-clock support. Employees don't have to wait until the next on-site training session to address personal pain points. The app gives them the opportunity to receive JIT support when they need it most. For instance, they're handling a customer service issue and aren't quite sure which policies come into play. So, they simply access the app for immediate answers instead of keeping the customer waiting while they ask a manager.
About This eBook
What starts out as a fact-finding mission to bridge sales training gaps turns into a mobile learning revolution at the fictional company, AshCom. This eBook shows you what it's like to implement custom mobile apps in the real world, including pitfalls you should avoid. Here's a sneak preview of what's inside:
The Interest: What Set AshCom Down The Mobile Learning Path
The Basics Of Mobile Learning: Uncover The Pros Of Custom Mobile Apps That Every Company Should Consider
The Limitations Of Mobile Learning: Evaluate The Drawbacks Of mLearning
The "What-If" Session With Ronda: Explore Innovative Applications For Mobile Learning
Morning Session: Option 1—Custom Authored Learning Experience
Morning Session: Option 2—App Development | App Delivered Mobile Device
Weighing The Options: For The Best Approach For Your Sales Training Needs (And Beyond)
The Decision: How Can You Use The Methodologies To Create Custom Mobile Apps For Job Performance?
Whether you're trying to mitigate compliance risks among your remote workforce or break down accessibility barriers for your sales reps, this essential read will help you explore mobile learning strategies firsthand.
Conclusion
Many organizations assume that custom mobile apps are reserved for large organizations with big budgets and a global workforce. The reality is that every business, even SMBs, have a lot to gain from mobile learning strategies, especially if you choose a content provider who keeps up with the latest tech and understands your business challenges. Download the eBook How L&D Leaders Are Using Custom Mobile Apps To Increase Performance And Revenue to determine if custom mobile learning is the right approach for your organization and uncover tried-and-tested methods.