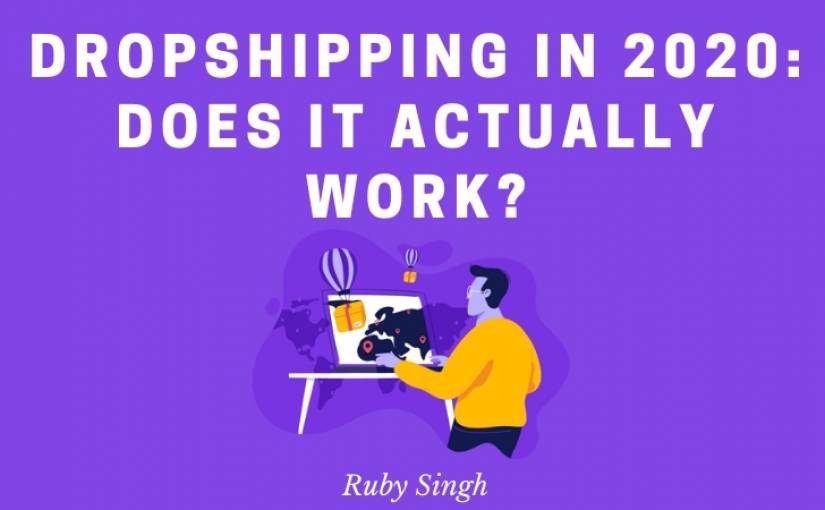 Recently, dropshipping has been quite popular as a type of business that needs fewer investments. Dropshipping is a sales system that provides for the direct transfer of goods from a supplier to a direct buyer. But does dropshipping actually work in 2020?
Many entrepreneurs willingly to act as intermediaries for dropshipping can find success. These entrepreneurs find a customer, place an order, and then pass the item on to the seller, who is already involved in sending the goods.
Consider the system by example.
After an agreement with the manufacturer of, say, children's clothing, you create a website or a page on social networks, upload a photo of the product, its description and price. In the event of an order, you receive payment from the buyer; send the agreed amount to the supplier, who in turn, sends the goods according to the data you specified (on your behalf).
To get started, find the manufacturer, supplier, drop shipper, and create a website (group in social networks) with an offer to purchase something.
Dropshipping is a relatively new business scheme. It gained distribution in the early 2000s when a problematic situation arose because most of the goods were produced abroad, and had to wait a very long time until they reached the manufacturer and the intermediary seller.
After the crisis of 2008, the leading role in world production passed to China. It was then that most entrepreneurs began to engage with suppliers actively and negotiate the delivery of goods to their customers.
Currently, it's not at all necessary to work directly with the supplier, you can use specific sites (trading platforms) where different manufacturers operate.
I recently had a chance to meet Shubham, who is running multiple dropshipping stores and is generating a decent amount of money. I had a quick conversation with him regarding his thoughts on why the majority of people are failing with dropshipping.
Let's take a look at what Shubham had to say.
What are the Pros of Dropshipping?
"I decided to do online sales when I dropped my college in 2014. As for me, this is one of the few options that were left. Initially, with a minimal amount, I bought some of the goods in China to start my store (or rather, the Instagram page).
The available amount was enough to purchase 15 items (4 sizes each), part of the budget had to be left for advertising.
However, such a quantity of goods was not enough to at least advertise on Instagram. After all, a person visiting a page should see an excellent assortment to subscribe or purchase something.
As a result, I began to search for drop shippers actively. After a couple of days, I found a wholesale supplier of clothing for children from Turkey, the price of which was acceptable to me even without a discount.
After a while, I found a domestic manufacturer of goods for children and several other suppliers focused on goods from China and Turkey." said Shubham.
Using the business system of dropshipping has several distinct advantages.
Minimum investment.

High financial costs are not required; you just need to spend money on promoting goods.

The ability to experiment with different suppliers and products.

Because you do not need to buy products, you can offer different types of goods. For example, if you sell children's clothing, you can simultaneously sell overalls from one manufacturer and shoes from another. You can provide an extensive range in your online store through cooperation with different suppliers.

No need to look for a room for a warehouse.

And also worry about the fact that the goods "do not lie down," since you do not purchase products and do not store them.

You do not resolve shipping issues.

Thus, you do not need to pay for courier services or deliver goods to the post office; all this is done for you.

The price of the goods is determined only by you.

The supplier sets a specific cost per unit of output, and the size of the margin is up to you. You can study competitors and set a price that will be more attractive to a potential buyer.

Work takes place with an existing product catalog.

There is no need to invent anything new; the supplier provides you with photos of the goods and a detailed description, it remains only to upload information to the selling page.

Almost all drop shipping manufacturers provide return and exchange services.

If you choose the right supplier, you won't have to worry that the customer will not be able to exchange goods that did not suit him.

Working on the dropshipping system, you will be able to quickly form a customer base than

if you were involved in promoting products that you produce yourself. This is because you can devote more time to advertising the product, and not engage in its production, packaging and delivery.

The Dropshipping system can bring a good income and become an excellent method of earning.
How do People Fail with Dropshipping?

"There is no business without cons, and dropshipping has a lot of them," said Shubham. He added, "I see a million dropshipping stores these days, out of which only 0.01% has chances of success." Please take a look at these suggestions.

The quality of the photo.
The very first minus that I want to describe relates to the quality of the photo. As you know, on Instagram, it is crucial to add high-quality and beautiful photos.
Taking a photo on your own may not always be the best idea. Some images may depend on you — other photos will depend on the supplier. When the supplier provides quality photo content, how lucky for you.
For example, one manufacturer provided me with a link to a google-disk with detailed photos of the product from several angles, which were made in good lighting.
At the same time, he has his store, where he publishes the same product but uses a more decorated (with the decor in the background).
Other suppliers provide one photo (not always of good quality) of the goods. But even worse, when a wholesale supplier of products from Turkey, takes a photo on their own, in terrible lighting and against an unattractive background — it's not so good. Such photographic works do not carry any aesthetic appeal, even if the quality is at "5."
Here is one picture from a dropshipper and one that I took for my online store. Which photo would you rather deal with as a consumer?

Few people ship in special packaging. When I bought goods in China, I realized that cellophane reduces the attractiveness of goods by 50%, so I ordered craft packaging and stickers that said, "Thank you."
The price of packaging for one product was only $ 0.2- $ 0.3, but it really made the appearance more appealing.

Working on dropshipping, you can't count on a beautiful supply of packaging.
It is crucial for the buyer that the goods be sent as soon as possible after the order. I ship my products on the day of order, which is an advantage of my store.
When working with dropshipping, if the supplier has a large volume, it takes 2-5 days to wait for delivery. I had one drop shipper, which sent goods once every three days, never gave tracking numbers, and very rarely answered questions regarding the dimensional grid and measurements of the products.
Your customers, clients and buyers — at the same time — hope for a quick and reliable answer.
When you buy clothes, especially for children, on the Internet, it is crucial to know not only the size but also the measurements in cm, since the dimensional grid of manufacturers often varies.
A quick hint — Turkish things are too small, and China has its own measuring system, which can differ significantly from one manufacturer to another. The same goes for colors. Provide a way to describe the correct color to your customers.

Dropshippers rarely take measurements in cm. Most buyers I deal with provide measurements on demand. But the problem is that it sometimes takes half a day to wait for these measurements (there was a case when I waited for three days!). During this time, the buyer will find a seller who will respond faster.
You can never be sure of the quality of the goods.

A customer will say, "Tell me honestly; will I be disappointed in quality?"
And you, at your peril and risk, answer that the product is of good quality. Do not answer in this way. You cannot vet another person's quality. Giving an opinion on quality is perhaps the biggest minus that can affect your reputation.
Conclusion
Dropshipping has both pros and cons. Each entrepreneur must independently decide whether or not to work with dropshipping suppliers. To get a good income, it requires not only a great desire but also enough time.
To be a good entrepreneur and drop shipper — you have to know that a huge amount of effort is required. As with any business — only the right amount of effort will give you the business results you are working for.
The dropshipping method of earning is suitable for everyone ready to start their own business, engage in its active promotion, and enjoy the selling.
At the same time be prepared for the fact that it will not work to earn a million in one day. Even those who do not have a minimum starting capital can do dropshipping because it is a way of doing business that does not require significant expenses.
If you can find your niche, choose the right product for sale, and negotiate with reliable suppliers, you can succeed in dropshipping.