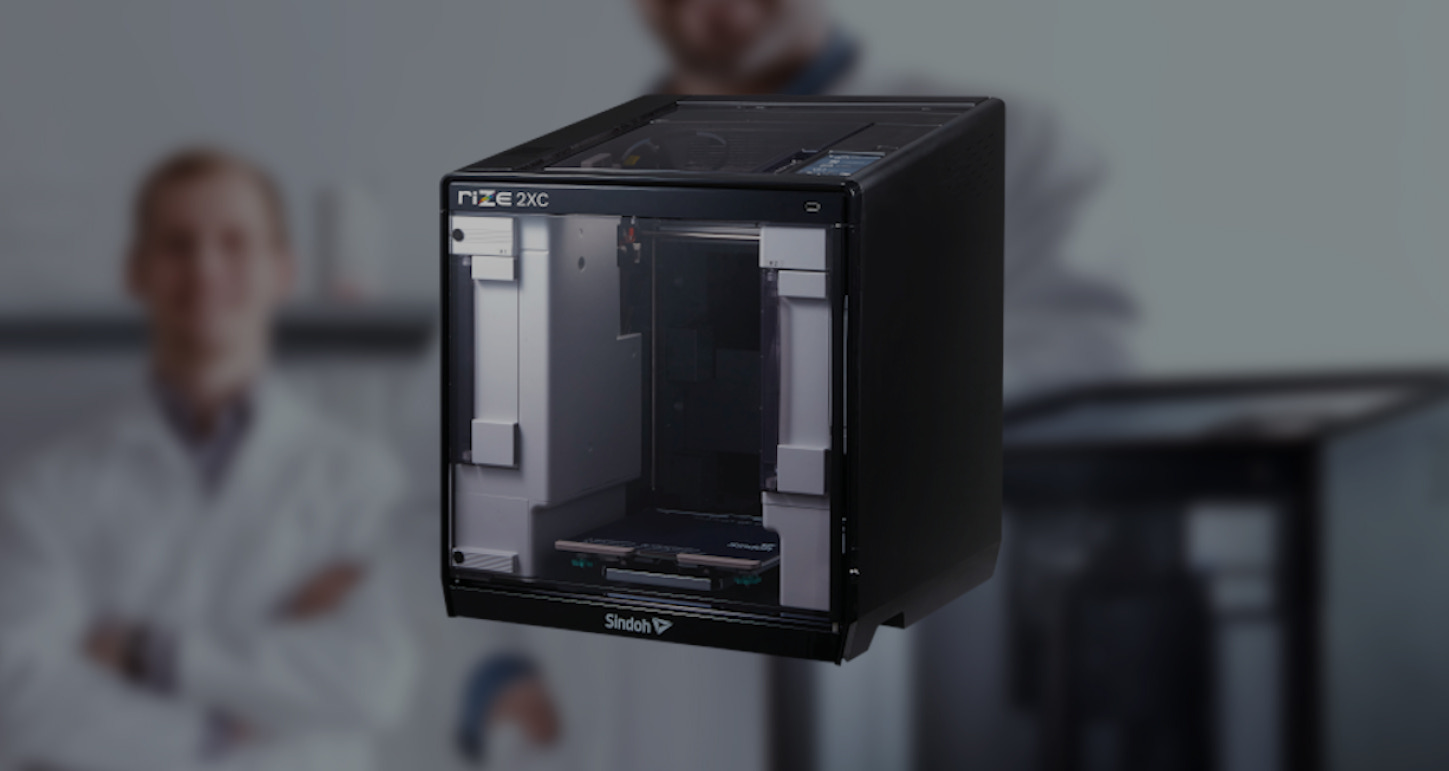 RIZE has launched its new RIZE 2XC 3D printer.
The health and safety conscious desktop machine is aimed at professional designers and engineers looking to produce strong and durable composite parts with a vast range of materials. Dubbed an "adaptive workplace" printer, it is safe for use in both offices and homes – a welcome consideration given the current abundance of home offices around the world.
The core independent dual extrusion (IDEX) system was originally developed by South Korean manufacturer Sindoh but has been redesigned with RIZE's RIZIUM range of engineering materials in mind. The extensive portfolio includes filaments that have zero emissions, are recyclable, moisture-resistant, and require minimal post-processing.
BB Lee, CEO of the 3D Printing Division at Sindoh, states: "Sindoh's cooperative R&D effort with RIZE showed us that we chose the right partner indeed – a partner as committed to innovation in materials and technologies as we are. We're delighted to expand our reach into more segments of the market through the cooperative solutions we are creating with RIZE."
Redefining FFF with RIZE
RIZE's three-pronged attack on the FFF marketspace began in 2017 when the company released the RIZE ONE. The monochrome multi-material desktop machine has since become the first 3D printer to be awarded the UL 2904 GREENGUARD certification for safety and low emissions. RIZE then upped the ante with the full-color XRIZE system, featuring a combination of material extrusion and inkjet 3D printing. The resultant vibrant CMYK parts can be digitally augmented with text, images, and QR codes for traceability.
Tim Greene, research director of 3D printing at IDC, adds: "The newer, higher performance, safe materials from next-gen FFF players such as RIZE are helping to drive a transformation in the 3D printing sector that are particularly relevant now as the world emerges from a pandemic. The durability and safety advantage that's possible from next-generation 3D printing systems merits the attention of any engineering or design team that wants to give their users the best, and safest, tools."
The RIZE 2XC
The 2XC claims to be the world's first professional composite 3D printer focused on the health and safety of its users. Each of the IDEX printheads plays a specific role in the printer's functionality. The first extruder applies RIZIUM build materials while the other applies RIZIUM Support, a specialist 'easy peel' support material designed to enable effortless post-processing without any additional chemicals. The available build materials are moisture and chemical resistant, easily washable with soap and water, and engineered to mitigate the release of harmful volatile organic compounds (VOCs).
The respectable 228 x 200 x 300mm build chamber is accompanied by a flexible, removable build plate. The printer is conveniently equipped with voice control capabilities and over 100 voice commands for power, booting, guidance, and troubleshooting. On top of this, an integrated camera and LED lighting enable 24 hour remote monitoring.
Technical specifications and pricing
Below are the technical specifications for the RIZE 2XC. The system is usually priced at $4,495 but the current promotional price stands at $3,995. It is available to reserve today.
| | |
| --- | --- |
| Build Volume | 228 x 200 x 300mm |
| Layer Thickness | 0.05 – 0.4mm |
| Workstation Compatibility | Windows 7 or above |
| Connectivity | USB, Ethernet, Wi-Fi |
| Machine Dimensions | 490 x 466 x 573mm |
| Machine Weight | 31kg |
| Regulatory Compliance | FCC, RoHS, NRTL |
| Power Requirements | 100 – 240V AC, 350W |
The nominations for the 2020 3D Printing Industry Awards are now open. Who do you think should make the shortlists for this year's show? Have your say now. 
Subscribe to the 3D Printing Industry newsletter for the latest news in additive manufacturing. You can also stay connected by following us on Twitter and liking us on Facebook.
Looking for a career in additive manufacturing? Visit 3D Printing Jobs for a selection of roles in the industry.
Featured image shows the RIZE 2XC 3D printer. Photo via RIZE.