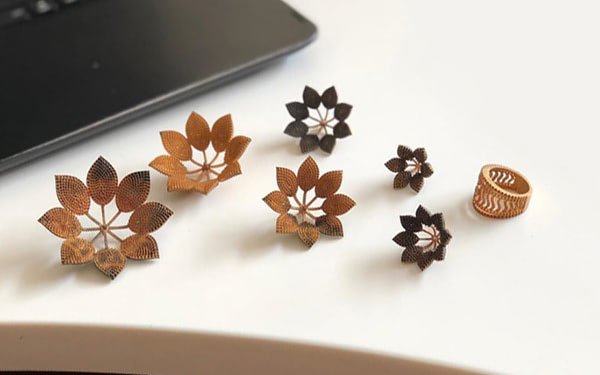 AM has proven its worth in the world of jewelry manufacturing time and time again, thanks to the ability to print various molds and casts, which when combined with traditional techniques such as lost-wax casting, can allow for design freedoms never before seen.
One jewelry shop owner in Hyderabad, India, by the name of Kotti Srikanth, has used additive manufacturing to nab himself a Guinness World Record for the "Most Diamonds Set in One Ring" with an astounding 7,801 diamonds crammed into the ornate, floral ring.
You can see what the ring, named "The Divine 7801 Brahma Vajra Kamalam" looks like in the video below.
Srikanth decided on the challenge in 2018 and set about designing the concept with pencil and paper. After the rough concept was planned out, he had settled on the form of the Brahma Kamalam, a rare Flower found in the Himalayas. Flowers are offered as a form of worship and signify purity in India, and so these inspirations guided the final form of the ring.
To figure out exactly how many diamonds could fit onto the ring, Srikanth's team at his store (Diamond Store by Chandubhai) used CAD to work it all out and to create the mold for their casting process, enabling a direct digital input to the final form of the ring. The store, which is a part of Hallmark Jewellers, is the first to offer CAD-CAM based jewelery manufacturing process to Hyderabad.
When the CAD work was complete, it was given physical form with the use of and a Rapidshape resin printer and some direct castable resin, which were used to cast the gold components.
As you can see in the video of the ring above, the gold structure is fairly ornate and complicated, and consists of the main ring, 6 petals, and a screw to hold it all together. You can see the cast pieces in the picture below.
Add to that delicate metalwork the 7,801 conflict free diamonds (which apparently were challenging to find), and you have a glorious record beating ring. Apparently it is a requirement for the ring record to be 100% conflict free diamonds of homogenous quality in terms of size and cut, and that they should be all natural (and not synthetic).
Perhaps more stunning than the ring itself is the fact that the record was beaten just three months after Srikanth received his record in August 2020.
Srikanth's ring was usurped from the record in November 2020 by a jeweler from Meerut based Renani Jewels with their 12,638 diamond entry.
It is not known if the usurper used additive manufacturing in his new record breaking design, but if we find out that he has, then we will share some pics of that too.