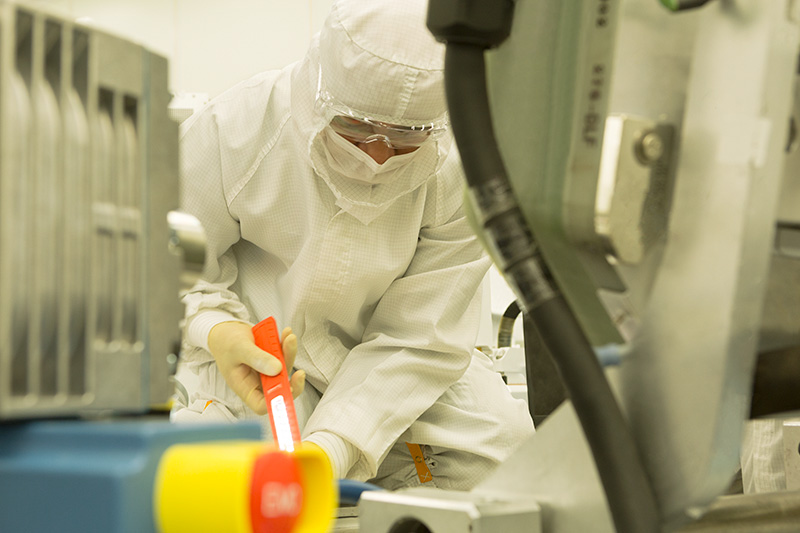 The sustainability ambitions of the world's largest cloud software companies — Amazon, Google, Microsoft and Salesforce — have been well-documented. The broad semiconductor industry's position to date, however, has been less transparent and less ambitious, with the highly visible exceptions of AMD, IBM and Intel. 
That stance is shifting, as the sector contemplates the explosive growth projections for connected computing devices, including sensors, smartphones, tablet computers and personal computers, not to mention the massive server hardware needed to process artificial intelligence algorithms. 
By 2030, there could be a half-trillion such devices « at the edge » of the digital networks driving business innovation around the planet, Applied Material President and CEO Gary Dickerson noted last week in a keynote address during a virtual edition of the industry's annual conference, SEMICon West. 
The association behind the gathering, SEMI, projects semiconductor revenue could reach $1 trillion by that same timeframe, more than double last year's sales of about $470 billion. It previously took 20 years for the industry to double in size. 
The big question for the sector at large and Applied Materials specifically, Dickerson said, is how to support accelerating growth without dramatically increasing the industrywide carbon footprint associated with creating all those components — currently estimated at 50 million metric tons of CO2 annually across more than 1,000 fabrication facilities worldwide (a.k.a. « fabs »). 
We are going to hold our supply chain to the same standards that we hold ourselves in the areas of environmental impact, labor standards, and diversity and inclusion.
« I've been amazed at the increasing amount of power required to manufacture these ever-smaller chips, and I would join with others in encouraging all of the equipment manufacturers to work together to reduce carbon emissions in the manufacturing of these advanced semiconductors and finally continue decarbonizing the power supply on which the data centers operate, » former Vice President Al Gore told me last week, when I asked him how the semiconductor industry could step up.
Applied, which specializes in materials engineering, sells equipment and services used in the production of virtually every new chip and advanced display in the world. It generated more than $14.6 billion in annual revenue in 2019, and Dickerson estimated its Scope 1 and Scope 2 emissions — mainly from the power used to run its labs and factories — was the equivalent of 145,000 metric tons of CO2 in 2019. (Disclosure: Al Gore's investment firm, Generation Investment Management, holds a position in the company. Applied was responsible for my invitation to lead an interview with Gore last week during the same conference.)
« The first thing we need to do is decouple our growth from our environmental impact, » Dickerson noted. « If we double or triple the size of our company, it would be irresponsible to double or triple our carbon footprint! »
That conviction resulted in the company's decision to adopt a series of new policies designed to shore up its environmental, social and governance (ESG) story, including a commitment to use 100 percent renewable energy worldwide by 2030 (by 2022 for its U.S. operations) and to cut its Scope 1 and Scope 2 emissions by 50 percent over the next decade. Moreover, Applied has created a sweeping new initiative intended to bring other companies in the semiconductor supply chain along for the ride.
« We are going to hold our supply chain to the same standards that we hold ourselves in the areas of environmental impact, labor standards, and diversity and inclusion, » Dickerson said. « We're introducing a sustainability scorecard into our supply selection process, alongside our traditional metrics for performance, cost and quality. »
Making improvements of this magnitude and — at the same time — driving the technology roadmap forward is not easy and requires deep partnerships with customers.
The new program, SuCCESS2030 (short for Supply Chain Certification for Environmental and Social Responsibility) will extend to all aspects of Applied's operations, from procurement to packaging. It will now require these shared commitments from its suppliers, according to the press release about the program:
A shift to intermodal shipping to reduce the industry's reliance on air freight, aiming for an interim emissions reduction of 15 percent by 2024.
A transition to recycled content packaging, with a target of 80 percent of such materials within three years.
The complete elimination of phosphate-based pretreatments for metal surfaces within four years.
The creation of a diversity and inclusion strategy to increase Applied's spend with minority- and women-owned businesses by the same time frame. (There is no disclosed percentage for this goal.)
« The response has been great, and we have six key partner suppliers already signed up to help us kick off this program, » Dickerson said. Those companies are Advanced Energy, Benchmark Electronics, Foxsemicon Integrated Technology, NGK Insulators, Ultra Clean Holding and VAT.
Technically, Applied doesn't yet have an official emissions reduction target in place for its Scope 3 footprint, but the company has joined the Science Based Targets initiative with the intention of doing so within two years, according to Dickerson.
To improve its own competitive story with customers, Applied will use risk scenario analysis recommendations from the Task Force on Climate-related Financial Disclosures, and it has adopted a new « ecoUP » policy that includes a « 3 by 30 » goal for improvements in its own manufacturing systems on a per-wafer basis: a 30 percent reduction in energy consumption, a 30 percent cut in chemical consumption and a 30 percent increase in « throughput density, » the number of wafers that can be produced per square foot of cleanroom space.
« Making improvements of this magnitude and, at the same time, driving the technology roadmap forward is not easy and requires deep partnerships with customers, » Dickerson said.
Among those actively working with Applied on the new approach include Intel and Micro Technology, which is stepping up its own commitments. The latter intends to dedicate 2 percent of its annual capital expenditures over the next five to seven years — about $1 billion — on environmental and social stewardship.