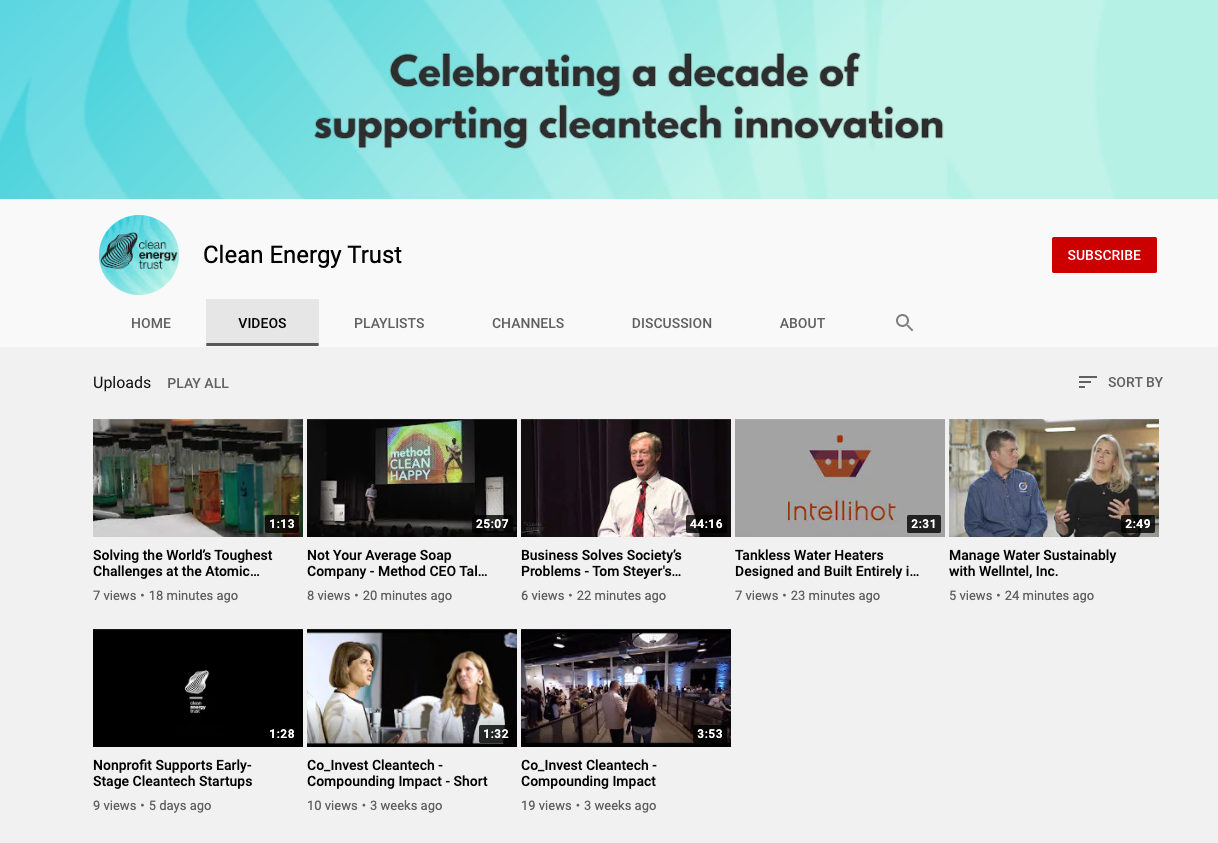 In honor of our 10 year anniversary, I've been going through Clean Energy Trust's archive – old photos, videos, documents – and came across quite a few inspirational videos. Since we could all use a little inspiration right now, I created a YouTube channel to make these videos public.
As my colleague, Director of Business Development and Partnerships Susie Spigelman, recently wrote, "by spotlighting innovation in our region, we provide opportunities for connection and partnership." We hope that opening up our video archive will encourage further connection and partnership for the cleantech industry and the Mid-Continent region of the United States. 
I've gathered a few of my favorite videos for you below, but feel free to watch them all on our YouTube channel. Subscribe to our channel to see more old videos as they are added, along with new videos that I can't wait to share. 
On our channel, you will find cleantech startup pitches, highlights from past events, and information about previous programs. After a decade of supporting cleantech innovation, Clean Energy Trust continues to build on our past successes and look to the future of cleantech. 
Join me on a stroll down memory lane by watching one of the following suggested videos. The first video is a personal favorite mine for many reasons. First, I like Method soap a lot – it smells great and cleans well. Second, the video length is the amount of time it takes me to do the dishes. Third, Adam Lowry's sustainable approach to business is forward-thinking and worthy of emulating. 
Thank you for helping us celebrate a decade supporting cleantech innovation in the Midwest – we look forward to the next decade! 
Enjoy!
Not Your Average Soap Company – Method CEO Talks Clean Energy
Method co-founder and Ripple Foods CEO Adam Lowry was our keynote speaker in 2016. In this video, Adam speaks about his background, shares why Method is not your average soap company, and announces Ripple Foods split pea, protein full, non dairy beverage.
Business Solves Society's Problems – Tom Steyer's Keynote
In 2014, presidential candidate, philanthropist, and environmentalist, Tom Steyer, spoke as our keynote at our annual business plan competition. Tom kicks off the talk by sharing that he's a strong believer that "business solves society's problems." 
Through his presentation, he seeks to make the basic point that "business isn't only the engine that solves problems, but it is an essential part of the advocacy to make sure that the policies are in place, so that business has the right incentives." Watch as he takes the audience through his logic.
Solving the World's Toughest Challenges at the Atomic Level – NuMat Technologies
Here's a video on our portfolio company, NuMat Technologies, Inc. NuMat won their first $100k at our Clean Energy Challenge in 2012, and has since added numerous jobs and capital to the Midwest. 
Tankless Water Heaters Designed and Built Entirely in the U.S. 
Check out our portfolio company Intellihot's video from 2019 that explains how their technology allows homes and commercial buildings to heat water on demand instead of storing gallons of hot water. The water heater disrupting technology they've developed was inspired by robotics, autonomous cars, and diesel engines. 
Manage Water Sustainably with Wellntel, Inc.
Our portfolio company Wellntel explains the importance of groundwater, and why they monitor it in this video from 2019. They present groundwater information in a way that is easy to understand and allows the user to make smart decisions about this precious resource. 
Read more of Clean Energy Trust's news and perspectives on Medium.