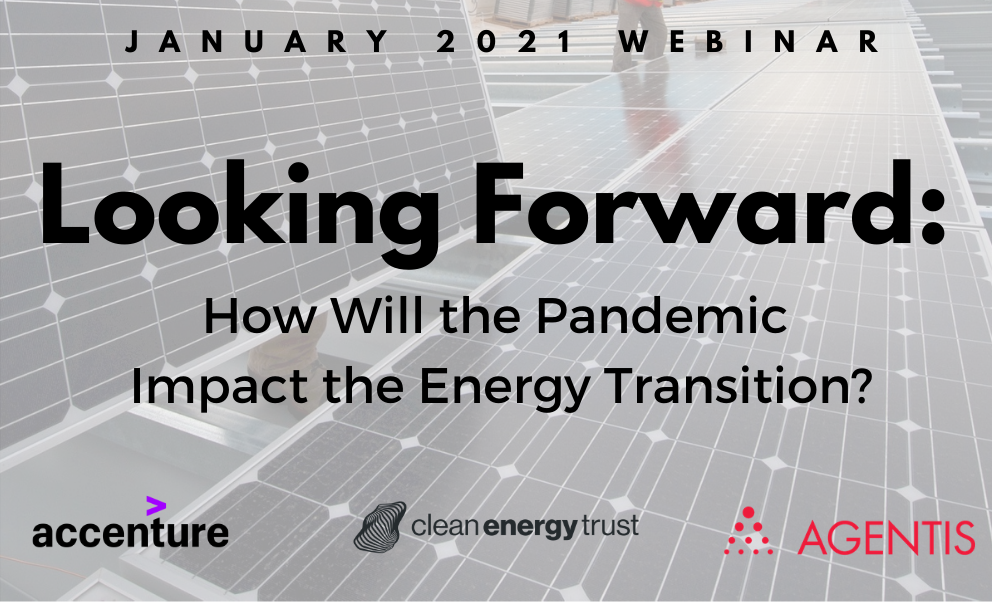 Join Clean Energy Trust online on Wednesday, January 13th at 2:00 pm CT for a conversation on the future of electricity and whether the recovery represents a tipping point for energy supply and demand.

Caroline Narich from Accenture's utilities practice and John Lux from utility customer engagement company Agentis will share their perspectives on how the energy transition is playing out in different geographies, how the pandemic impacted electricity use, and how the energy transition may be impacted or accelerated by pandemic recovery investments. 
Caroline will discuss how markets and companies around the world are leveraging the recovery to accelerate the clean energy transition, and John Lux will share insights on electricity demand patterns based on analysis on data from millions of commercial customers over the course of 2020. 
Speakers include:
Caroline Narich, Accenture Managing Director
Caroline Narich is a Managing Director in Accenture's Resources Strategy practice. She has thirteen years' experience working in business strategy for utilities, start-ups, not-for-profits and foundations across three continents. Caroline's industry interest lies in the development of sustainable energy solutions and she is passionate about helping organizations leverage digital technologies to accelerate the transition to a clean and more resilient energy future. Caroline leads Accenture's utilities strategy portfolio on the West Coast and Accenture's Energy Transitions capability in North America.
John Lux, President and Co-founder of Agentis Energy
John Lux is a co-founder of Agentis Energy and currently serves in the role of President. Previously, he served as Director of Product and Business Development. Prior to his work at Agentis, John was a co-founder and Development Associate at 8 Plus Ventures, an early-stage venture capital fund, where he oversaw investments in companies across a variety of industries.
Ian Adams, Managing Director at Clean Energy Trust
Ian Adams serves as Managing Director at Clean Energy Trust where he leads efforts to identify new innovations and investment opportunities while working to develop new initiatives to support early-stage innovation. Ian also supports Clean Energy Trust's portfolio of cleantech companies by serving as a board observer for five companies. Ian previously served as an aide to the U.S. Secretary of Energy and worked at the White House.