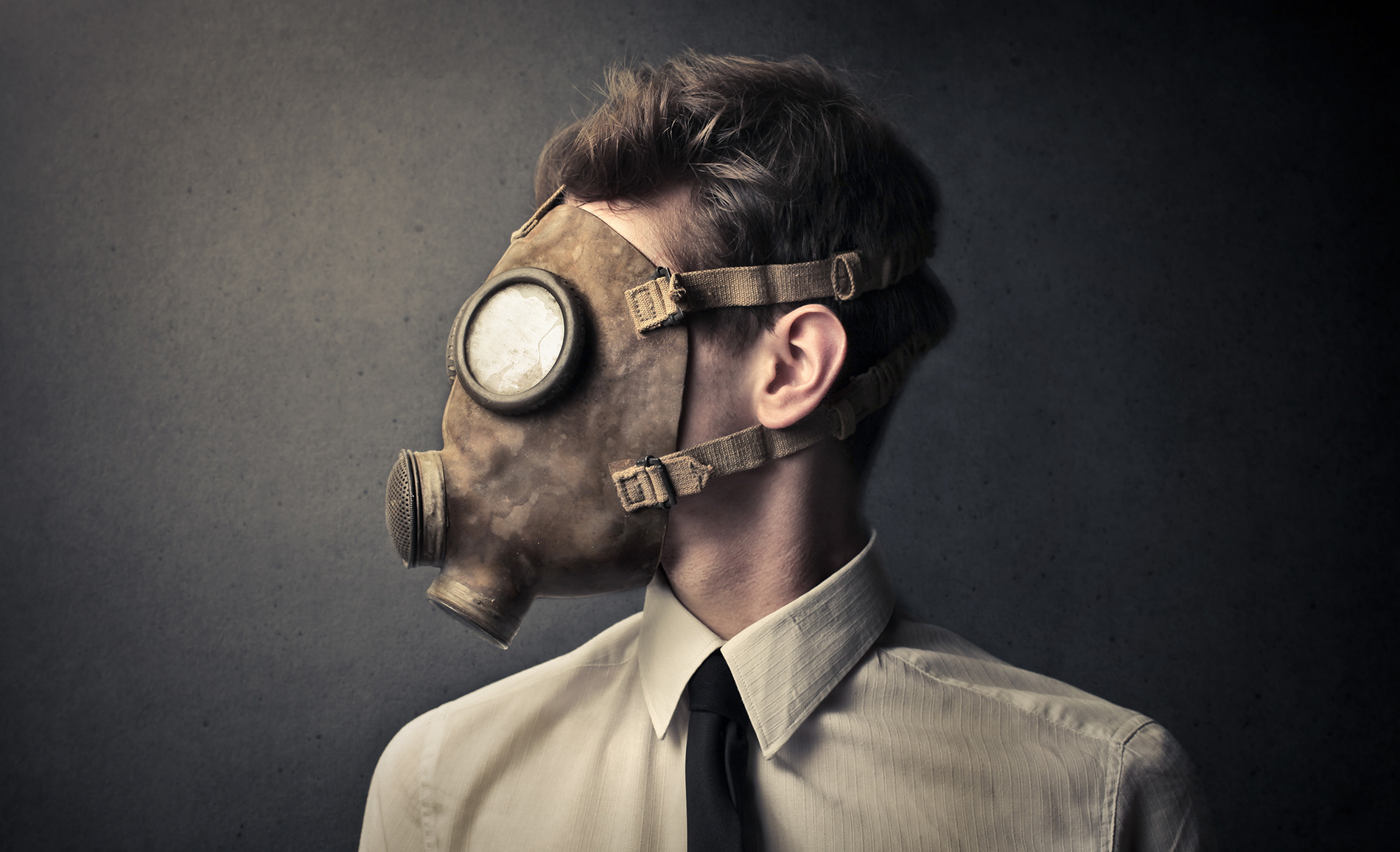 Before he saw the smoke, he felt it in his throat. It tasted foul. It curled into his nose, his mouth, his lungs.
He looked up from his computer. His colleagues were tapping at their keyboards. The smoke hovered around them.
He walked to his manager's door.
« This office is filled with toxic smoke, » he said.
« Yes, » she said. « Don't worry. We have a plan. »
"What will you do? » he asked. « Install new ventilation? Move us to another space? »
« No, » she said. « We've hired you an executive coach to help you develop strategies for dealing with the toxic smoke. »
« But I don't want to deal with the toxic smoke, » he said. « I want to get rid of it. »
« Work with the coach, » she said. « Leave a few minutes early today. Get a massage. You'll be OK. »
We must approach our personal sustainability challenges as a problem with our ecosystem.
I heard this parable last year, before the pandemic, from a fellow executive coach. It lodged in my gut.
I realized that so many of my coaching clients — in big corporations and small nonprofits, sustainability teams and sales departments — were asking me for help dealing with the stress and dysfunction of their organizations.
They were breathing the same toxic smoke as everyone around them. Sometimes they were, themselves, pumping that toxic smoke into their work environments. Yet they were suffering alone, trying to solve it alone. Just as I did during my hectic career leading teams at the Los Angeles Times, Google and Apple.
If anything, the pandemic has increased the pressure on us to deal with this suffering in isolation.
But here's the thing: Avoiding burnout is not simply a matter of individual responsibility. It's a leadership challenge, and we are all leaders.
Throughout this Sustainable You series for GreenBiz, I have encouraged you to tend to your personal sustainability so you can do great work on behalf of the planet.
This kind of self-care remains critical. But it's insufficient.
As environmental sustainability leaders, you are, by nature, systems thinkers. You identify root causes. You craft upstream solutions. You see the forests, not just the trees, and work to improve the ecosystems so the individuals in them can thrive.
So, let's approach our personal sustainability challenges as a problem with our ecosystem. To get to the root cause of the smoke, we need to think bigger.
« You can't expect people to adopt healthy lifestyles when their work environments reinforce or even cause poor habits, » says Jeffrey Pfeffer, an organizational-behavior professor at Stanford University.
Pfeffer is the author of the 2018 book « Dying for a Paycheck: How Modern Management Harms Employee Health and Company Performance — and What We Can Do About It. » He writes that companies have created elaborate systems for tracking their progress on environmental sustainability, but they seem to have forgotten to measure the human sustainability of their own employees.
Current management practices harm employee engagement and job performance, Pfeffer says, and they increase employee turnover and healthcare costs.
There's even more at stake. To solve global, complex challenges such as the climate emergency, racial injustice and species extinction, we must be adaptive leaders. We need to be mindful. Creative. Intuitive. Curious. Willing to experiment, learn and redesign. Open-minded and open-hearted.
That's so hard to do when we're burned out.
Organizational culture is a living, breathing thing. We draw from it, and we feed into it. We're constantly creating it together.
So, when everyone around us is stressed out, exhausted and closed off, it's easy to shift into that same mode.
Our mirror neurons, those evolutionary tools that help us build nourishing social connections, pick up on those signals and encourage us to be like the others. To suffer with the rest.
I know this feeling well. I have held, deep in my body, the physical and emotional distress that burnout carries. We can work this way for a while, but eventually we deplete our energy and fall apart.
As an executive leadership coach, I have supported many individuals to the other side of this burnout, where they've refilled their energy reserves and brought their creativity back to life.
I've also followed my intuition upstream, seeking the origins of the toxic smoke. I work with full teams and their leaders to help them shift organizational culture: to slow down, reflect on what really matters, call out harmful behaviors, give themselves permission to embrace a more wholesome way of working.
Healthy people, healthy planet
A healthy earth depends on healthy people. To heal the planet, we must first heal ourselves.
So, my fellow leaders, let's set an intention to cultivate human sustainability in our organizations — for the sake of our employees and the communities and natural habitats they're working to protect.
Let's look for the toxic smoke curling through our Zoom meetings, our email inboxes and Slack channels. Let's name it, get curious about where it came from, chase it down to its source.
Let's pay close attention to the tone we are setting for our teams. The moods we are carrying into our interactions. The behaviors we are modeling. The harmful ways of being that we are introducing or accepting.
Let's check in on each other. Let's work to understand how others in our groups are experiencing the world, how they might be suffering differently from us, and offer them support.
Let's talk about burnout and wellness — with our team members, fellow leaders, bosses, even our boards of directors.
Let's gather our teams. Let's come up with, say, 50 things we could do to improve our health and happiness at work.
Then let's commit to new ways of being together. Let's craft agreements and hold each other accountable.
Instead of trying to manage the toxic smoke in our work environments, let's get rid of it.
Because only when we can breathe can we truly do this critical planetary work.