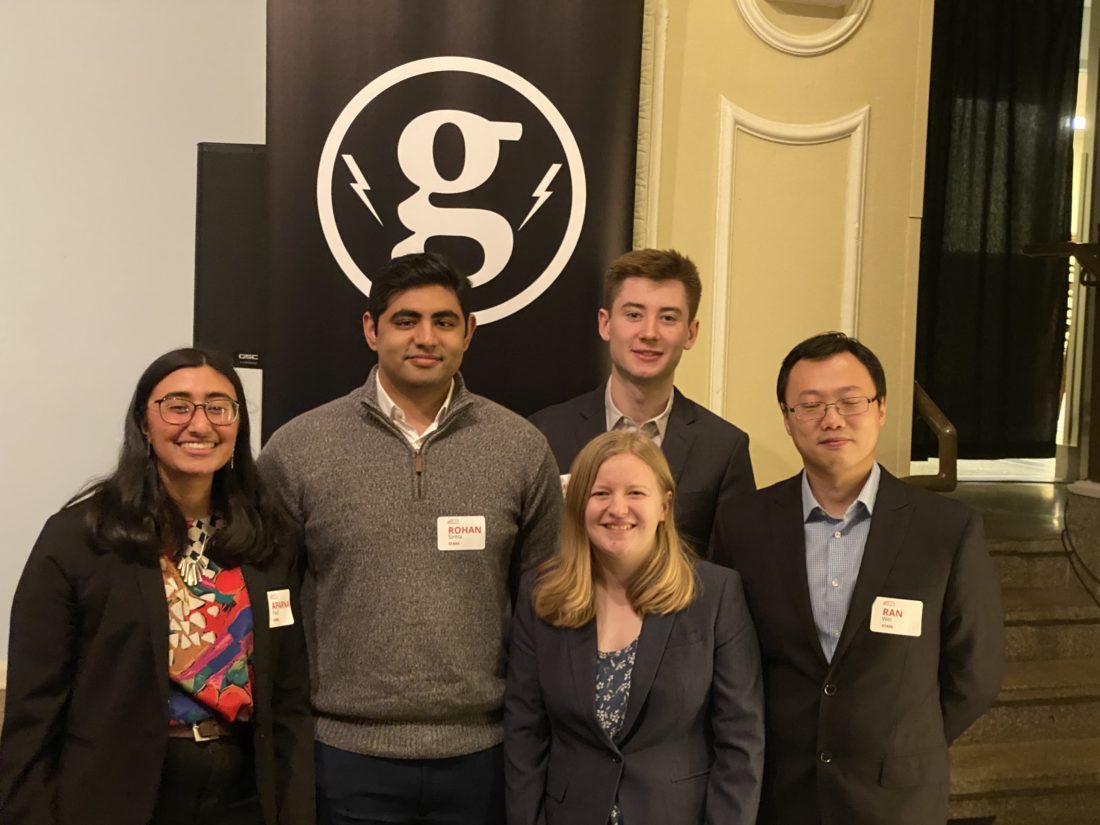 (Image credit: STARS Sensors, LLC team at a pitch night)
CHICAGO, IL – May 28, 2020 – Clean Energy Trust announced today the inaugural cohort for the Clean Energy Trust (CET) University Accelerator, a business accelerator that supports student entrepreneurs working on impactful cleantech solutions based in the Mid-Continent region of the United States.
Participating student teams will be connected with industry advisors and receive hands-on support and pitch coaching from the experienced Clean Energy Trust team to help accelerate their businesses. The CET University Accelerator takes place remotely during the summer beginning on June 8 and culminates in a demo day in the fall, where teams will showcase their businesses to cleantech ecosystem stakeholders and compete for cash prize awards.
The participating student teams include: 
EnvironFlo

(Case Western Reserve University) – provides an effective, cost-friendly and green solution for oil spill clean up using a superhydrophobic coating on a mesh screen to separate oil from water with over 99% efficiency.

Farm to Flame Energy

(Carnegie Mellon University) – provides a universal solution for converting biomass into electricity for developing world and off-grid applications.

Iconic Air

(West Virginia University) – is a platform that automates emissions reports and visualizations for oil and gas companies to analyze real-time and historical emissions data across their assets.

QX/9 Technologies

(Northwestern University, Kellogg School of Management) – develops a self-powered motion sensor that augments the power capabilities of electronic tracking devices in trucks. 

STARS Sensors, LLC

(Case Western Reserve University) – develops a self-powered sensor device and data analytics/ visualization dashboard for power generation plants and other industrial applications. 
"Over the last decade, university entrepreneurship has grown by leaps and bounds. The CET University Accelerator complements these efforts by providing industry-specific expertise to help student businesses over the summer – when many student businesses lack access to critical resources to advance their companies," said Erik Birkerts, Chief Executive Officer at Clean Energy Trust. "We are excited to engage with these promising student teams and provide strategic support, guidance, and industry connectivity at an important stage in their development." 
Clean Energy Trust has been supporting student cleantech entrepreneurs for nearly a decade, through the organization's Cleantech University Prize student business plan competition. Several companies in Clean Energy Trust's portfolio originally participated in the Cleantech University Prize, including NuMat Technologies, a Northwestern University startup. Drawing on their experience working with student cleantech entrepreneurs and recognizing the growth in the capacity of the university entrepreneurship ecosystem over time, Clean Energy Trust updated their student programming to continue to provide unique value to teams. The CET University Accelerator incorporates the best practices of their previous student entrepreneurship programming while providing an experience that is more flexible and tailored for individual student team needs.
Support for this Clean Energy Trust programming was provided by the Wells Fargo Innovation Incubator (IN2), a technology incubator and platform funded by the Wells Fargo Foundation and co-administered by the U.S. Department of Energy's National Renewable Energy Laboratory (NREL). Clean Energy Trust leverages IN2's funding by supporting student entrepreneurship programming through the CET University Accelerator and hands-on engagement with Midwest universities. Clean Energy Trust collaborates with Case Western Reserve University, Northwestern University, and the University of Michigan to expand entrepreneurship programming in conjunction with existing sustainability education programs.
About Clean Energy Trust
Clean Energy Trust provides catalytic capital and support to early-stage startups in the Mid-Continent region of the United States working on solutions for clean energy, decarbonization, and environmental sustainability. Based in Chicago, Clean Energy Trust invests in and provides hands-on support to help environmentally sustainable entrepreneurs scale and succeed. To date, Clean Energy Trust has helped its 33 portfolio companies raise $26 of additional investment for every $1 Clean Energy Trust has invested. Clean Energy Trust's portfolio currently employs over 500 people. Learn more at www.CleanEnergyTrust.org 
Contact Information
Clean Energy Trust
Amy Yanow Fairbanks
[email protected] 
Read more of our news and perspectives on Medium.