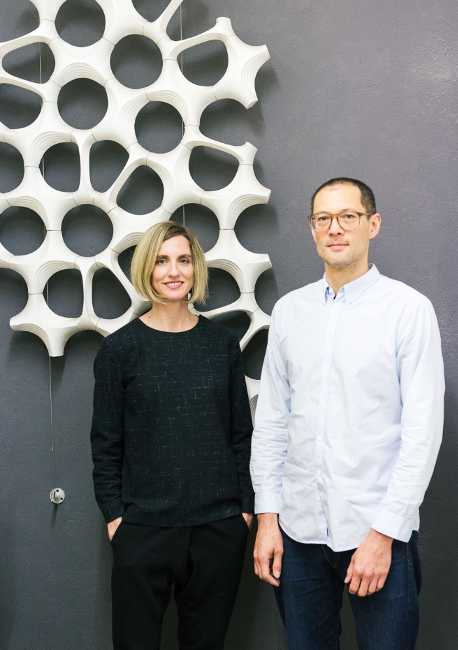 While taking a backseat to the health crisis over the last few months, climate change increasingly shapes our daily experience. Wildfires, droughts, hurricanes and pollution are now everyday occurrences. Yet, in the face of this worsening crisis, we are witnessing the rise of a new generation of innovators. These pioneers are creating technologies and business models that aim to tackle huge problems, including solving the plastics crisis, regenerating soils, seeding new forests, creating climate-positive buildings and ending desertification. Now in its second year, Cleantech Group's 50 to Watch list recognizes these extraordinary trailblazers fighting the good fight, for all of us.
A Solution in Focus
We are thrilled to announce that Made of Air earned a place on this year's  50 to Watch list. Made of Air develops carbon-negative and energy-positive materials for applications in construction. We talked to Allison Dring, Co-Founder and CEO, to learn more.
Cleantech Group: What global challenge made you want to start Made of Air?
Allison: In 2006, we invented a material for buildings' façades that reduces urban air pollution and uses just sunlight to convert pollution into harmless substances. But it turned out to have a significant CO2 footprint. The built environment in general is the largest cause of embodied CO2. There's a lot of waste and a single contract can produce very high volumes. So we started looking into materials that would go beyond just "do no harm". If we could tweak something on the material scale, could we harness the sheer scale of construction to actually reverse climate change? A workable plastic would be a thermoplastic that you could put into a manufacturing process and press in different ways. After years of research, we established a prototype thermoplastic that is carbon-negative. We turned our dream into a reality.
Cleantech Group: How does the material work exactly? 
Allison: The solution is a replacement for durable plastics made from fossil fuels with a lifespan of 10-30 years. We start by creating biochar, which uses waste biomass from the agriculture industries. The plant material stores a lot of carbon dioxide. Instead of letting the plants decompose and release the CO2 back in the atmosphere, we bake them in an oven at a high temperature and keep the high-carbon char. It then goes through a series of refining steps and we mix it with a plant-based binder so we're able to drop it into typical plastics production channels such as injection molding. The end product is homogenous, doesn't really feel like a plastic but behaves like one. We have a family of compounds with different polymer bases that we can pick and choose for different applications depending on what's needed.
The material is carbon-negative and depending on the ratio of binder to biochar, we can increase the carbon negativity. It's also an energy-positive process as burning the plant material releases heat. We're able to recover that heat and use it later in our supply chain for even more positive impact.
Cleantech Group: What raw materials do you use as input?
Allison: We are currently using waste material coming from the timber industry, taking advantage of manufacturing waste instead of cutting down trees. It's typically waste that would have to be landfilled or burned in open air, releasing the CO2 stored in the wood back in the atmosphere.
Cleantech Group: What markets are you focusing on first?
Allison: We are currently focused on three different markets. Our first is the built environment, where we look at exterior paneling such as facades, interior panelling and cabinet replacements. Our material is a great replacement for plastics, aluminum, laminates and other composite materials used in buildings. The second market we're looking at is furniture, where there is an overuse of PVC, a toxic material we could help phase out. The third market is the automotive industry because car interiors have a lot of plastics in paneling and other components we could replace.
Cleantech Group: Could you give us an example of a current project?
Allison: We are currently running two pilots, one in façades and another in furniture. We are currently working with Audi to develop panels for one of their iconic dealerships' façade walls. We already delivered a pilot for them last year at Munich airport, testing how the material behaves in an external environment. The second pilot we are working on is in furniture, where we are collaborating with a US-based volume furniture manufacturer to develop a carbon-negative chair. We are looking to mass produce the chair next year.
Cleantech Group: How did you get your clients on board with this new material? How did you start your collaboration with Audi?
Allison: It has been a positive journey. Audi came well-prepared to take that step and have a dealership that will speak to their customers and help them realize the brand vision for their cars. Their current façade is made from corrugated aluminum, and that can potentially be more problematic when you're trying to enter municipalities and get planning permissions for your building because it's not an eco-material. We had a discussion around how to convert our material into something that they needed; we had to try different designs and ratios of materials and test them.
Cleantech Group: What do you envision as your business model beyond those pilots?
Allison: The business model right now is to produce and sell the material in the granular form. We will be selling to manufacturers by the ton, typically in-house manufacturers for consumer brands or OEMs. We will be partnering with end-product manufacturers to make sure that their equipment can work with the material and develop a product line based on that. There is still some work on our side to implement the solution, but in terms of features, it scales very nicely. Typical materials companies don't really have any communication with the end-consumer and we intend to change that. We believe consumers will be very responsive to branded carbon-negative materials.
Cleantech Group: What is the cost comparison of biochar plastic to traditional plastics?
Allison: We are currently at cost parity and at times we are undercutting prices in the bioplastics market, which is around 1% of the global market. The price ratio between fossil and bioplastic right now is about 2:1. We think that in the next three to five years we will be able to compete with fossil plastics and we anticipate that fossil plastic pricing will undergo heavy regulation, with some of the cheapest types getting regulated out of use.
Cleantech Group: Where are your manufacturing facilities based?
Allison: Our supply chain is distributed around Germany. Our goal for 2021 is to bring that in house and set up our own facility. It will be easier to jump into partnerships and regionalize the process, so manufacturers don't have to bring in materials from around the world.
The future growth of urbanization and construction will be in regions like West Africa and Southeast Asia.  Instead of shipping materials all over the world, we want to set up local supply chains and regionalize the process. This is something we will build on.
Cleantech Group: Looking at the future of the company in the next few years, what would you say success looks like for you, in financial and impact terms?
Allison: Our first KPI is how many tons of CO2 we can permanently store. That is a tall order but our primary goal is to reverse climate change. That is our number one goal.
One way we differ from other environmental companies is that we are not looking at how we can capture emissions, but at how much CO2 is already in the air and how to that take it out. These technologies are referred to as negative emissions technologies and there aren't enough of them currently.
Success to us is a joint effort. It means working with different industries  and technologies and harnessing all that activity to get as much CO2 out of the air as possible
Cleantech Group: Is there something along the way that almost stopped you on your journey to build this company and solution?
Allison: The whole journey is up and down. I think there were- and still are-  many points along the way where we had to question whether this was going to work, if this is going to be enough to have impact. We are trying to do something new in an established market and entering it has been challenging.
What keeps us going is the faith involved in the process and how our customers keep making things real for us.