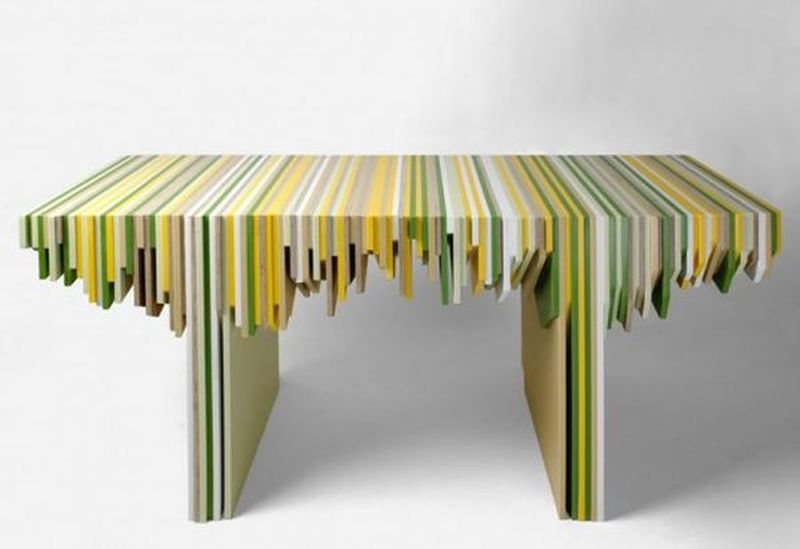 If you are an environmentally conscious person and looking for options to revamp your house, then look no further. Recycled furniture is the best choice for you. You would never be able to imagine how designers are using their creative abilities to turn trash into treasure. These solve two of the most pressing environmental problems that the world is facing right now. First, the problem of too much waste. Second, the problem of lack of resources. Not only countries are coming up with ways to tackle this, but here are also some interesting furniture items made from recycled furniture.
Furniture items made from recycled materials
As there are thousands of furniture items available made form reclaimed materials, it is important to look for the ones that are not just eco-friendly but have a fantastic appearance too as it is equally important for the furniture item to look good. Moreover, creativity should be in terms of the material that makes up the furniture and the design. Eco-friendly furniture items are on high demand these days. They don't just help keep the environment clean, but also look super-cool. Let us see how useless stuff can help embellish your home or office:
1. Table made from recycled materials
Designed by artists for humanity, these tables are made up entirely from magazines and other waste materials. They are covered with an eco-friendly resin that prevents water from entering the framework of the furniture item. These are available in different sizes and shapes. Undoubtedly, they are appealing enough to capture the attention of your visitors.
2. FlexibleLove furniture
FlexibleLove furniture are curvaceous pieces of architecture that exhibit 'accordion-like, honeycomb structure to present fantastic furniture material. These are durable pieces and are made from recycled products like paper and reclaimed wood waste. Their manufacturing has considerably less impact on the environment because they are prepared by pre-existing manufacturing process.
3. Tables Made From Recycled Materials
Made from salvaged wood, used book and other recycled materials, these tables are an exquisite piece of art with legs made out of baseball bats held upright, table tops made out of books with beautiful hard cover. These tables and chairs serves perfect as coffee tables for their short size and height. The only drawback could be their cost that can be as high as $400.
4. Office furniture made from Recycled materials
These are designed exclusively for offices. They are entirely recyclable pieces of furniture and consist of waste products. Paper tubes are used to design the framework and make the structure of furniture, while durable matt gloss is used on the surface. Innovation has never been so promising.
5. Eclectic Furniture Made from Recycled Materials
Made to diffuse vibrancy in the milieu, these furniture items are used and forgotten pieces of furniture or fabric that are no more in use now. These items then undergo considerable improvisation and up gradation to attain an entirely new look that blazes others hearts with envy.
6. Billboard And Traffic Signs, Recycled For A Green Furniture
Did you ever think that you could even use the waste billboards and traffic signals that could be potentially harmful to the environment? Boris Bally's furniture designed from billboards and traffic signals- armchairs, transit chairs, coffee and side tables- are entirely hand-made and environment-friendly since they do not employ the usage of machinery.
7. Crazy Ray's amazing furniture made from recycled material
Crazy Ray's immaculate display of creativity and artistry bring to you innovative furniture that includes the usage of old auto parts molded into lounging furniture items and with an automotive theme. These are popular for their beauty and comfort. The designers have put them to shape to feature an entirely different product by expert metalworkers. Furthermore, these reduce carbon footprints. An aesthetic chair made out of rear view mirrors and a lounge set with a table made from BMW hood speaks volumes of the creativity.
8. Garden furniture by Bysteel
Made exclusively to match the elegance of nature's virtue of beauty, the Garden furniture by Bysteel, consisting of Forli, is a collection of elegant and delicate-looking comfortable furniture items in white that find a perfect spot among plants. These consist of recycled materials. What's special? You can also recycle these.
9. Eco-chair
John Wiegand-Forson's pieces of furniture are a beautiful amalgamation of art and science. Moreover, they exhibit designs made from old bicycle frames that look sleek and fit the choice of style and beauty incorporated into a chair.
Creativity is not merely a part of making amazing pieces of art, creativity is an important and indispensable part of science, architecture, designing and of course, the science of eco-friendly architecture and design.
This is one of those products that encourages people to save the environment, motivating in the plane that they don't have to sacrifice their sense of style and elegance in lieu of designing the interiors of their homes. Apart from the sleek bike frame chair, the artist has also designed various other impactful designs using equally inexpensive materials with the same eco-friendly and stylish results.
10. d-Bodhi's Eco-Furniture made from recycled Jeans
d-Bodhi's unique concept of recycling denim jeans and T-shirts by providing a chic style to furniture has earned it accolades. With around 13 exclusive models of table, wall and floor lamps with graffiti to render stylish look to the furniture pieces that sate your senses with heavy doses of modern art. Every year a great amount of waste jeans pile up. Their disposal becomes a big burden.
d-Bodhi, an eco-friendly furniture company founded by Raymond Davids is responsible for designing this range of stylized furniture from recycled denim materials. In addition, the company has been popular among eco-conscious population for creating handmade furniture from reclaimed teak wood and iron. Their furniture collection is well-known for craftsmanship, bold, fresh and sustainable features coming with a minimum ecological footprint.
The company always looks out for innovative methods of recycling used material into furniture. Now, it has come up with this novel idea of utilizing the thousands of jeans piling up in the second hands stores. Furthermore, since it can ease the disposal burden on the environment, it has used this denim material to create the d-Blue collection. The collection includes casual chairs, coffee tables, bean bags covered with denim, puffs and even lounge chairs.
11. Leftovers' recycled garment furniture takes you back in time
If you want to go back in time to the Victorian era then these furniture would surely help you do that. These stunning pieces of Victorian style furniture have been designed by Swedish design duo Jona and Linda Netsman of Design by Leftovers. They have used designer fabrics from old and used garments to come up with all these pieces of Victorian sofas and chairs. So, basically these furniture are created from recycled garments. The theme of these creations "pre-loved can be re-loved", tries to give you the sense of a bygone era by designing furniture that were used then.
As has been mentioned, all of these stunning pieces of furniture have been created using recycled materials. They have only used fabrics from old and used garments to create these stunning beauties. But they have not just recycled old garments. Some of their creations, such as the Grandma collection of sofas, have been made entirely out of old pot holders. All of these pot holders have been handcrafted by "a grandma" Anna-Stina. Therefore, these furniture doesn't just look good, they also carry an important message given the times we live in.
The look of these furniture are undoubtedly stunning. Every piece of sofas, divans and chairs carries with it some design features that are quite rare to see in today's furniture. The furniture are all multicolored, which gives some sort of a Kaleidoscopic effect to them. All of their pieces are classic in design, but they also have contemporary design features incorporated into them. So, with this pre-Victorian furniture, you get the best of both times.
12. Crazy Ray's amazing furniture made from recycled material
Crazy Ray, for the second year in a row, has put up a remarkable display of seating furniture made from auto scrap at the Artscape Festival in Baltimore City. The three designers from Crazy Ray – Renee Tantillo, Peter Boyce and Andrew Yff – have creatively recycled old auto parts and transformed them into awesome lounging furniture and seating with an automotive theme.
Each piece is a visual treat and a piece of art that can be admired and used for lounging with its comfortable design. A lot of the old auto materials like car hoods, and backseats were donated and them meticulously put together by expert metalworkers. Among the various pieces, there is a chair with a striking backside made out of rear view mirrors. There is another lounge set comprising of a table made out of a repurposed BMW hood and the chair made out of an old leather seat with a steel back – very creative indeed!
Using old chunky parts of cars and using them to create great furniture is a great way to reduce carbon footprint. The Artscape Festival is a good way of putting across the 'green' message in an artistic manner – showing that old things do not necessarily have to be discarded.
13. Salvaged wood furniture form Hudson
Nothing in the market can replicate marvel of the wooden furniture. However, there is not enough wood in the forest to satisfy the rising demand of the ever-increasing population. Yet, man has been exploiting the nature beyond limits. If such exploitative behavior is continued further, it can result in a natural catastrophe like extinction of flora and fauna and thereby creating an imbalance in nature.
Following the suit, Hudson Furniture of New York launched a new range of wooden furniture, all from recycled and reused wood. If you can't believe what you read, then visit the gallery below and get yourself satisfied before proceeding on further reading.
Hudson Furniture used their brains. They decided to turn trash into treasure. Their efforts culminated into reclaimed and salvaged wood furniture.
They have deigned a range of wooden furniture made of reused and recycled wood, either torn down by storms or salvaged the locally available trees. Thus they put in their complete effort so that harm is not caused to nature during their endeavor to gain profits.
14. Recycled Buenos Aires Roller Blinds
This furniture concept uses roller blinds given out in trash on the streets of Buenos Aires. Conceptualized and designed by Maria COnstanza Nunez and Gabriel Pires Mateus of Argentina, this design is called Gruba. Roller Blinds are a material that is disposed off in large quantities. These are recycled and used to make furniture for homes.
15. Reincarnated chairs
Reincarnated chairs by Claire Danthois are named such because the range has been created from discarded furniture. He uses reclaimed timber and cable to assemble this lovely looking piece of furniture. To keep the range eco-friendly, Danthois hasn't used grease paints at all. The chairs can be customized to suit the requirements and taste of the consumer.
16. Artistic touch
Created by Cory Barkman from Calgary, this furniture is made from weathered hardwood furniture. A lovely concept of carvings along with a perfect finesse to the product, these items of creativity surely stand apart from the commonly found chic or traditional furniture. Barkman has come up with a variety of furniture including prayer stand, coffee table, dining table and sword racks.
17. Recycled wine corks
This surprising collection makes use of wine corks for the construction of chairs. Corks have been recycled into a variety of products. However, nowadays they are finding new use in furniture. The brain child of Gabriel Wiese, the corks has been arranged so that they still keep their original shape intact, while faithfully following the lines and curves of the chairs.
18. Corian Waste
Originating from London based RabihHage, scrapped pieces of Corian have found their way into these lovely examples of angular furniture. Made from discarded stones, wood or metal, these luxury products have become a new trend in the industry. Plus, they are increasingly gaining popularity due to their unique shape and contemporary take on furniture. This line is as much a work of art, as it is for furniture.
19. Recycled cabinets
Made by M&Mme Valentin, this piece of home furniture is made from old handmade cabinets and reclaimed bankjraj wood. It is a perfect combination of classic traditional with contemporary style and construction.
Amazing furniture items made out of recycled materials was last modified: June 30th, 2020 by Community Writer | Community.Drprem.com