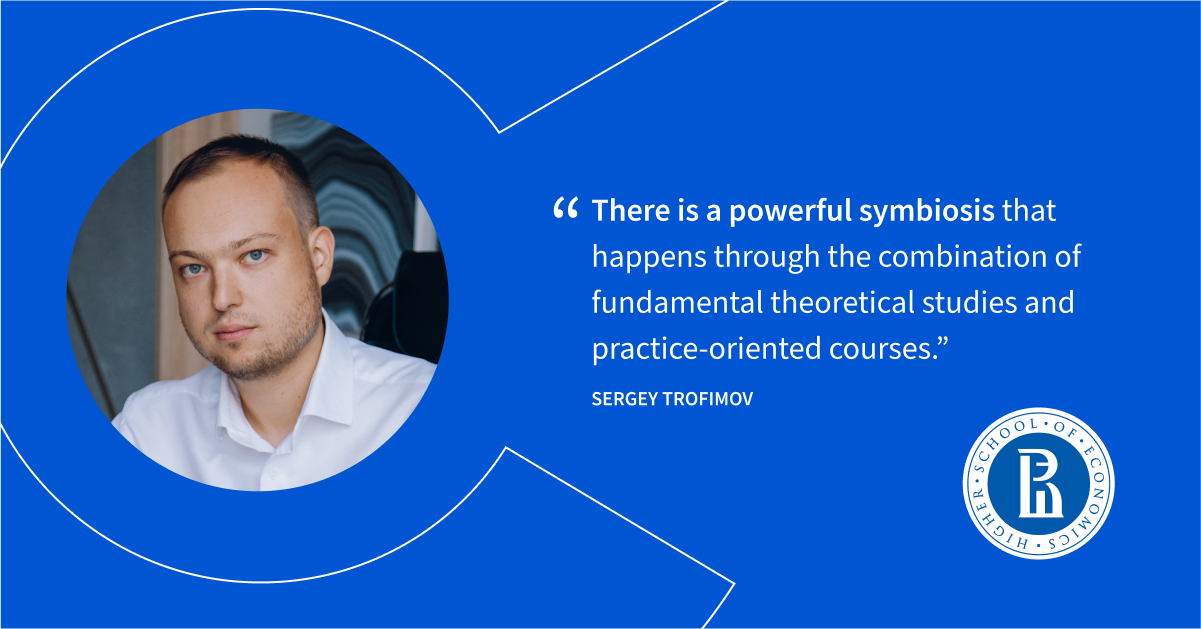 The National Research University Higher School of Economics (HSE University) has long been one of the most prestigious universities in Russia. In 2020, HSE earned the first place spot on Forbes' Best Russian Universities list. Among the institution's many accomplishments, HSE is leading the way in multi-disciplinary digital education. In September 2021, the first cohort of students will begin their studies in HSE University's groundbreaking online Master of Finance program.
This online program was developed by experts from the HSE Banking Institute and features the same curriculum as HSE's on-campus counterpart. Students in this new program will enjoy all the flexibility afforded by a world-class online learning experience while benefiting from the core features that distinguish this exceptional master's program. These benefits include the opportunity to work directly with top industry executives and experts with CFA, FRM, and ACCA certifications. As a graduate of this program, you'll join alumni who have gone on to work at Alfa Bank, Bloomberg L.P., the Central Bank of Russia, KPMG, Thomson Reuters, and more.
Sergey Trofimov earned his financial analyst master's from HSE. He spoke with us recently about what drew him to the program and what he sees as the key benefits. Among the features he highlights are the combination of theory and practice, the CFA Institute partnership, and the real-world applicability. He also shares some details about his next career steps.
Sergey, thank you so much for taking the time to talk about HSE's master's programs! Let's start at the beginning. Why did you decide to study finance at the HSE Banking Institute in the first place?

I began studying at HSE as an undergraduate. At that time, I was already very career-focused, and I wanted to put my knowledge into practice immediately after earning my bachelor's degree. My career took off right away, but over time, I began to realize I still had some weak areas. After four years on the job, I made the decision to return to school and earn a master's. Because I already had career experience, I wanted a program that combined fundamental training and practical skills and didn't overly focus on theory. The Banking Institute was the right choice. Plus, I already knew many of the instructors from my undergraduate studies, and I wanted to continue learning from them. 
As someone with years of professional experience, you're in a great position to assess the applicability of the curriculum. To what extent do you think these programs meet modern requirements for the field of financial analysis, and do learners get sufficient experience with practical applications and real-world scenarios?
These programs fully meet the requirements, and there is a powerful symbiosis that happens through the combination of fundamental theoretical studies—taught by the best HSE professors—and practice-oriented courses led by instructors who have extensive industry experience. In addition, the program is based on the CFA Institute syllabus, which is updated annually based on the requirements of employers for investment professionals. There are also a lot of real-world cases that you work on, where you focus on tasks exactly like those that you encounter in the workplace—tasks like investment portfolio management, financial analysis,  project management, and more.
You mentioned the partnership with the CFA Institute, and how the alignment with their syllabus is a key benefit of the program. Are there other ways you've benefitted?
The most important advantage is definitely that the program complies with the updated CFA Institute syllabus. This allows you to get the most out of the knowledge you gain. But membership also gives you the opportunity to network and attend various events, use career resources, and more. It grants you entry to a community that can otherwise seem somewhat closed. For me, it's all about continuing one's education, which is the driver of constant professional growth.
HSE's Chartered Financial Analyst Affiliate Program status makes it possible for students to take the CFA qualification exams at a 75% discount at all three levels during their studies. CFA Certification holders are recognized for both their broad knowledge and ethical compliance, and benefit from employment opportunities all over the world.
Your belief in the power of education and your commitment to professional growth is very inspiring—what's next for you in your career?
In the short term, I do plan to continue my education, with a new focus on the field of computer science. In the long-term, I'd like to create my own fund where I can combine my technological knowledge with macroeconomics and a fundamental approach to the analysis of companies.
What skills and traits do you think a successful financial analyst needs to have?
I think having a broad outlook and a lot of common sense are essential. A certain amount of cynicism helps, too! You should definitely have solid basic training in financial analysis as well—to understand how a company's reporting is formed and what has caused movements in the markets. It's also good to have some technical background and the skills to work with large amounts of data.
How do you see the future of financial analysis at the national and global levels? Do you see any important trends out there?
In Russia, most of the economy is connected with the state in one way or another, and that's a trend that will probably intensify. I also see the development of a project-based approach and asset valuation in terms of a single major stakeholder as an ongoing trend. At the global level, there's a continuing trend towards needing to have solid technical knowledge, since the data has become immeasurably larger—you have to be able to analyze everything in a short amount of time.
Sergey, thank you so much for talking with us. We wish you the best as you continue to grow your career, and we can't wait to learn about your next successes!
~
As Sergey made very clear in our conversation, HSE's Master of Finance program is really geared towards career advancement, with a strong focus on industry relevance and applied skills. With the launch of this online program, learners from diverse backgrounds across the globe now have the opportunity to enroll in a world-class program from a leading institution where they can learn from industry experts and benefit from key industry affiliations like the CFA partnership that Sergey highlighted.
Peter Watkins, the CFA Institute's Director of University Relations in Europe, the Middle East, and Africa, had this to say about the online learning opportunities being made possible by HSE:
"One of the most important advantages of the online format is the availability of education for a wider range of students. Very talented students who previously, for various reasons, did not have access to on-site academic programs, now can freely improve their professional knowledge and skills. I have great respect for my colleagues from the HSE Banking Institute for taking advantage of new opportunities, showing flexibility, and developing a master's program based on online technology."
Vasily Solodkov, Director of the HSE Banking Institute and Academic Supervisor of the online Master of Finance program, echoes Watkins' thoughts on how online learning can promote inclusion and broaden opportunity:
"Often, while studying for a Master's degree, students do not have the opportunity to work a full-fledged job. In some cases, they are forced to quit their jobs and then start their careers anew. In our case, combining work with study is not only allowed, but also welcomed, and this is an indisputable advantage of online education."
Applications for the Fall 2021 cohort are now open! If your goal is to build a successful career in finance and land rewarding roles at international banks, investment and hedge funds, rating agencies, and more, the Master of Finance program from HSE University is the ideal program for you. Learn more today!
2