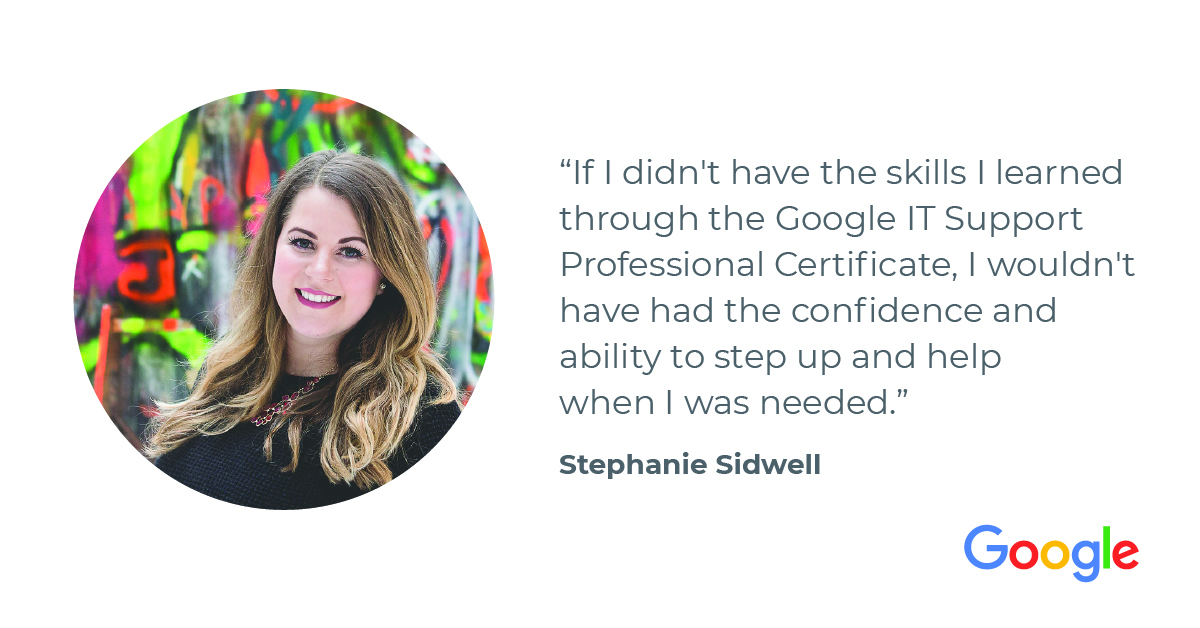 COVID-19 has changed the world of work dramatically. Interviews and onboarding now happen virtually. Teams are distributed and working from home. Employee engagement is defined by on-screen interactions. For organizations of every size, across virtually every industry, adaptability and resilience are essential.  
For people navigating this unfamiliar employment landscape, learning new skills and refreshing existing ones can be an ideal way to find stability, and to make meaningful progress in the face of unexpected disruption. Below, we share stories from learners who've reimagined their existing jobs, landed new jobs, and enhanced their hireability with knowledge and experience gained through the Google IT Support Professional Certificate.
Let's hear from these learners now!
---
Amie Hanbury (Virginia)
Prior experience: Marine Corps, Police Dispatcher
"I felt unfulfilled by my retail job. I have a strong desire to make a difference, and retail just didn't give me that. I started taking the Google IT Support Professional Certificate, studying for a couple of hours after work, and more on the weekends. When the pandemic struck, I had time to think about what I wanted to do with my life, and I got motivated to complete the courses and go after my dreams.  As I finished up the System Administration and IT Infrastructure services course, I applied for an IT position. The interviewers were impressed by the amount of knowledge I had, and I got the job! I am now a Field Technician at Core Technologies, Inc."
---
Maurice Gadegbeku (Maryland)
Prior experience: Call Center Customer Representative Quality Assurance, Warehouse Associate
"I took the Google IT Support Professional Certificate through Merit America. The pandemic was actually a blessing to me in the sense that it opened up a wealth of job opportunities. With most offices being closed nationwide, the demand for remote work and internet access grew exponentially. This paved the way for me to be offered a job with Amazon AWS and Verizon through their external recruiters. I strongly believe that the Google IT Support program served as a catalyst in my getting the job." 
---
Jackson Hale (Washington)
Prior experience: Retail shift Supervisor
"I am currently enrolled in college part-time, and am in the process of getting my associates degree. As a result of my having earned the Google IT Support Professional Certificate, I was able to move from retail into an IT Service Desk role at Starbucks. From there, I moved to an MSP (Microsoft Student Partner) position in incident management at Microsoft. The Google IT Support Professional Certificate helped me stay employed during COVID-19, and now I can afford a down payment on a home."
---
Stephanie Sidwell (British Columbia)
Prior experience: Esthetician, Receptionist/Assistant at a Chiropractic Clinic, Secretary at a Non-Profit Organization
"Four years ago, I was hired as a part-time secretary at a local non-profit, Sea to Sky Community Services Society (SSCS). I have since worked my way up to a Database Support Specialist. It wasn't until March when COVID-19 hit, that I truly understood my takeaway from the Google IT Support Professional Certificate. SSCS is considered an "essential service'"because of the vulnerable clients we connect with. We needed to have over 100 employees set up to work from home and our Administration Manager and IT guru were both inaccessible. I stepped up and took on procurement, setting up hardware with remote access and IT support for the entire agency. If I didn't have the skills I learned through the program, I wouldn't have had the confidence and ability to step up and help when I was needed."
5