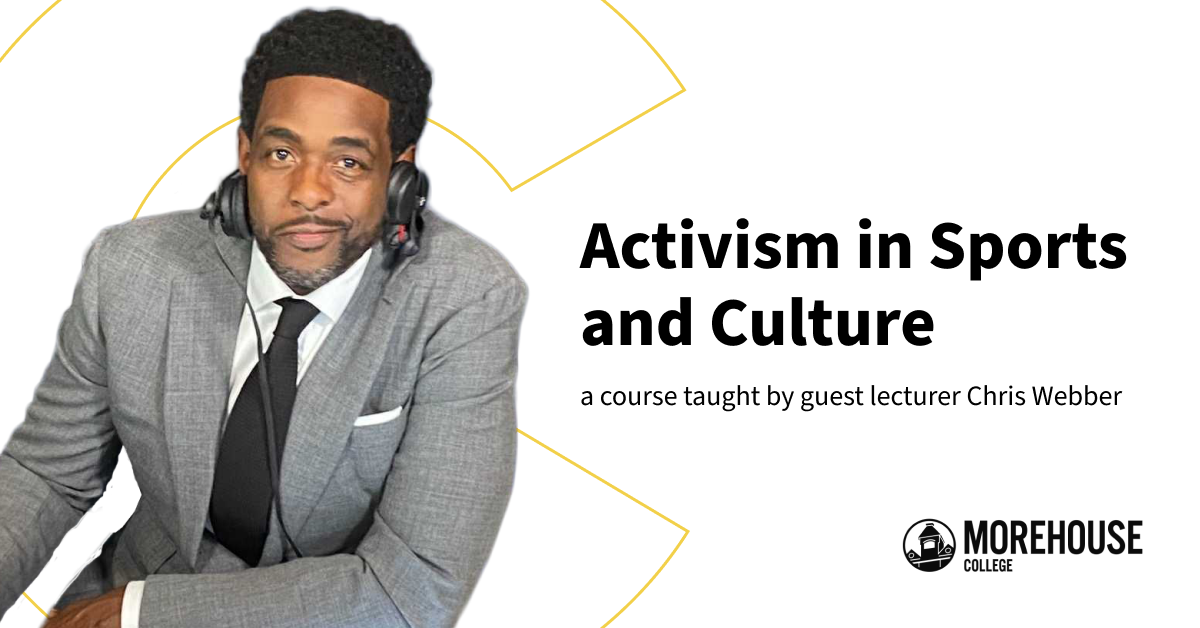 By Shantelle Williams-Valadié, BOLD ERG Chair and Associate Director, University Partnerships, Coursera
In the 1968 Olympics, medalists Tommie Smith and John Carlos punched defiant fists into the summer air, decrying oppression of Black communities in the country whose colors they wore on their tracksuits. The act seized the world of sports and was widely condemned by mainstream media. Nevertheless, more than 50 years later, the image of those men holding their fists high atop that podium is one of the most iconic in our collective cultural memories, sports or otherwise. What can we learn from this story today, and from the decades of sports activism that have followed?
In a new course from Morehouse College, 5-time NBA All-star and guest lecturer Chris Webber gives us a rare opportunity to hear and examine the stories of John Carlos, and others who risked ostracism and isolation for a cause. Through the lens of sports, learners will explore questions like: "What is protest?" "What is a just cause?" "Did these athletes' actions make a long-lasting impact?" "How did athletes use their platforms before social media existed?"
In the course, Chris Webber welcomes guests and notable athletes and activists such as Spencer Haywood, Dr. John Carlos, and others, to help us examine issues of leadership, progress, inequality, collaboration, justice, and problem-solving. 
On an unusually quiet Monday morning, I sit down virtually with Chris. He greets me with a wide smile, humble and visibly passionate about the course he's about to launch on Coursera. As we begin to talk, the story of how this course came to be flows naturally from him. There is the occasional interruption when he stands up to show me a photo or, (my favorite), a framed Nelson Mandela quote in his room. In his own words, he tells me what this course, and the new Morehouse partnership it debuts, means to him and what it will bring to Coursera learners. 
"Sport has the power to change the world, it has the power to inspire. It has the power to unite people in a way that little else does. It speaks to youth in a language they understand. Sport can create hope where once there was only despair. It is more powerful than government in breaking down racial barriers." – Nelson Mandela
Chris, can you tell us about the course and who it's for?
Activism in Sports and Culture is a course that, through first-hand narratives of athletes, aims to provoke thought and argument about the place of sports in our economy and civil society. This is a course for everyone, in particular those who love discussion, love history, and who want a fresh look and perspective on what's happening at the intersection of sports and society today. But, this is not just about sports and entertainment; we'll be learning and analyzing stories of perseverance, selflessness, and sacrifice. 
I want [learners] to be inspired and informed, hearing from the people who have made the greatest sacrifices in order to influence global conversations. I also want them to take a look at societal issues because sports is a microcosm of society: you'll find players of all beliefs, political affiliations, and backgrounds. We are just a part of society.
Why bring this course to Coursera, and why now? 
I wanted to launch this course with Morehouse and Coursera because of the massive reach to learners of all walks of life. On Coursera, learners can have thoughtful, respectful dialogue together and a safe space for discussion through the forums. 
It's exciting to see this launching during Black History Month, and I love that we have a month to celebrate accomplishments of Black people. However, history belongs to all of us and these accomplishments should be celebrated throughout the year.
Tell us about why you chose to create this course in partnership with Morehouse and what HBCUs have meant to you personally?
Creating this course with Morehouse is symbolic—this is a school with a legacy of speaking to progress and human rights even as many in the U.S. have denied Blacks education. Morehouse has been a pillar in our society and community and in these social justice movements. There is no better partner with whom to launch this course, and no better time than during Black History Month. 
The connection to and pride for HBCUs in general is personal. I went to a predominantly white college prep high school and although I ultimately went to University of Michigan (which I loved), HBCUs were what I aspired to. College years are among the most vulnerable and fun times of your life. 
When we learn, we're vulnerable. And it's so important to feel understood, and that you're not judged by the color of your skin. I've appreciated my various education experiences, and especially the opportunity to take courses with HBCUs more recently. My wife and father-in-law are graduates of HBCUs…I owe a lot to these institutions.
How did your personal experiences with education and of this history influence your decision to create this course? 
Personally, through this course, I get to honor my heroes like Dr. John Carlos, who's like a big brother to me. From him, I've learned forgiveness and how to stand for something when others are too afraid. I've learned from the life practice of so many of these activists. 
I also want to bring others into the conversations that I have with mentors, family, and friends all the time. Sports gives us common spaces to start these conversations because it brings us together regardless of our backgrounds or color. Sports brings comfort and trust to this discussion and hopefully let's cooler heads prevail. 
Let me also say something about the way history has been taught in this country. Growing up, my mother was a teacher, and I learned Black history at home and at school. But I had friends who never learned the same history I did and had to be taught it—as if it were something separate and apart. While I love that we have a month to celebrate Black history and the accomplishments of Black Americans over time, this is American history, and we all should learn it. It's for everyone.
How can athletes and non-athletes be more effective activists? 
That's exactly what this course is built to help people with. I hope people from all over the world enroll today and share their ideas and thoughts in the forums. 
---
Shantelle is Associate Director of University Partnerships and the chair of BOLD, Coursera's ERG for Black Employees. She has been instrumental in expanding access to world-class education for learners everywhere, leading ground-breaking advancements in global education like launching Coursera's first degree partnership in Europe with HEC Paris' Master's in Innovation and Entrepreneurship, first Bachelor program with University of London, as well as bringing to life Coursera's first partnerships with HBCUs like Morehouse and Howard University.
3