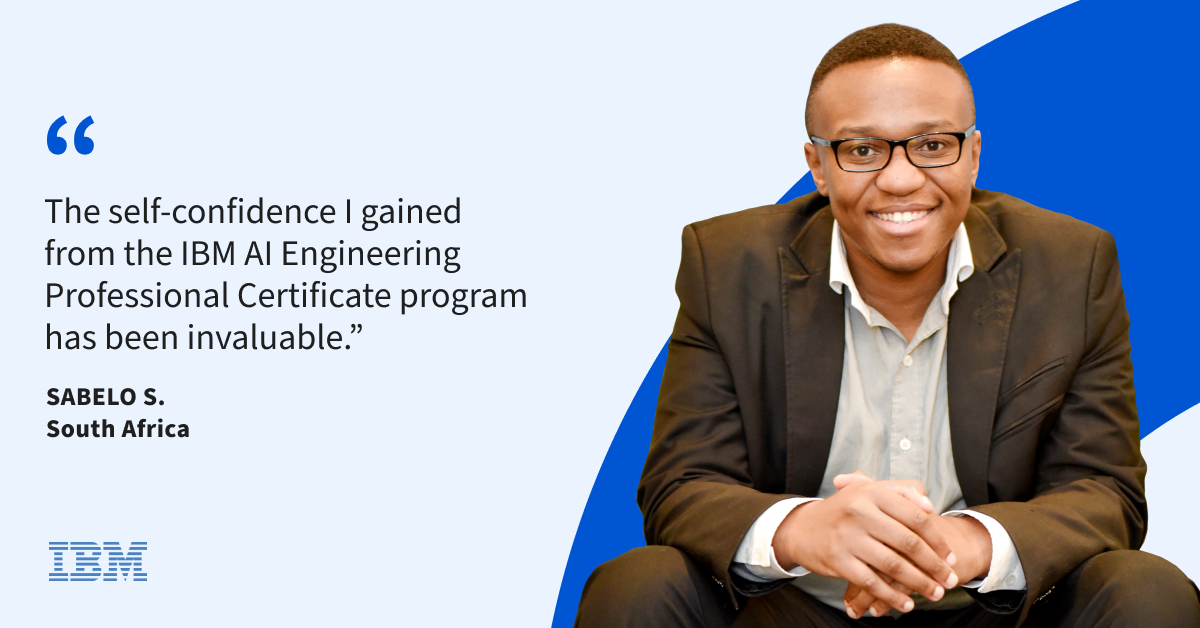 Meet Sabelo, the co-founder and CEO of Tuse, a company based in South Africa that offers award-winning artificial intelligence, blockchain, and IoT solutions. Prior to his success with Tuse, Sabelo spent eight years as a self-taught developer. He eventually determined that he needed additional training if he was to achieve his goal of launching his own startup. Already a committed online learner, he decided to enroll in the IBM AI Engineering Professional Certificate program on Coursera. Not only did he master essential career skills, but he also built self-confidence. Today, in addition to helping Tuse continue to gain new clients, Sabelo is also working for his community, helping to build a fintech application to support a working population that is struggling with debilitating debt. Below, Sabelo shares his inspiring story.
My name is Sabelo, and I am the co-founder and CEO of Tuse, a full-service IoT company in South Africa that specializes in edge computing, AI, and blockchain solutions. Before co-founding my organization, I was a self-taught developer, relying on MOOCs over the last 8 years to become proficient enough to build the tools I want to use. I decided to pursue a career in AI engineering because I wanted to build an IoT startup. 
What initially appealed to me about the IBM AI Engineering Professional Certificate was the flexible, self-paced nature of the program. I wanted to partner with IBM and thought it best to pursue a course that makes use of the IBM stack. I would highly recommend the course if you want to build a portfolio of projects that increase your aptitude and confidence in AI engineering.
Another fantastic thing about the entire course was the hands-on labs. During the labs, you get to create a portfolio of projects demonstrating your skills. It can be a very difficult challenge to create a portfolio that truly emulates a real production environment, and this course is essentially the only one that I could find that actually enables you to do that.
Since I completed the IBM AI Engineering Professional Certificate, Tuse has successfully acquired many more clients—not only as a result of strengthening my credentials and building credibility, but also because I can more effectively articulate the value of our services to prospects. The ability to communicate confidently about our work, an essential skill practiced in the IBM program, has been invaluable.
One of the best rewards that I gained from completing the program was my new-found self-confidence. During the course of the program, you are actually working in a production environment identical to the one you would be using in the actual workplace. The program more than equips you with the practical experience necessary to tackle very intimidating projects and that is so, so rewarding. For example, I was fortunate enough to take part in the National Qualifications Framework in South Africa. The education sector is developing qualifications for data science and the fourth industrial revolution, and because of the qualifications I've gotten through Coursera, I was identified and asked to help shape those certifications. This has been an extraordinary opportunity that I would not have had without my experience from the IBM AI Engineering Professional Certificate.
It's amazing that I have been able to take the skills I learned during the course of the IBM program and use them to create an application capable of helping many indebted people in South Africa, where a huge percentage of the working population is debilitating debt We are building a fintech application right now to help people sort out their financial goals. When we can find a way to focus on people's financial well-being and provide the appropriate resources and education, we can contribute to a happier and more stabilized population. To have played even the smallest role in mitigating these challenges is both humbling and empowering, and I look forward to supporting these improvements one step at a time. 
I would absolutely recommend the IBM AI Engineering Professional Certificate for anyone with an analytical background, analytical curiosities in their professional setting, or students who wish to take their education to the next level. The program is self-paced and offers practical applications that leave you feeling prepared for what can be a demanding path to follow. Throughout the course I also built an amazing community that I hope will remain friends and resources for the rest of my career.
15