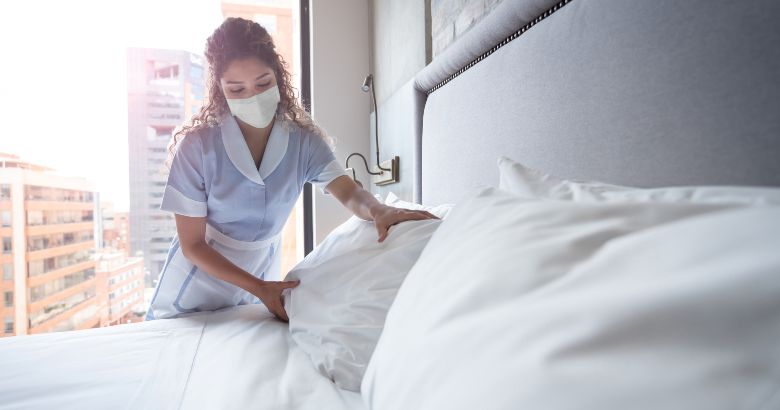 How many factors can you think of that are affecting employee engagement these days? Specifically, factors that reduce employee engagement. You can start with the big one for a third or more of employees: working from home, but it's not the only item on the list. Others, even for workplaces that still exist as physical company-owned facilities, include large teams, departments that work in isolation, multiple locations doing similar work, and the effects of physical distancing. It's a long list, and it's expensive. How much is it worth in dollars and cents to engage employees? Would you believe that disengagement costs an organization 34% of an employee's salary?
Solutions have included the use of intranets, social media, virtual meetings, and related apps, especially for employees that have a desk and a computer. But what about the mobile workforce, dispersed workforces such as those working in construction, warehouses and distribution centers, food processing, and other deskless and computerless employees such as NGO workers, retail workers, and housekeeping staff in hotels?
Support for employees who don't have a desk
One example of a large community of workers who don't spend their days at a desk is housekeeping staff in hotels. This is not the only group of workers for which this article is relevant, but let's start here because this group has been hard-hit by layoffs during the pandemic, arguably harder than almost any other group outside of restaurants. But even so, as many as half of them in some hotels are still on the job. The challenges to keeping them engaged are many. In normal times, staff would start their shift with a stand-up meeting, but with social distancing (and with masks muffling voices) these are not effective when it comes to "getting the word out" about changes to workflows and procedures, if such meetings can be held at all. Onboarding and training are challenges: returning employees, re-hires, and those transitioning from another hotel group are coming back to a different world and the transition is not simple.
Communication platforms that go beyond learning experience platforms
There are alternative ways to provide digital support, however. Platforms do exist for employees in these jobs and in similar situations in other industries. These platforms perform many of the same functions as intranets—supporting communication, keeping everyone on the same page, providing engagement, and maintaining vital functions such as:
Training
Updating ever-changing protocols
Employee recognition and acknowledgment
Sharing success stories and positive customer feedback
Providing important wellness and benefits updates
Discussions, forums, employee contests
While there are individual applications that can "fill-in" for individual items on this list, ideally management and employees would prefer platforms that do all of them. A single platform would be ideal to deliver everything in a mobile-friendly, cross-browser application that provides a single point of contact for employees and managers, helps the manager or supervisor keep track of who has seen what information, and all regardless of an employee's preferred language and trusted mobile device.
Beekeeper
I recently spoke with Andrada Paraschiv, head of hospitality for Beekeeper, a single platform that performs all of these functions, and more. Beekeeper is used by many hotel chains and other hospitality enterprises. Her experience in the hospitality industry helps her to show managers and supervisors, as well as housekeepers, all the ways to leverage the features of Beekeeper for the frontline workers.
To begin with applications to training, Paraschiv says that, "We do microlearning using Beekeeper. Especially in this new world, we see a lot of managers who are trying to keep their employees informed of new regulations and new SOPs (Standard Operating Procedures), all the protocols have changed as a hotel reopens, and they will continue to change. The managers' and supervisors' challenge is really, 'How do we make sure that everybody knows what to do?"
In a housekeeping forum, a supervisor can post a video on how to make the bed with a message that says, 'If you have questions, ask them here. Let's discuss what you didn't understand in the video.' Because Beekeeper delivers the video on mobile phones, the employees can watch it wherever they are on their own phone, and can record their questions as audio comments, if they wish to." She compares the experience as a mix of Facebook and WhatsApp (as well as other applications), and it works, as she also says, "top-down or bottom-up."
Onboarding
Paraschiv mentioned the important uses that Beekeeper finds in onboarding, as new employees need to learn about the values and expectations of their new employer—without having to sit in a classroom. For this purpose and for building retention of knowledge, Paraschiv points out something else: Beekeeper supports quizzes and spaced learning.
"You can send quizzes. Employees can test the knowledge from training and onboarding. You can send reminders and schedule them, say twice a week. Add a new video that teaches a protocol and then twice a week you'll send them a reminder. I think in general that training has been going in this direction. It's more on the job."
She continues, "This is also a tool where you can create a workflow. So every time you have a new employee you can pre-schedule messages. Add personalized messages: 'Bill, welcome to our company.' It can be a message from the president the first day. The second day you send them something about values, third day could be something else. Basically you just pre-schedule for each new employee. If you're organized, those are their onboarding materials and this also ensures consistency rather than relying on the local manager to do the job."
Translation
Paraschiv points out additional benefits of having a communication platform in the pockets and hands of every employee. Beekeeper offers in-line translation, overcoming language barriers. She says, "This is invaluable for training and other purposes. The housekeeper gets the message in the language that they are most comfortable with, so they actually get what it says rather than just guessing half of it. Employees who are at a desk all day have a computer, so they get a lot of communication by email or as attachments. The rest of our employees don't have any other digital way of receiving communication, so Beekeeper is even more valuable to them."
Documents and digitization
There is a document library where anything needed for reference (such as the Employee Handbook) can be accessed. "Companies can digitize any paper form of communication and make it available on the employees' phones; if an employee loses his nametag, instead of going to HR to fill out a form, the employee can simply submit the request from his phone."
Workflow management and collaboration
I asked Paraschiv about the workflow for housekeeping. Housekeepers are always busy and I have no idea idea how they would fit everything into their day. They get measured on this. And so how does Beekeeper help with that?
Paraschiv shared with me that Beekeeper works with a partner company, Lua, to provide housekeepers with checklists. This helps the housekeepers as they go into a room. They have a checklist: "We have to do these five things." It helps them on the job. And when there's this huge turnover in housekeeping, so rather than, you know, asking your manager all the time, they were just guessing what's next. With Beekeeper and Lua, they have the checklist so it helps them with their job and with learning fast. It also provides supervisors with a lot of actionable information, such as "A lot of our housekeepers yesterday forgot to check the hangers." You can use that information to make sure you train them. It gives you insight so that you know what they know and what they don't know. It gives the supervisor confidence, and the training gives the housekeepers confidence.
In another example, Paraschiv points out how Chat works similar to WhatsApp and helps coordinate work between employees. She said, "Beekeeper is our new communication for everything. Other tools let you take requests from the guests, but they don't provide a way once a request is in and you need a team to work on it, you cannot add all those people on that other tool to collaborate. So you can move the conversation to Beekeeper to resolve the issue."
Just like the social apps such as Facebook and WhatsApp, this kind of communication in Beekeeper also works to increase and spread tacit knowledge between workers, while giving managers and supervisors a way to identify and correct mistaken ideas, misunderstandings, and also to spot problem areas. An employee or supervisor who has trouble with putting tacit knowledge into written form can make a short video to explain the idea.
Making the best use of technology in every pocket
Communication platforms like Beekeeper facilitate training and operations for frontline workers in today's challenging times. The main thing that Paraschiv pointed out several times is that Beekeeper is designed to make frontline workers successful: "If you make people successful, you know that they'll make your business successful."
She detailed other ways that Beekeeper supports success in addition to what I have reported here: better preparation for re-opening a hotel is one of the huge ROI-makers, as are reduced turnover and a system that works to keep people safe and feeling connected. The point of a communication platform designed for workers who aren't tied to a desk and supported by information technology on that desk is to support engagement, teamwork, and leadership. This will be increasingly important as hospitality and the other kinds of enterprises that I named at the beginning of this article open up in the coming year. It will be well worth looking into these platforms.