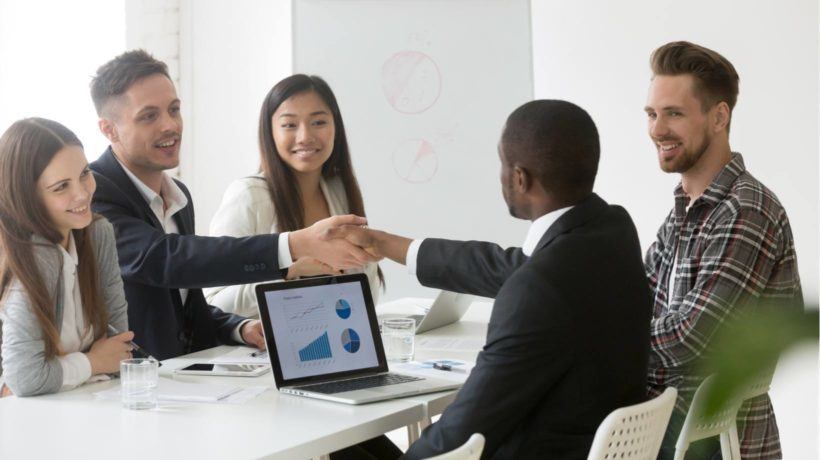 What Is Compliance In Business?
Your chief compliance officer can't do it alone. They need a robust compliance training LMS that can help them quickly update content, monitor gaps, and set a prime example. But they also require a clear answer to one all-important question; what is compliance in business? Not from a general viewpoint, but as it pertains to your company, its industry, and regulatory bodies. The only way to build credibility is to prove that your organization respects the laws and is willing to uphold them. Even if that means going above and beyond to train every member of the team so that they know what's expected of them.
7 Ways To Establish Trust With A Compliance Training LMS
1. Develop Simulations To Mitigate On-The-Job Risks
Simulations offer a precious commodity: real-world experience. Employees learn from their mistakes in a risk-free environment, instead of in the workplace. A compliance training LMS allows you to develop and deploy real-world activities that build self-confidence among your employees—and trust within the industry. Staff members have the ability to see how they might handle compliance issues in a realistic setting. This mitigates risks and enables them to continually improve their response times and performance behaviors.
2. Launch A Certification Program To Track Individual Compliance
Many compliance training LMS solutions feature built-in certification management. This allows you to track individual progress and performance at the individual level. For example, you can launch a certification program to focus on health and safety training. Employees who don't complete the necessary requirements can receive follow-up online training resources or you can intervene to ensure they achieve the outcomes and remain in line with your company standards. Skill-based certifications are also a great way to break compliance issues down to their most basic components. For example, employees may be violating company policy and diminishing your credibility simply because they lack communication or interpersonal skills.
3. Impart Company Policy Know-How With Online Training Infographics
Company policy is another crucial component of compliance online training. To know what compliance is in business, every employee must understand how to perform tasks according to your protocols as well as what's expected of them on the job, and how to put your company's best foot forward. In other words, you need to provide a united front. A compliance training LMS allows you to build trust and credibility with consumers by offering them a consistent experience. Especially if you keep employees well-informed with online training infographics that center on policies, procedures, and compliance task walkthroughs.
4. Use LMS Reports To Spot High-Risk Areas
Compliance is rooted in data. To comprehend what compliance in business is, you must be able to identify high-risk areas that may result in violations. You may even just diminish your credibility and/or put employees and consumers in harm's way. Use LMS reports to spot these weak spots and intervene when necessary. For example, metrics reveal that most of your employees are unable to complete the COI simulation. This might indicate there's an issue with your conflict of interest compliance course, such as lack of real-world activities that impart practical experience.
5. Provide A Just-In-Time Repository For Quick Reference
Even seemingly minor mistakes can damage trust and credibility. For example, an employee slightly bends the rules when dealing with a customer or handling products. This has a ripple effect as the customer may start to second-guess your brand image and how you conduct business. A Just-In-Time (JIT) online training repository gives employees the power to quickly refresh their memory and bridge gaps, such as watching a demo video that shows them how to perform the task or handle a challenging customer issue.
6. Host Live Events To Address Company-Wide Pain Points
Another feature that many compliance training LMSs offer is video conferencing and live event support. To solidify what compliance in business is, you can host live compliance sessions that address pain points you disclose through assessments, metrics, and surveys. For instance, there's been a widespread issue with sales employees violating the code ethics or warehouse staff members have had a high number of accidents. You can invite employees from the relevant department or job groups and get their eLearning feedback. Why do they think there's an issue, and how can you improve the online training to remedy the problem? This also gives you the opportunity to quickly disseminate information if rules or regulations are rapidly evolving/changing.
7. Produce Demo Videos To Set The Example
A key component of compliance in business is setting an example for employees to follow. They need to know how to carry out online training in the workplace and apply what they've learned. Produce video demos that show them how it's done and highlight the right/wrong way to follow the rules. The video should feature relatable characters and situations to facilitate real-world application. You can even enlist the help of employees to reenact a scene or use animation software. Then follow up with simulations and branching scenarios to let them test their own reactions and evaluate their performance to identify gaps.
What is compliance in business? It's not simply doing the bare minimum to survive the next audit. You need to get everyone on the same page when it comes to company policy, regulations, and safety protocols. A compliance training LMS can help you not only provide personalized resources to team members but keep track of performance and build trust, as well as troubleshoot areas that require further attention so that you can intervene when necessary to mitigate risks.