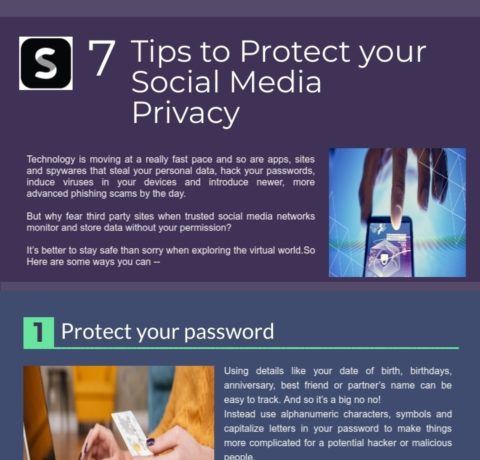 7 Tips To Protect Your Social Media Privacy—Infographic
Technology is moving at a really fast pace and so are apps, sites, and spywares that steal your personal data, hack your passwords, induce viruses in your devices and introduce newer, more advanced phishing scams by the day. But why fear third-party sites when trusted social media networks monitor and store data without your permission? It's better to be safe than sorry when exploring the virtual world.
1. Protect Your Password
Using details like your date of birth, birthdays, anniversary, best friend or partner's name can be easy to track. And so it's a big no-no! Instead use alphanumeric characters, symbols and capitalize letters in your password to make things more complicated for a potential hacker or malicious people. Follow this simple technique and don't forget to use different passwords for different sites or, even better, use the same password with different symbols and numbers! How cool is that?
2. Avoid Sharing Locations And Travel Plans
Imagine you telling the whole world that your house is going to be empty for a whole week! You are practically endangering yourself, your home or business by telling people on your social media network about where you're planning to travel, your itinerary, people traveling with you, when will you be back, and other such details. It may sound melodramatic but kidnappers, thieves, and burglars take this as a privileged opportunity to pry on your whereabouts to eventually steal your valuables or put your life to danger!
3. Private Information Is Not For Public Viewing
It's up to you to share as much data you want everybody in your friend list to know about. Use the privacy settings on your sensitive personal information to restrict others' access to this data. Even better, block strangers messaging you on social media sites using advanced privacy settings. Put a check on those snooping eyes right away! Think twice before putting across your home address, phone number, and email ID on your social media site forms. Or even pictures that reveal too much about your or your loved ones' identity and location!
4. The Incognito Mode Is There For A Reason
When social media sites, notorious people, and businesses are ready to track and oversee your online behavior to analyze and trace it all down to your personality, likes, dislikes, ambitions and desires, using a little anonymity can go a long way in your security. The Incognito mode on Google Chrome helps you achieve that! Your browsing and download history is not recorded on Incognito.
Therefore it becomes a great option when using a public computer in a library, cafe or the like. Any financial info you type or your email login data will not be saved on the computer. You can also use this feature on any phone or tablet. Additionally, installing extensions on your browser is an efficient way to at least have the choice to enable or disable trackers and cookies that access your info.
5. Install A Good Antivirus Software
Make sure the antivirus and anti-spyware you install on your personal devices protect you from malware, viruses, and all kinds of spyware. Renew and update it against all the latest and emerging malware practices. Also update your apps, browsers, and OS to stay protected.
6. Stop Following Recommended Settings Blindly
You may be asked to view some sites or add some friends a social media site suggests you to but does that strictly mean that you have to do as recommended? Like in the real world, even in the online community popularity is based on how visible you are to the world around you and how much people talk about you and your actions. But these cornerstones of social interactions are not greater than your safety!
7. Use Random Wi-Fi Connections On Your Personal Devices With Caution
The internet has captured our lives and our very existence to the extent that we cannot think of spending a moment without a Wi-Fi connection. Businesses like restaurants, cafes, hotels, lounges, shopping complexes, and even public transportation offer free Wi-Fi connections. But are they secure? Or is somebody being an overwatch on the internet traffic at these public places?
Even when using public Wi-Fi or a hotspot, choose not to give out any personal data. Logging into your email accounts, chatting with a friend on messenger apps, or checking your bank details on public Wi-Fi can be riskier than you think!